2023 is jam-packed with trade shows, conventions and conferences trucking professionals for the trucking industry. Make sure to mark your calendars because you won't want to miss these exciting events.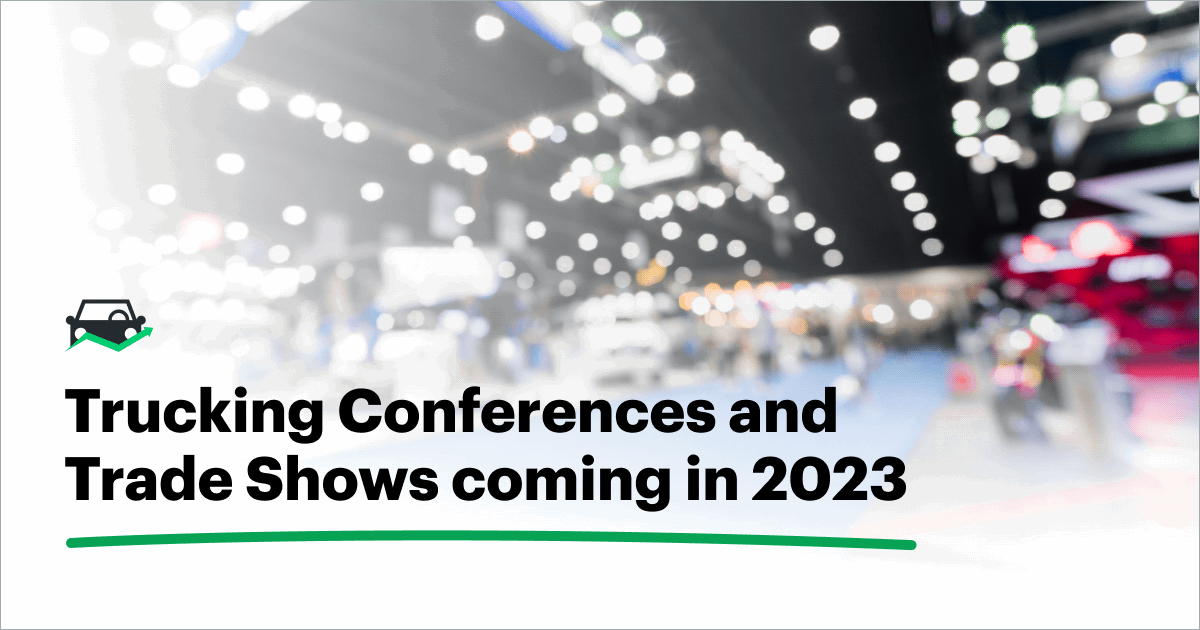 From massive industry expos to fun-focused extravaganzas, 2023 is slated to have trucking trade shows catered to all interests. Whether you aim to network with peers, check out new equipment or learn how to better manage your truck fleet, these events should be well worth your time. To help you determine which conventions you'd like to attend, we've compiled the most notable ones below. We'll update these listings as date and venue details for the later events are announced.
Here are the trucking conferences and trade shows scheduled for 2023. Conferences highlighted in green denote conferences Fleetio plans to attend in 2023.
February 27 - March 2, 2023 Orange County Convention Center - Orlando, Florida Billed as a "one-stop shop for fleet education," the TMC Annual Meeting attracts trucking professionals, vehicle manufacturers and component suppliers from across North America. Over the course of a dozen educational sessions and numerous networking opportunities, this year's premier technical meeting will focus on advancing reliability through root cause analysis.
March 4 - 7, 2023 Gaylord Palms Resort & Convention Center - Kissimmee, Florida More than 1,300 trucking professionals are expected to make their way to central Florida for Truckload 2023, an annual convention for folks to forge new connections and stay abreast of industry trends. This year's gathering will emphasize "educational content made by truckload professionals for truckload professionals."
March 7 - 10, 2023 Indiana Convention Center - Indianapolis, Indiana For more than two decades, professionals from all aspects of the trucking industry have flocked to Work Truck Week with good reason. This year, North America's largest work truck event will host over 500 exhibitors, breakout sessions from the biggest vehicle manufacturers around and networking events across various venues surrounding the Indiana Convention Center. Discounted hotel rates are available while rooms last, so you'll want to register as soon as possible!
March 30 - April 1, 2023 Kentucky Expo Center - Louisville, Kentucky MATS organizers aren't exaggerating when they say that attendees will "experience the entire industry" at their three-day show. Over 850 exhibitors and 58,000 attendees are projected to attend this year's extravaganza, which is sure to make the education, entertainment and networking events on the docket opportunities you won't want to miss.
April 17 - 19, 2023 Baltimore Convention Center - Baltimore, MD Fleet and mobility professionals from all backgrounds converge each year at NAFA I&E for "three days of unparalleled learning, impactful conversations, and dynamic products and services from the industry's leading suppliers." This year's schedule is chock-full of fun networking events and breakout sessions themed around innovative solutions to today's fleet concerns.
June 14 - 15, 2023 Pennsylvania Convention Center - Philadelphia, Pennsylvania The premier conference for last mile logistics, Home Delivery World hosts more than 300 exhibitors, upward of 5,000 attendees and hundreds of speakers from major retail brands. "The show is dedicated to uncovering innovative solutions for retailers, grocers, CPGs and 3PLs facing challenges across the supply chain from warehousing to fulfillment and the last mile."
July 13 - 15, 2023 I80 Truck Stop - Walcott, IA Since 1979, the Walcott Truckers Jamboree has celebrated America's truckers through novel activities and exhibits. Families can enjoy live country music, cookouts, fireworks, an antique truck display, "Trucker Olympics" and even a "Super Trucks Beauty Contest." And, as an added bonus, both parking and admission is free!
July 15 - 16, 2023 Allen County War Memorial Coliseum - Fort Wayne, Indiana Expedite Expo focuses exclusively on the expedited trucking industry and hosts more than 45 exhibitors. Owner operators, drivers, fleet managers, fleet executives and individuals interested in expedited trucking are welcome to attend and "learn about the newest expedited trucking industry news, equipment, career opportunities and products."
September 18 - 22, 2023 Gaylord Texan Resort and Convention Center - Grapevine, Texas The CVSA aims to make roads safer for commercial and non-commercial drivers by fostering an "overall culture of transportation safety throughout Canada, Mexico and the United States." At their annual conference, government officials, compliance enforcement personnel, and industry representatives convene to discuss how commercial motor vehicle crashes, injuries and fatalities can be prevented.
November 2 - 4, 2023 Omni Nashville Hotel - Nashville, Tennessee NASTC's annual conference is perfect for those involved with small trucking organizations. Training sessions are specifically catered to small fleets and networking opportunities are sure to spark connections with peers from similar professional backgrounds.
October 14 - 17, 2023 Venue TBA - Austin, Texas MCE doesn't shy away from some of the trucking industry's most pressing topics. In 2022, the conference focused on technology, infrastructure and driver health and wellness. Details for this year's event are to be determined, but if it's anything like past MCEs, attendees should look forward to a packed docket of breakout sessions and hundreds of exhibitors showcasing innovative technologies.
November 6 - 9, 2023 Marriott Champions Circle - Fort Worth, Texas Fleet managers from 50 top fleets convene each year to swap insights and best practices at the Work Fleet Forum. While date and venue information regarding this year's event have yet to be disclosed, attendees can expect plenty of roundtables, networking events and fun activities.
---
You don't have to go all the way to a trade show to see the latest trends in fleet technology; see why trucking fleets around the world trust Fleetio to improve their fleet truck maintenance.