Computerized Maintenance Management System
CMMS Software for Fleet & Equipment Maintenance
Thousands of organizations rely on Fleetio to stay on top of their maintenance operations. Whether you handle your maintenance in-house or outsource service tasks to third parties, our fleet maintenance software enables you to accelerate workflows, closely monitor costs and gain invaluable insights into the health of your fleet. And by automatically generating preventive maintenance schedules and streamlining inspections through digitization, Fleetio even helps extend the lives of assets while reducing upkeep expenses.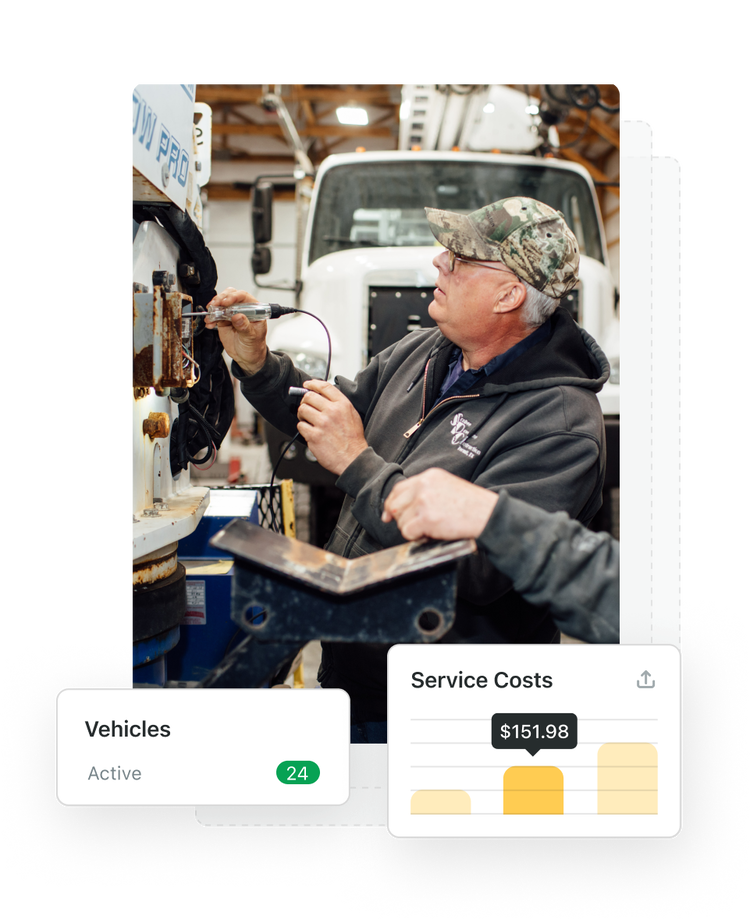 Why our customers love Fleetio
"Like being able to to add our landscaping assets as well as our vehicle."

Robert S.
Cape Fear Landscaping
"Fleetio is a very efficient, user-friendly, FAST, and modern system."

"Bringing in a tool that brings all the data into one centralized location to make informed decisions and help guide our business was critical."

"After collecting enough data we were able to retire the right vehicles and cut costs drastically."

Daniel F.
T&G Sand & Gravel
Our CMMS software features
Our unique approach to CMMS
Since day one, Fleetio has been designed to be a CMMS specifically for organizations with mission-critical vehicles. As a result, Fleetio offers a wide range of vehicle-related features that more generalized CMMSs typically lack.
For example, Fleetio automatically populates OEM-suggested maintenance schedules for each of your vehicles to spare you from having to find those recommendations on your own. In addition to saving you time, this feature makes staying up-to-date with the latest guidance and meeting warranty standards noticeably easier.
Fleetio is also distinct from other CMMSs when it comes to outsourced maintenance. From within Fleetio, you can search from nearly 85,000 national and independent maintenance shops to find the ones best-suited for your fleet. And once you select a shop and start working with them, you can approve or reject repair orders down to the line-item level without ever having to make a phone call. This granular control over repair orders ensures you aren't met with any surprise bills.
And finally, Fleetio boasts a wide range of integrations broader CMMSs likely don't support. Many of the most recognizable names in telematics and fuel cards are fully integrated with Fleetio. This allows you to closely monitor vehicle performance and fuel spending all within the system you already use to stay on top of fleet maintenance.
Frequently Asked Questions
Ready to get started?
Join thousands of satisfied customers using Fleetio
Questions? Call us at 1-800-975-5304