Parts Inventory Management Spreadsheet
Maintaining a fleet in house is an involved job—and inventory management is a key piece of the puzzle. This template is designed to help you build parts inventory histories to find repetitive issues, high fail items and track warranty information. Assign auto parts to specific vehicles or asset groups to ensure your shop is fully stocked as needed. Track prices for specialty and bulk orders to ensure you're getting the best deals available.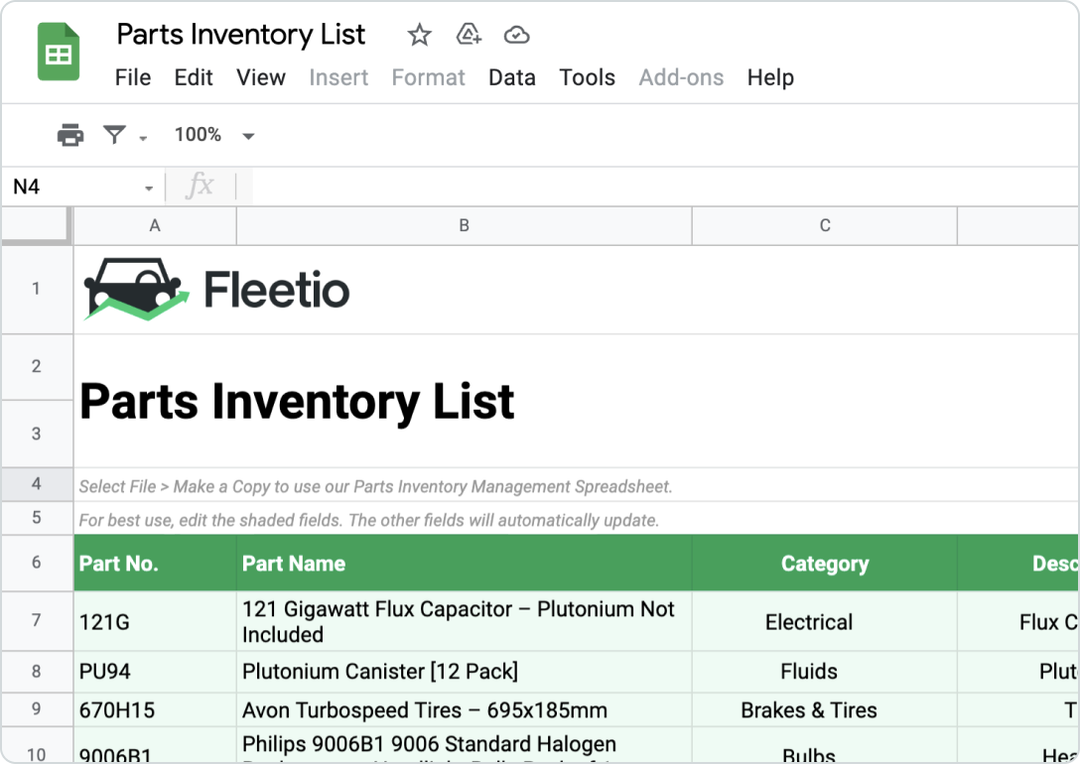 How do you manage parts inventory?
---
Managing your parts inventory is more than just knowing what to stock and when to restock. To effectively manage an inventory of spare parts, you need to track warranty information, price fluctuations, bulk order discounts, usage and more. Proper parts inventory management reduces the expense of unnecessary parts and ensures that necessary parts are always available.
How do I keep track of parts inventory?
---
It's not unusual for fleets to keep thousands of unique parts in their inventory, so a proper system for tracking the parts is required. While many organizations track their inventory with paper forms in a binder, a parts inventory spreadsheet or inventory management software are scalable and make it much easier to know the real-time status of stock levels.
How to use Fleetio's free maintenance spreadsheet template
This spreadsheet was built to keep track of in-stock and ordered parts and stay on top of warranty information to reduce service time and minimize unnecessary costs.
Our spreadsheet template is built using Google Sheets, a free online alternative to Excel. To create your own editable version of this template, you simply need to select "File" and then "Make a copy" once you open the template link.
Log and track information
With this free spare parts inventory spreadsheet, you will be able to log and track information like:
Parts quantity in stock & on order
Keep an ongoing record of which parts you have in stock and which parts are on order, to make sure that you always have the right parts for the job.
Parts cost
Know the costs of the parts you use to determine your inventory value.
Warranty details
Keep track of warranty information for the parts in your fleet for easy reference in case of a warranty claim.
Vehicle assignments
Assign specific parts to specific vehicles in order to better approximate parts usage and keep a record of stock needs.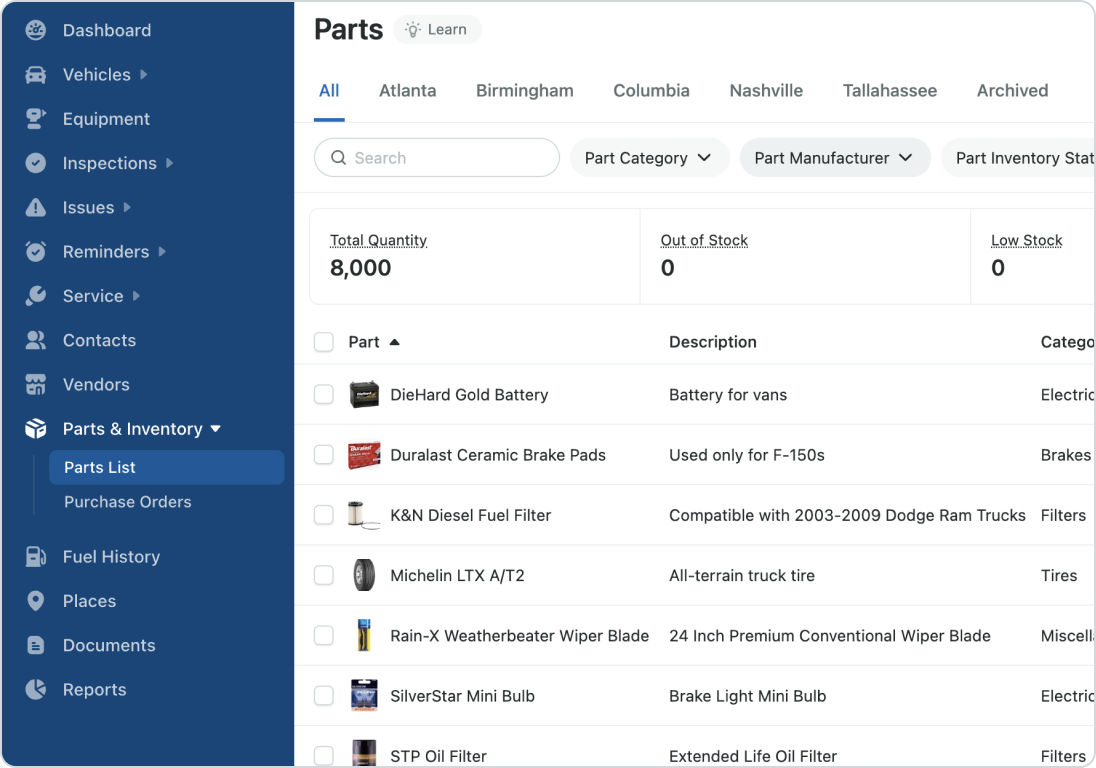 Manage your spare parts inventory in Fleetio
If you're tired of the spreadsheets and paper logs, it's time to find the best fleet management software for your fleet. Parts inventory management software allows you to track spare parts, avoid stockouts and reduce costs. Always know the value of your spare parts inventory and reduce the costs of stocking unused or unnecessary parts. And with a parts inventory app, you can check parts in or out using a barcode scanner, and assign parts to work orders in order to know the exact cost of service for your fleet assets.
What customers are saying
I find this app saves me about 1.5 hours per day in the evening when I sit down to catch up all my files. If you use it as intended, it will be a huge benefit!

Mark D.
Mark Dominey Trucking
Fleetio is user friendly; I'm not the most technologically savvy individual but the training sessions provided were more than enough to help me feel comfortable using the software myself

Bringing in a tool that brings all the data into one centralized location to make informed decisions and help guide our business was critical.

We like being able to to add our landscaping assets as well as our vehicles to Fleetio.

Robert S.
Cape Fear Landscaping