With 2022 coming to a close, we've gathered industry trends and predictions to watch for in 2023.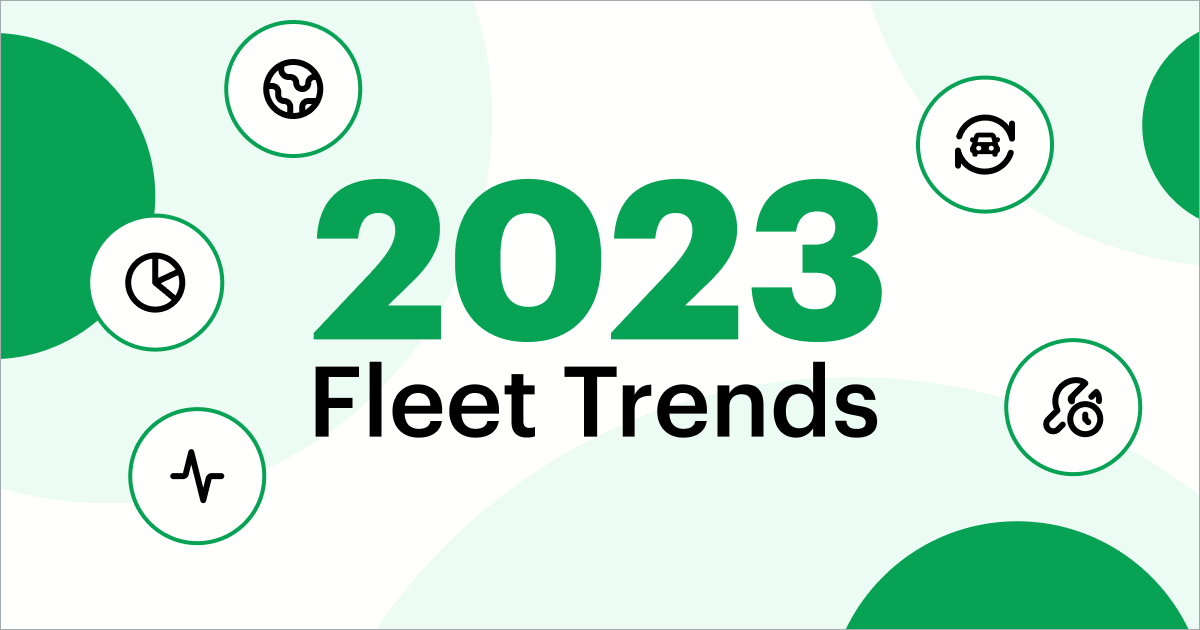 2023 Fleet Industry Trends
2022 proved to be a year of continued labor and supply chain shortages and asset procurement issues. With 2023 looming, we thought we'd take a look ahead at industry trends on the horizon, as well as predictions for the upcoming year that can help fleets better manage their operations.
1. In-Person Trade Shows
2023 looks to be chock full of in-person fleet management conferences and industry trade shows after several years of virtual offerings due to the pandemic. While some of the bigger shows and conferences managed to enjoy live events last year, 2023 offers more flexibility for gathering than has been available in the previous few years. Nichole Osinski, Executive Editor for Government Fleet magazine says they're gearing up for Government Fleet Expo & Conference (GFX) in May.
"[GFX is] just a great time to meet with people. When we went through the pandemic, it was hard because so many of us are used to seeing people in person and having events like GFX, and so it's a great time to really just reconvene and talk to people," she says. "I really feel like 2023 is a year that people want to get back to normalcy and want to be at events and want to connect. That's a big thing we've been hearing; people just miss that. There's something about being in person that you just can't get through phones or emails, and [GFX] is a great place to do that. It's got great energy and wonderful people who are willing and able to answer questions."
2. Vehicle Supply Chain Obstacles
2023 seems as though it'll be carrying on the legacy from the last two years as far as difficulties with asset procurement for fleets. Count on continued lengthy lead times from order to delivery, as well as increased acquisition costs and even some order cancellations. "Many fleet managers say they have low confidence that they will actually receive the vehicles they order this year [2022]," according to Mike Antich at Automotive Fleet.
"While some fleet managers have higher confidence levels in getting the vehicles they order, the question is how long it will take to have them delivered. The issues that created the challenges in sourcing replacement vehicles that began in the 2021 model-year for the most part still exist and fleet managers are concerned that they will impact their 2023 orders." Unfortunately, a lack of needed assets can have a ripple effect on hiring new talent and even just meeting daily business goals. Because of this, many fleets are looking to proactively address the situation by extending vehicle lifecycle for current assets and/or turning to fleet leasing.
3. Increased Adoption of Fleet Leasing
As mentioned above, fleet leasing presents a great opportunity for organizations running up against asset procurement issues. According to a report from Expert Market Research, "The global light commercial vehicle leasing market attained a value of USD 50.5 billion in 2021. The market is further expected to grow in the forecast period of 2023-2028 at a compound annual growth rate (CAGR) of 8.10 [percent] to reach USD 80.2 billion by 2027."
Leasing gives fleets of all sizes more flexibility around financing terms, seasonal fleet scaling, acquisition costs and asset disposal. Some leasing companies even offer fuel and fleet management services.
4. More Autonomous Vehicles (AVs) on the Road
In our trends for 2022, we reported that self-driving car service Cruise, in partnership with GM, had the goal of putting fully-functioning AVs on the road, and as of the end of this year, they have ~30 robotaxis cruising around San Francisco, California. Now Las Vegas, Nevada is seeing its own rise in AV transportation services.
As OEMs and aftermarket AV specialists continue building on a functional foundation, fleets are likely to see higher level autonomous offerings in 2023, specifically Levels 3 and 4 at which the vehicle is basically self-sufficient, but a driver still needs to be present to take over as needed.
5. Improved Operational Cost of Trucking
As trucking fleets get more efficient with their routing each year, 2023 should continue to show a steady decline in empty miles while still holding strong on overall usage rates. "Truck utilization rates should remain above historical levels in 2023 despite falling from 2021's peak," according to Bloomberg Professional Services. "FTR forecasts utilization rates will average 95.8 [percent] this year and 91.6 [percent] in 2023 — still above the 20-year average of 91.2 [percent]."
For improvements in routing during a time of inflated usage, many fleets have turned to trucking software and routing and dispatch management solutions, including cargo tracking with global navigation satellite systems (GNSS), which provides the benefits of "automatically redirect[ing] drivers to faster, safer routes […] and accurately predict[ing] the estimated time of departure/destination to allow for coordinated scheduling within the supply chain," according to Brian Estep. Route optimization helps trucking fleets reduce fuel and service expenses and improve driver satisfaction, which in turn improves fleet trucks' total cost of ownership (TCO).
6. Natural Disasters Present Costly Obstacles
Natural disasters have gotten more destructive and are happening at a higher frequency year over year. "Fleet professionals today face an assortment of natural disasters, both external — such as tornadoes and floods, and internal — such as viruses and mass shootings," according to Fleet Management Weekly. "The National Oceanic and Atmospheric Administration (NOAA) reports that there were 14 weather and climate disaster events last year alone, with losses exceeding $1 billion each across the United States."
To combat this issue, fleets can take advantage of insurance and risk management solutions that use hazard zoning and loss simulation models to offer fleets natural disaster tracking and preparedness guidance for reduced asset damage and improved safety. Additionally, the NOAA is currently updating a flood zone model that should help fleets — and coastal communities — be aware of potentially damaging flooding up to a year in advance.
7. Fleet Electrification
As emissions regulations continue to tighten, electrification is again in the forefront of fleet trends. "[For] fleet managers all across the board, one of the big things is EVs and making that transition to go green," says Nichole Osinski, Executive Editor for Government Fleet magazine when asked what challenges do fleet managers face today that will continue in 2023. "A big part of that is, too, just the infrastructure for that. A lot of people say, 'Yeah, I'd love to transition my fleet to be all EVs, go completely green, zero-emissions,' but there's also the other side of that: 'Okay, that's going to be a lot of infrastructure, and that also takes money. Where do I even start? How do we track this? What are the best ways to do this as far as [whether] my idling time is okay? When's the best time to charge my [vehicle].'"
Planning for electrification and how best to achieve electric vehicle fleet management will likely be a top concern in 2023 as fleets move toward emissions reduction goals.
8. Fleet Data Availability
Fleet data availability will continue to improve in 2023 as more methods of data collection and consolidation become available. Integrated fleet management technologies are looking to improve and expand asset data collection through onboard solutions like telematics and connected vehicle application programming interfaces (APIs). This increase in data collection will further improve fleet management reports, giving managers and stakeholders an even more granular view of assets' health, cost, performance and ROI.
Increasing the amount of data collected doesn't have to cause a headache, though, as automated fleet solutions like fleet management software (FMS) aggregate the data for you and provide customizable reporting to ensure fleets can get the info they need easily and in real time.
9. Arrival of Vehicle as a Platform
Connected vehicles make up nearly 80 percent of vehicles on the road in the U.S. today. Some OEMs are looking to improve fleet data collection, performance and management by transforming these vehicles into a platform all their own. "In recent years, cars are offering more and more digital services, and this trend is only going to keep growing," according to a paper from Deloitte. "With on-demand car features (ODCF) from augmented reality head-up displays (AR-HUD) and intuitive safety features to infotainment services and advanced battery management solutions, the sky is virtually the limit."
For fleets, this will take data consolidation and fleet management to a whole new level. Especially when it comes to EVs and newer assets lacking the traditional OBD-II port to support plug-in tracking and monitoring devices, fleets will be able to enjoy OEM-provided end-to-end management.
---
Sign up for your free trial or schedule a personalized demo today to find out how Fleetio can help you improve cost and asset management across your entire operation!