Let's take a look at what's coming around the bend for the trucking industry in 2023.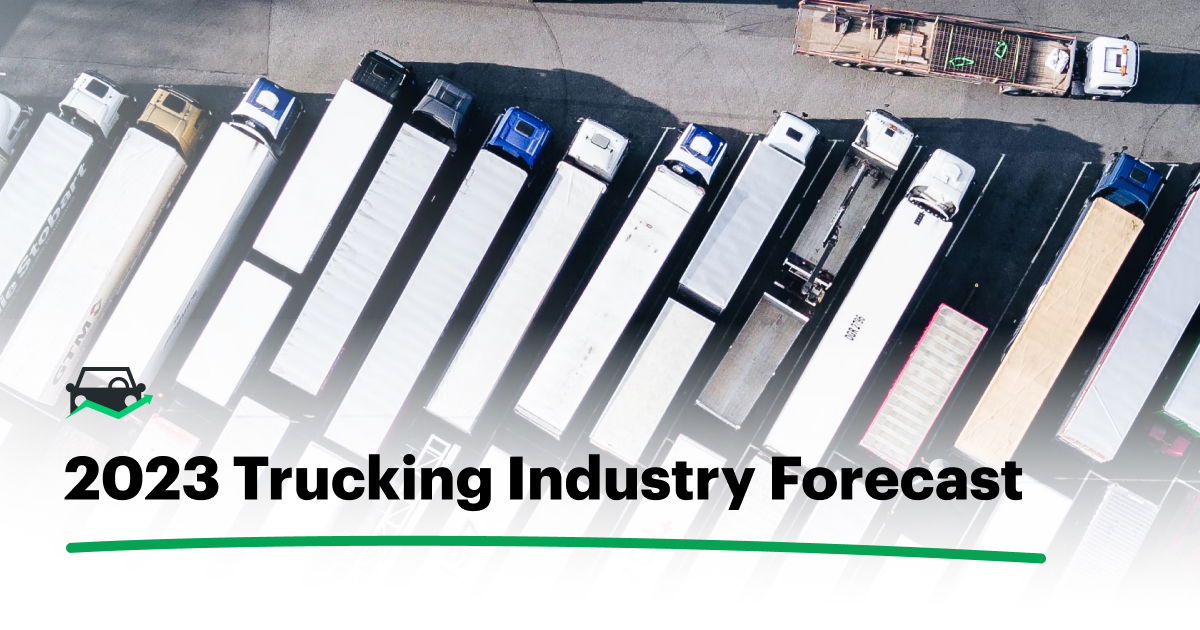 2023 Trucking Industry Forecast
Many of the factors that have been at play in the trucking industry since the pandemic are continuing to evolve, and while it could be simple to view the coming year as more of the same, 2023 presents potential new challenges as well as new opportunities as trends advance.
What will happen in the trucking industry in 2023?
Inflation and potential recession
The economy continues to loom over many industry projections, and the logistics industry is no exception. The Bureau of Labor Statistics indicates a 7.1 percent year-over-year increase in the Consumer Price Index, which means everybody is paying more for goods and services in 2022, and interest rates have been hiked multiple times over the past year.
While a recession is not guaranteed, signs point to its likelihood, so trucking fleets should prepare accordingly.
Increased Costs of Vehicles and Supply Chain Constrictions
The ongoing truck shortage isn't going anywhere anytime soon. According to ATS, while manufacturers are projected to achieve replacement demands for 2023, there's such a massive order backlog for vehicles that the industry is still going to spend most of the year making up for production years past. Supply chain shortages will also continue to push acquisition prices higher as the prices for parts continue to climb.
All of this means that trucking companies may be saddled with extending the lives of their near-term trucks for as long as they can. Utilization rates, as a result, have been and will remain at historical levels, according to Bloomberg.
Increased Adoption of Fleet Leasing
With demand so uncertain, many fleets are looking to leasing as a means to boost profitability by lending out assets they aren't using. Leasing can also temporarily bridge the gaps in smaller fleets looking to expand without having to battle the current vehicle market.
Focus Investment in Fleet Data and Software
Empty miles are one of the biggest threats to a trucking operation – if the truck is driving without any onboard freight, the company is losing money. Thankfully, there's a lot of data at fleets' disposal that can help mitigate inefficiencies in your fleet management that might fly under the radar otherwise.
Trucking software is helping many fleets see more connection between what's happening on the road and the data that's filtering back to the home office. Between telematics devices (plug-in and on-board), fuel cards, dash cams, mobile apps, etc., data has never been so prevalent in the fleet industry – but data can easily overwhelm fleets if it's not used in the right way.
A good fleet software and a data categorization system like VMRS can unify all that data to give you a clear picture of your trucking cost-per-mile and other important metrics, which can show you where you can make improvements that will reduce your operating costs.
Electrification of Trucking Fleets
Electrification is a fast-approaching reality for many fleet managers. California is set to require all new vehicles sold in 2035 to be EV or PHEV, and it's expected that other states will follow their lead.
While regulations are increasing, so is access and affordability of electric vehicles, with more and more auto companies planning releases of electric models and iterations on existing vehicles. Also, the Inflation Reduction Act passed in August codified tax credits for electric vehicle purchasing, including up to $7,500 for new light-duty EV purchases, $4,000 for used EVs, and $40,000 for heavy-duty commercial electric vehicle purchases.
BloombergNEF released a November 2022 study that showed that between the Inflation Reduction Act and revised fuel regulations, EV perception in the US has improved significantly, and the industry can expect to see increased EV adoption in 2023.
Rollout of Autonomous Vehicles/Fleets
Autonomous vehicles have continued to make significant strides over the past year. Companies like Waymo and Cruise have placed robotaxis in San Francisco in limited capacities, and TuSimple conducted an autonomous semi-truck trip for 80 miles across Arizona.
While full adoption is likely years down the road, the future of the fleet industry looks to be autonomous as technology advances. Trucking industry leaders should continue to keep an eye on autonomous solutions.
The Full Return of Trucking Conferences
Conferences present the best opportunities to hear from experts about what's going on in the industry, and some of the biggest trucking conferences are making a full comeback in 2023. Attending conferences is a great way to stay ahead of trends and get valuable feedback from other trucking fleet managers on how to move forward.


Want a solution that will help you navigate all of the changes coming up in 2023? Give fleet software a try. Start your free trial in Fleetio or request a demo today.