Using a trucking cost per mile calculator is the best way to know your operating costs and confidently bid on loads. Using fleet management software to automatically calculate trucking cost per mile and total cost of ownership enables you to make data-driven decisions, maximize profitability and optimize your fleet.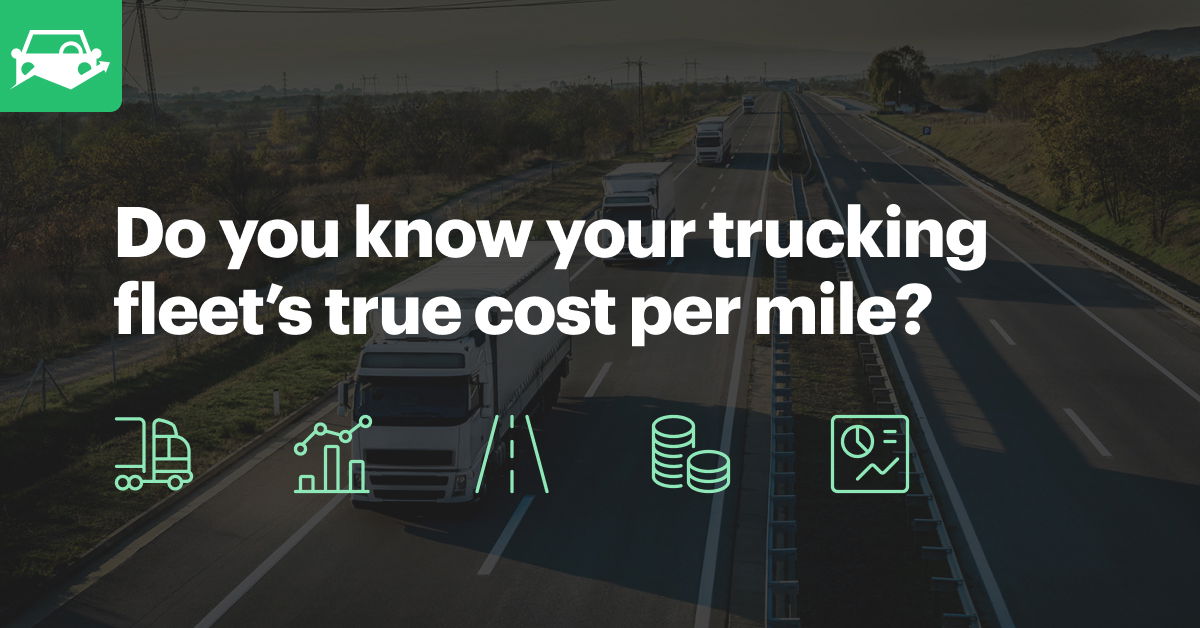 Leveraging a Trucking Cost Per Mile Calculator
Trucking cost per mile calculators break down your fleet's expenses to illustrate what it takes to maintain and operate your vehicles. When analyzing costs on a granular level like this, it's easy to see how every cent can impact your bottom line.
Understanding your fleet's cost per mile allows you to bid accurately on loads to haul, as well as determine your return on investment (ROI) from each job. Not only does this ensure you secure the best loads for your fleet, but you can also better manage your entire operation.
Having a comprehensive view of line-item expenses ensures you understand your trucking fleet's true total cost of ownership (TCO), but crunching numbers and sifting through spreadsheets can quickly become an insurmountable task. With the help of fleet management software, trucking fleets can now automate these calculations to maximize efficiencies.
According to the American Transportation Research Institute (ATRI), trucking cost per mile was at an all-time high in 2018. As expenses continue to increase, it's more important than ever to have total control and understanding of your fleet's operating budget.
In this post, we'll explore what goes into your fleet's TCO, how to determine cost per mile and how leveraging fleet management software can help manage costs.
Breaking Down TCO and Cost Per Mile
Calculating your fleet's TCO is the first step in determining your trucking fleet's cost per mile. Many fleet managers struggle to accurately calculate TCO, because costs aren't tracked properly and in a central location.
Your fleet's operating expenses can be divided into two categories: fixed and variable. Fixed costs are pre-determined expenses that typically recur without changing. These can include things like taxes, permits and insurance costs.
Variable costs fluctuate depending on the size, utilization and efficiency of your fleet. The two largest variable costs are fuel and maintenance, though part replacements, driver wages and tolls are also included.
While managers may have records and recurring payments to track fixed expenses, like taxes and insurance payments, variable expenses that aren't tracked meticulously can cause discrepancies in your calculations.
Without knowing true TCO, fleet managers may make inaccurate estimates and negatively impact their overall budget. To keep accurate records, many fleet managers are recording all of their fleet data on a centralized software platform.
Streamlining all data into fleet management software enables fleet managers to track, analyze and reconcile every purchase made. TCO calculations are automatically generated into easy-to-read reports, helping you better understand where your money goes. From these reports, you can calculate trucking cost per mile and determine the expected ROI.
Trucking cost per mile is calculated by adding together your fixed and variable costs found in your TCO report and dividing that amount by miles traveled in a year. Having an accurate cost per mile empowers fleet managers to take the necessary steps to optimize your fleet and bid on loads confidently.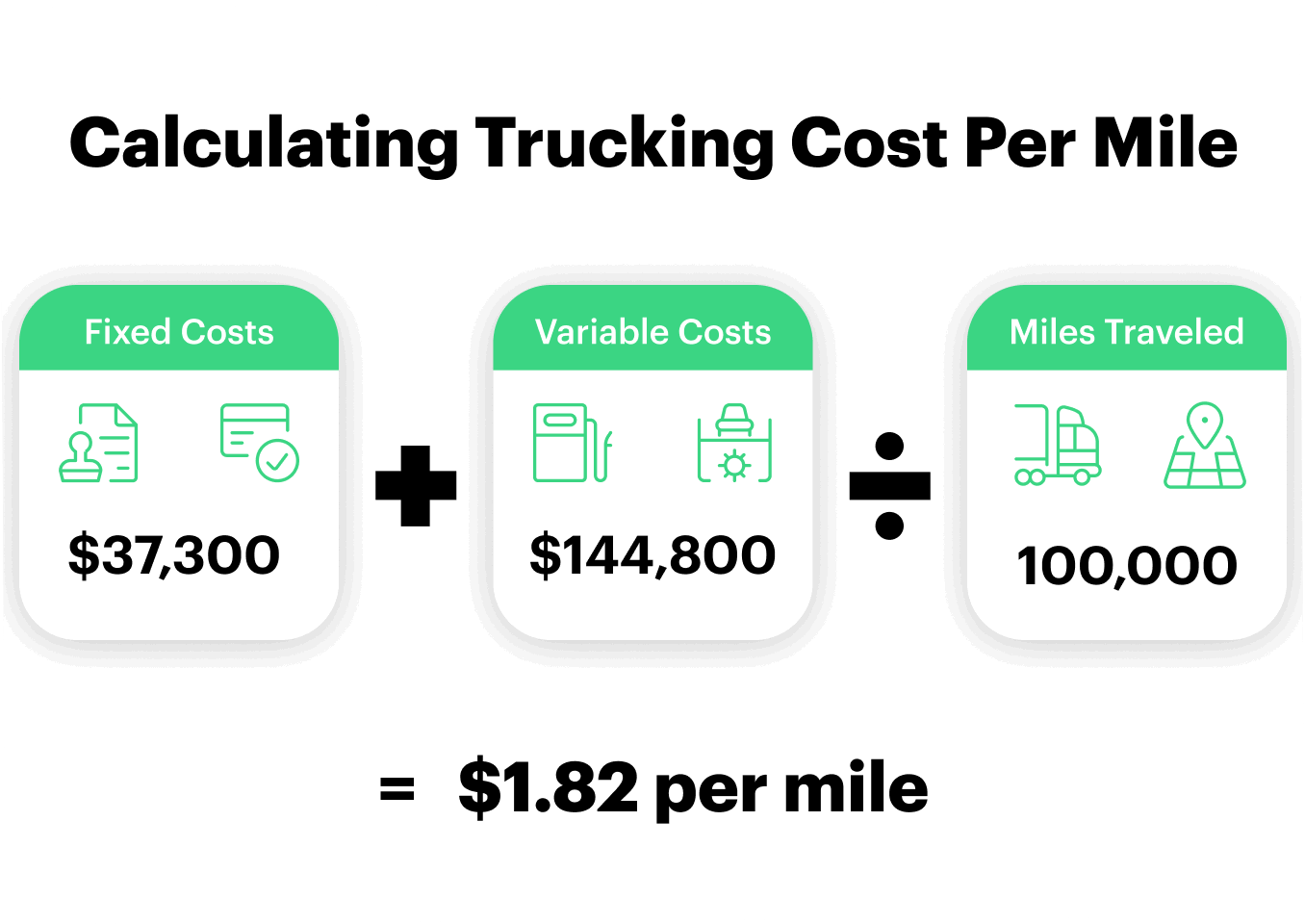 Controlling Variable Costs
Once you've determined your cost per mile, analyze that number and calculate your fleet's expected profit. Are you unsatisfied with that number? If so, consider strategies to lower your variable expenses and improve ROI.
There are many ways variable costs, like maintenance and fuel, can be managed and lowered. The most effective strategy to reduce variable costs is maximizing fleet efficiency.
With the help of technology, trucking fleets can automate maintenance workflows, reduce downtime and make cost-effective decisions. Tracking your assets with fleet management software provides insight into spending, while keeping your fleet management strategy proactive.
Managing fuel expenses and your fleet's maintenance program is the best way to improve the number on your trucking cost per mile calculator. While you can't control every aspect of these costs, there are ways to manage them in a more proactive way.
Fuel
Monitoring fuel consumption and cost by tracking all fuel purchases can help you both determine fuel cost per mile and forecast future expenses. This can be one of the largest challenges for fleet managers, as keeping up with fuel receipts and inputting data into spreadsheets can be a tedious task.
Fleet managers who leverage software can eliminate manual data entry and unlock insight into fuel costs by allowing drivers to log fuel entries into a mobile app. Not only does this save time, but it allows for further analysis of fuel trends across your fleet.
Maintenance
Taking a proactive stance on maintenance management is a great way to cut fleet costs. Keeping up with preventive maintenance practices ensure your trucks and assets are in good condition, while helping you avoid unplanned downtime and repair costs.
Unexpected repairs can come at a hefty price, and when you're already working with a strict budget, you can't afford high variable costs on parts and labor. Having an organized maintenance management system keeps your fleet on the road and costs as low as possible.
In addition to managing fuel and maintenance expenses, fleet managers may also consider taking a second look at their routes and ensuring peak route efficiency. Integrating your GPS and telematics device with fleet management software provides further visibility, allowing you to monitor drivers on their routes and ensure productivity.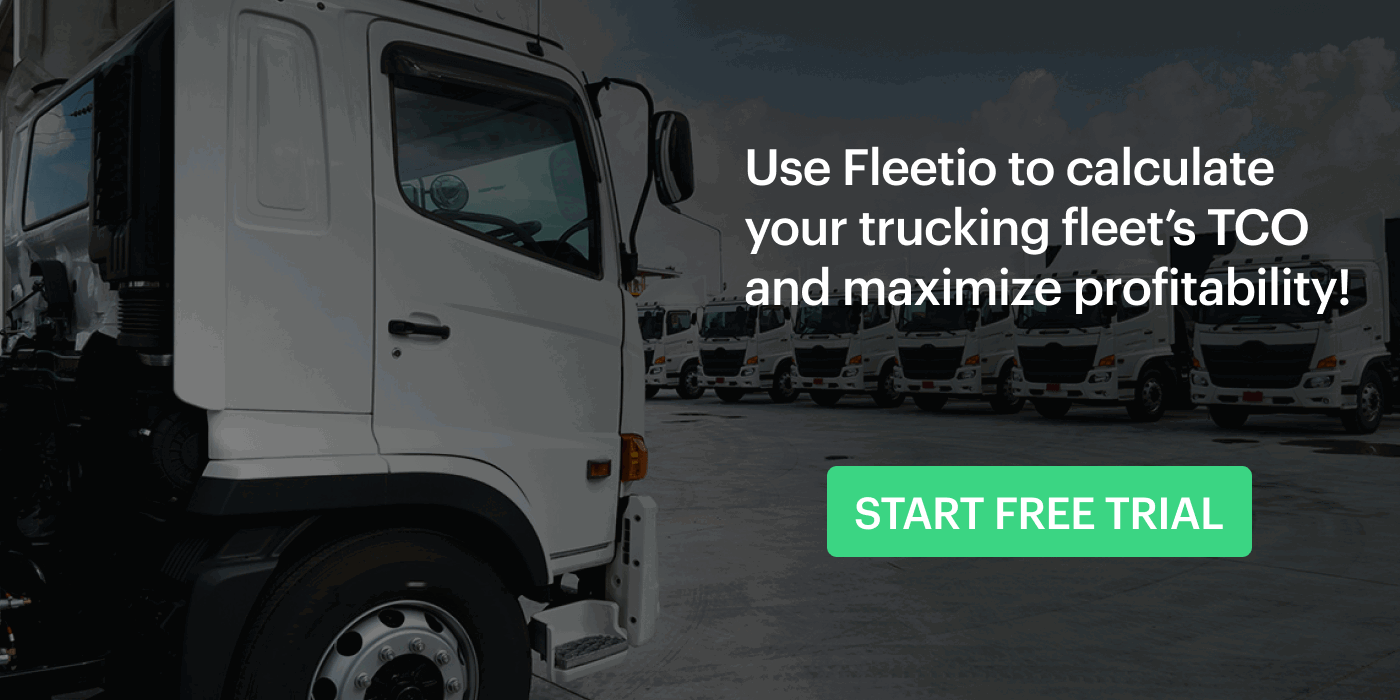 Tracking Assets and Expenses in Real-Time
In the trucking industry, things are constantly evolving. TCO and trucking cost per mile calculations are only accurate if you're receiving and managing fleet data in real-time.
Because your trucking fleet is mobile, your fleet management software should be, too. Using a system like Fleetio that has a mobile app enables you to manage operations from anywhere and receive instant information on your fleet.
When drivers input vehicle data into an app like Fleetio Go, fleet managers can instantly view every detail of their fleet. Not only does this improve overall operations, but it also provides the ability to track expenses by line item and ensure the most efficient cost per mile for their fleet.
---
Get a true understanding of your fleet's total cost of ownership with Fleetio! Start your free trial or request a demo today!