Delivery fleets around the world are seeing a rapid increase in demand due to the rise of e-commerce. Ensuring your business has an efficient delivery fleet management strategy is the best way to increase vehicle uptime, monitor productivity and increase your profitability.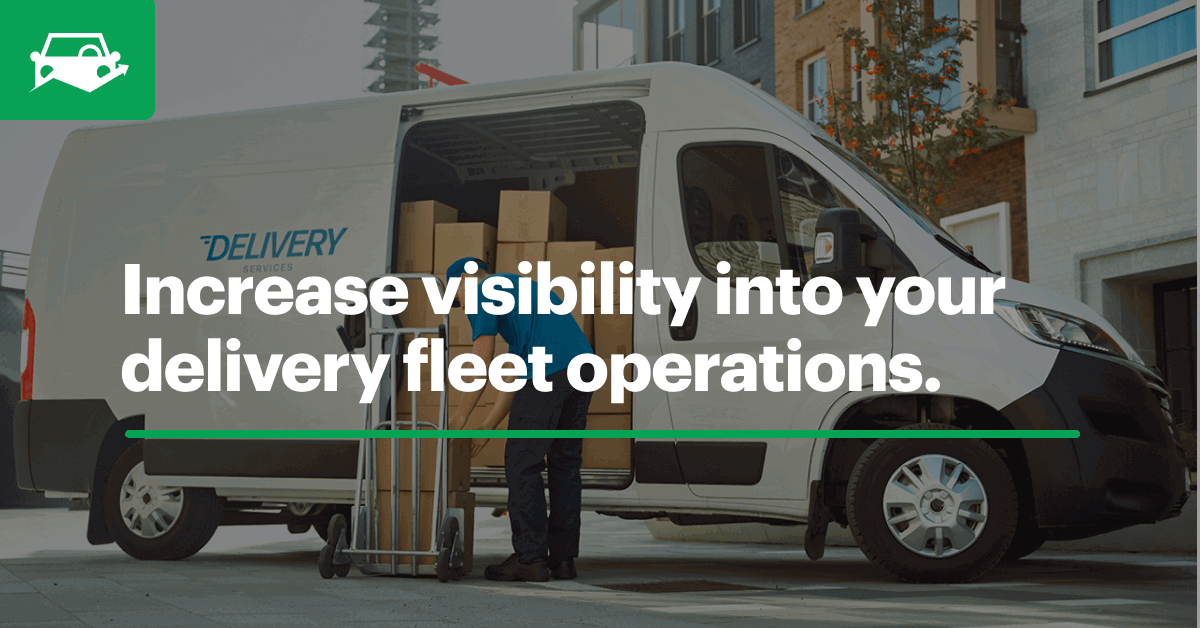 The Increased Need for Effective Delivery Fleet Management
E-commerce has transformed the way our society makes purchases. Instead of going to stores, many people, especially in the wake of the COVID-19 pandemic, are buying online and relying on delivery fleets to fulfill their orders.
Fleets like Fed-Ex, UPS and even larger retailers, must have a delivery fleet management plan that hinges on efficiency and asset visibility to avoid downtime and increase productivity.
Tracking your fleet doesn't just mean knowing where your vehicles are—a comprehensive fleet management software allows you to track every aspect of your fleet, from maintenance and inspections to vehicle performance and total cost of ownership (TCO).
Consider these 5 delivery fleet management best practices for improving the ways you track your assets.
1. Comprehensively Monitor Vehicles
As a delivery fleet manager, one of your biggest responsibilities is monitoring vehicles to ensure drivers are sticking to their routes and making deliveries on time. While tracking your delivery fleet closely allows you to ensure driver productivity, it also alerts you of any issues that arise while drivers are on their routes.
Most delivery fleets use some form of vehicle tracking system, like a GPS or telematics tool, to create efficient routes and monitor vehicle location. These are excellent tools on their own, but as we've mentioned, the notion of tracking your fleet operations doesn't end there.
Using a telematics system while still using other outdated management methods, like paper processes and whiteboards, doesn't provide comprehensive visibility into your fleet's day-to-day operations. To optimize your delivery fleet management process, it's key to have all real-time fleet data in a central location.
Complete fleet visibility is achievable by centralizing all of your fleet's data with fleet management software. Not only can you track vehicle location and manage driver assignments, but you can also pair your existing GPS and telematics tools with fleet management software to augment your data and improve your fleet management process by:
Automating odometer updates to trigger maintenance reminders
Tracking vehicle location and alerting managers to fuel location discrepancies
Notifying managers to diagnostic trouble codes (DTC) and engine fault alerts
In addition to general vehicle location tracking, this data from your fleet's telematics tool can streamline fleet processes and jumpstart maintenance strategies when issues arise. Comprehensively monitoring your vehicles with the help of software enables you to proactively manage your fleet.
2. Improve Driver Productivity
Much of the success of your fleet relies on your drivers. Ensuring driver productivity and safety should be one of your top priorities.
Improving your fleet's efficiency begins by setting clear expectations for your drivers and keeping open lines of communication. This is even more important if you're now managing your fleet remotely!
Since your drivers are constantly on the move, having a mobile-first platform is the best way to communicate across your team. By using a native mobile app, drivers can provide real-time information regarding vehicle inspections, maintenance needs and task statuses throughout the day.
Monitoring your drivers isn't just a way to manage your team; it's the best way to have constant visibility into your fleet's health and performance while providing drivers with the support they need.
3. Create a Sustainable Preventive Maintenance Program
Delivery fleet management involves adhering to tight schedules and the ability to see the big picture when it comes to fleet upkeep and performance. With so many orders to fulfill each day, your fleet can't afford unplanned downtime or having vehicles out of service too long.
Streamline your delivery fleet operations
With Fleetio, you can easily track delivery times, driver performance, vehicle utilization, fuel efficiency, and more, all from one central dashboard.
See what we can do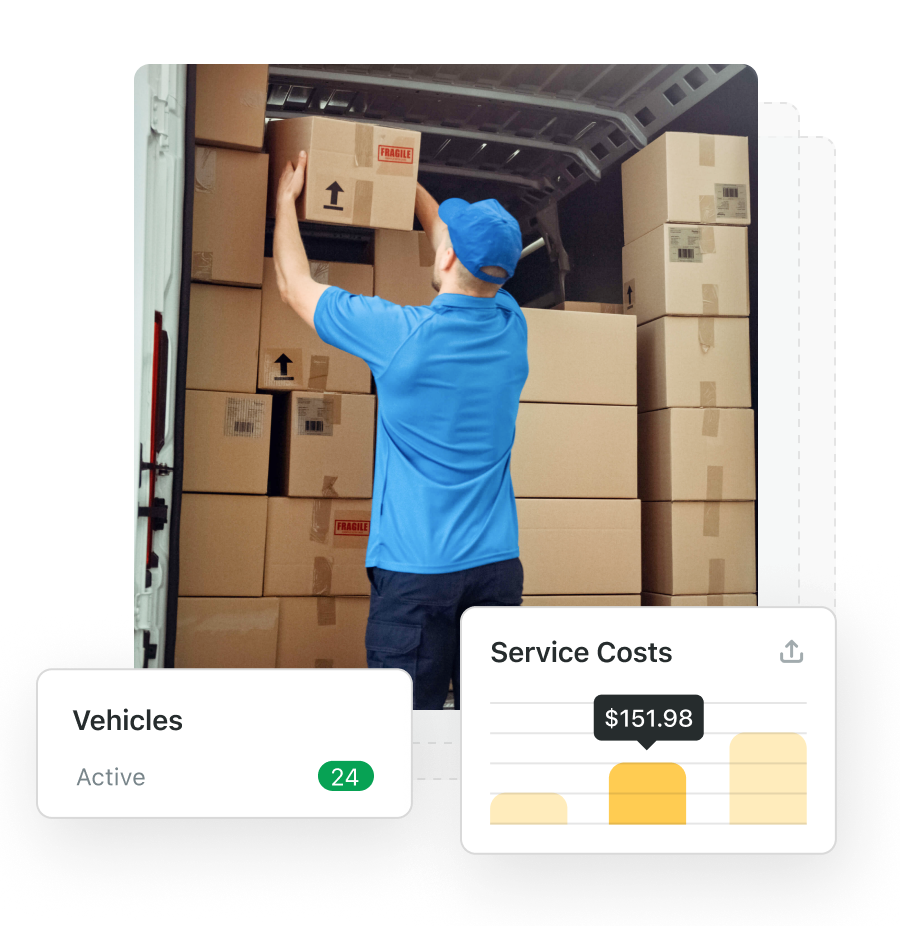 To maximize uptime and effectively manage your fleet's maintenance needs, it's important to implement and sustain a preventive maintenance schedule. Unfortunately, fleets who still use paper and spreadsheets to manage fleet maintenance have trouble keeping up with simple preventive maintenance tasks, which can often result in increased downtime and costly repairs.
With delivery fleet management software, fleet managers can configure preventive maintenance schedules that work to your busy routes. Managers can set up service reminders based on mileage or service hour intervals to come directly to your inbox.
Having advanced notice of upcoming preventive maintenance tasks ensures you can schedule service during your team's off hours to avoid schedule conflicts. Instead of trying to squeeze maintenance tasks in during a driver's shift, service can be completed before or after their route to avoid bottlenecks in the delivery process.
For delivery fleets who use third-party maintenance shops for repairs, Fleetio's Maintenance Shop Integration enables users to efficiently manage maintenance tasks, monitor repair progress and consolidate billing. When you're trying to schedule preventive maintenance for multiple vehicles, Maintenance Shop Integration is a valuable tool to streamline maintenance schedules.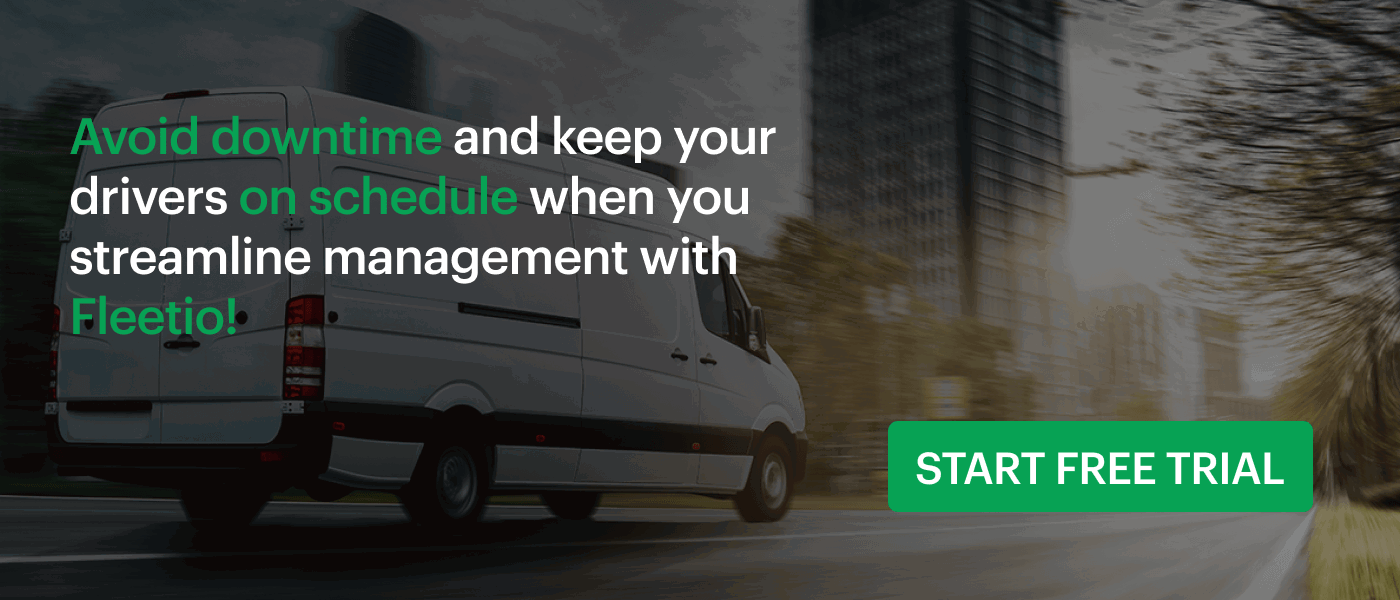 4. Track Fuel Costs and Consumption
Fuel is one of the largest ongoing costs for any fleet, and this is especially true for delivery fleets. Due to the size of your vehicles and the time spent idling during stops, managing fuel economy can be difficult.
Your fleet may already be leveraging fuel cards in your delivery fleet management plan. Fleet fuel cards are great for streamlining fuel purchases for your drivers, but their most powerful feature is the amount of data and insight they can provide to your operations.
Connecting your fuel cards to fleet management software provides increased visibility into fuel consumption and expense data. With the help of powerful management software, you can easily view and track fuel metrics including:
Cost-per-mile
Vendor locations
Number of units (gallons/liters)
Fuel grade
Fuel economy
Consumption trends
Analyzing your fuel data alongside other fleet information, such as maintenance trends and fleet expenses, allows you to identify areas of improvement and develop strategies to reduce fuel expenses.
5. Calculate Total Cost of Ownership to Make Better Purchasing Decisions
It's no secret that delivery fleets can have high operating costs. Unlike some other fleets, your vehicles are in almost constant use and rack up quite a lot of miles. Closely monitoring your fleet's total cost of ownership is a must if you want to maximize your return on investment (ROI) and reduce unnecessary spending.
Tracking costs can be difficult for fleet managers who use outdated fleet management methods. Sorting through spreadsheets and crunching numbers is a headache, and often results in inaccurate calculations.
Managing your entire fleet operation on a single, cloud-based software allows you to view real-time expense data and track every purchase down to the line item. Having this level of visibility into your fleet's operating expenses allows you to trim the fat across your budget, make better purchasing decisions and properly allocate money for future expenses.
Delivery fleet management software automatically calculates your fleet's total cost of ownership in real time. Fleet managers can easily view up-to-date expense reports and share data with stakeholders.
With an accurate view of your fleet's TCO, you and your executive team can create sensible strategies for purchasing or leasing vehicles. While vehicle acquisition and replacement may normally be a daunting task, fleet management software simplifies the process by providing you all of the data you need to make informed purchasing decisions.
---
Stick to your schedule and track your delivery fleet with Fleetio! Start your free trial or request a demo today.