Vehicle downtime can grind your fleet's operation to a halt, ultimately affecting your bottom line. Reduce the risk of unplanned downtime by developing a proactive fleet maintenance strategy.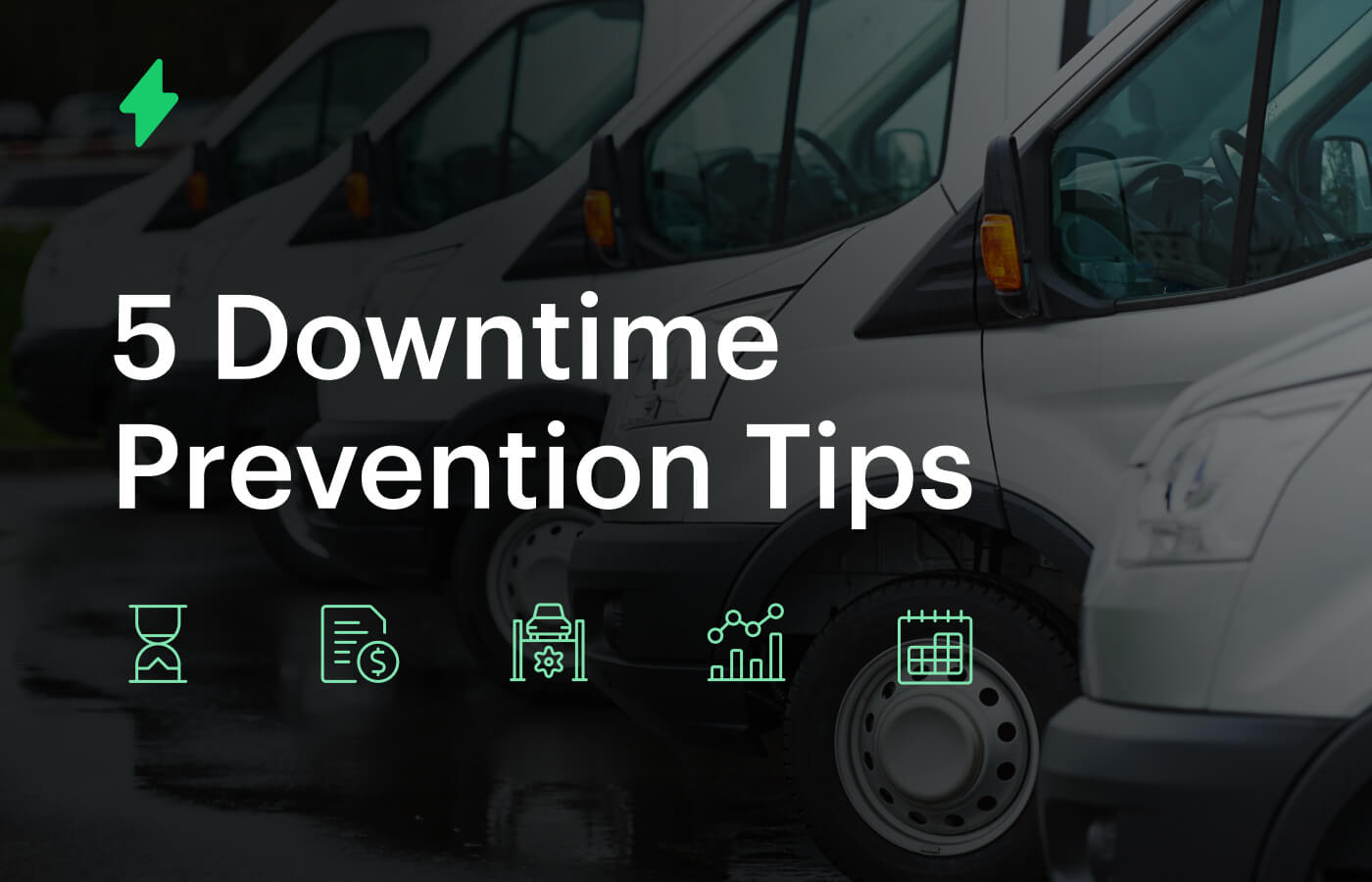 The Importance of Downtime Prevention
Unplanned downtime is typically caused by the lack of a proper fleet maintenance system. A preventive maintenance plan helps keep vehicles on the road and maintenance costs down. Here are a few best practices in downtime prevention.
1. Address Issues Immediately with eDVIR
An effective strategy for downtime prevention begins with routine vehicle inspections. Daily Vehicle Inspection Reports (DVIR) not only ensure your vehicles are safe and compliant, but also allow you to be proactive in vehicle maintenance and prevent unplanned downtime.
Many fleets are still using paper DVIR, which are time-consuming and prone to error. Paper inspection forms can get lost or damaged, and getting results to your maintenance team can take hours, impeding the repair process. Using electronic DVIR (eDVIR) increase efficiency and ensure drivers are more accurate and clear in their reporting.
eDVIR gives you real-time inspection results, preventing communication delays between driver and fleet manager. Any issue is immediately logged in your fleet management software, allowing you to quickly troubleshoot and resolve issues.
Seamless communication ensures that even when a vehicle experiences an issue, the maintenance process can begin immediately to get you back on the road quickly.
2. Create a Preventive Maintenance Schedule
The best way to prevent downtime across your fleet is to keep your maintenance plan proactive and not reactive. Knowing what maintenance tasks are in the pipeline can help you schedule vehicles and anticipate expenses.
Having a preventive maintenance (PM) schedule allows you to stay on top of regular servicing. With fleet management software, you can set reminders for certain intervals like mileage and hours of use, ensuring you never miss a servicing.
Streamlining your PM workflow is another great way to minimize unplanned downtime. If your fleet maintenance is done in-house, scheduling work orders in your fleet maintenance software allows you to efficiently track maintenance tasks and automatically update vehicle status.
Many small to mid-size fleets outsource maintenance to a third-party vendor. Historically, external repair orders have been created manually, causing bottlenecks and giving a limited view of asset health trends.
Automating outsourced maintenance through a fleet management software allows you to quickly manage repair orders, report on maintenance trends, consolidate billing and prevent unnecessary downtime.
3. Track and Measure Asset Health
Having a strong understanding of the past and current health of your assets will help you prevent future unplanned downtime. To gain this insight, it's important to track and measure repair data and service history.
Tracking repair data in fleet management software is a great way to conduct routine quality control and ensure maintenance is being completed properly.
With a common platform like Fleetio, you can access detailed service history for each of your assets and track progress on all current maintenance tasks.
Creating custom reports on asset history allows you to identify maintenance trends, forecast repairs, and track overall lifespan. This proactive approach to managing fleet information helps you minimize unplanned downtime while maximizing asset lifespan.
4. Develop a Vehicle Replacement Strategy
Unplanned downtime can happen more frequently as your assets age. Typically, asset performance declines as operating costs rise the longer a vehicle is operated.
Though you may have guidelines for vehicle replacement, sometimes vehicles stay in operation long past their prime. The decline in performance can cause unplanned downtime to happen more frequently and affect your bottom line.
The best course of action in developing an effective vehicle replacement strategy is to leverage fleet data. Exporting maintenance data into easy-to-read reports allows you to audit asset health and make informed decisions for vehicle replacement.
5. Monitor Part Replacement
To properly maintain your assets, their parts have to be in optimal condition. Part failure is a common cause of unplanned downtime. Making sure your parts are in good condition during your routine quality control is the first step in monitoring your parts.
Sometimes you might have a recurring failure of a type of part across multiple vehicles. Trends like this can be missed when you don't have an easy, comprehensive way to look at your fleet.
Watching trends through your fleet management software can give you insight into recurring failures.
Tracking and monitoring your parts both in-person and in your fleet management software ensures your parts are in top condition, consequently preventing downtime and cutting recurring costs.
---
Maximize uptime with fleet management software! Request a demo or start a free trial of Fleetio today.