In the midst of COVID-19, fleet maintenance management has become a growing challenge for fleet managers and owners. With tightening budgets and a need to connect digitally, it's more important than ever to ensure your fleet has an efficient fleet maintenance system in place.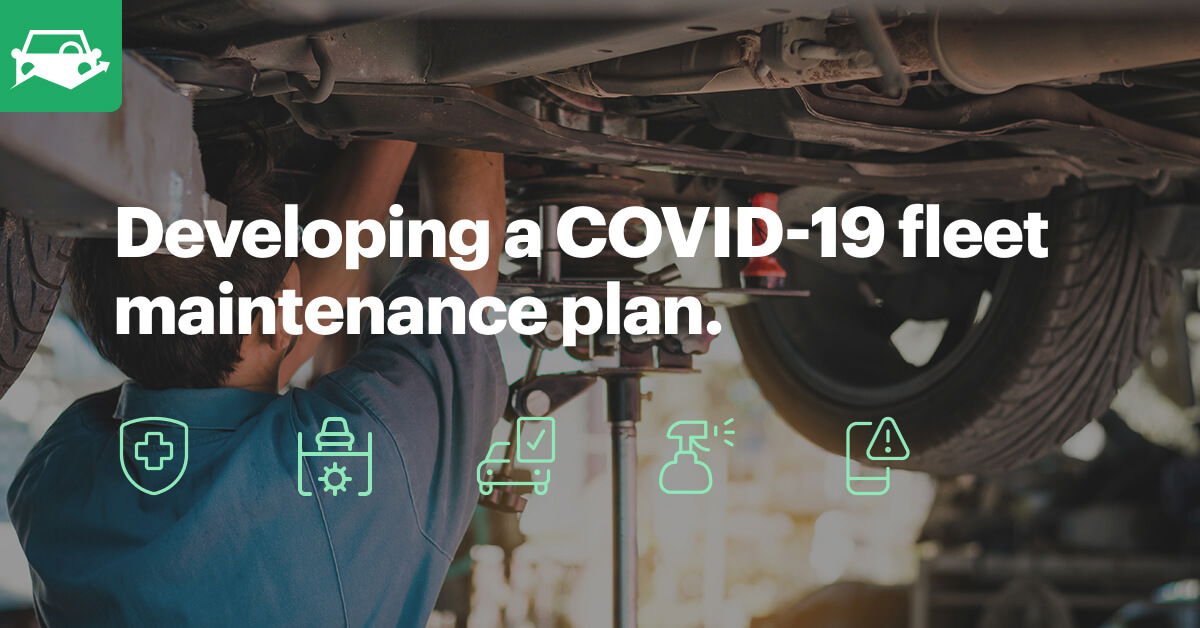 Proactive Fleet Maintenance Management During COVID-19
While fleets continue to navigate the effects of COVID-19, continuing to manage fleet maintenance during COVID-19 is an excellent way to keep your fleet healthy and proactive at this time. As industry experts continue to monitor and predict potential ramifications, it's critical that fleets around the globe adjust fleet maintenance management strategies for the weeks and months ahead.
While protecting employees and the public from the spread of COVID-19 is everyone's top priority, chief concerns for all fleets during this crisis are managing assets remotely, mitigating business risks and controlling tight budgets. With so many unanswered questions regarding COVID-19's impact, having proper fleet maintenance strategies in place ensures your vehicles are in good condition to avoid downtime and costly repairs.
When developing your COVID-19 fleet maintenance strategy, consider how your fleet can stay proactive and connected during this time. Having a solution to track and manage fleet maintenance in real time ensures your entire team can seamlessly communicate and remain productive.
Here are some tips to perpetuate proactive fleet maintenance practices despite the changes in your fleet's day-to-day operations.
1. Boost Preventive Maintenance Efforts
There have been many concerns across the fleet industry regarding a decrease in work. Some fleets may see a slow down due to potential clients tightening their budgets, while others may be busier than usual with an increased amount of freight or a need for delivering supplies locally.
If your fleet is experiencing less work than usual, consider using this time to focus on preventive maintenance practices. Assess maintenance needs across your assets, and consider performing upcoming preventive maintenance tasks now to take advantage of this time. Taking proactive steps now will ensure your fleet is operating at top performance for when operations return to their normal pace.
Regardless of current demand, preventive maintenance scheduling is pivotal to avoiding downtime. With a busier schedule, keeping up with preventive maintenance tasks ensures your vehicles are ready when you need them.
By managing maintenance in a cloud-based management software, fleet managers can create service reminders based on hour intervals or mileage to ensure PM tasks aren't overlooked. While PM scheduling maximizes fleet uptime, it also helps you avoid unnecessary repair costs in the long run.
Though this is a time of widespread uncertainty and fear, keeping up with routine operations like fleet maintenance not only prevents asset downtime, but it also helps encourage your team that things will eventually return to normalcy.
2. Approve and Manage Maintenance Remotely
Due to the coronavirus outbreak, many fleet managers and administrative staff are working remotely to avoid increasing the spread of the virus. This can prove challenging for fleet managers who aren't used to managing assets from home, particularly if you're managing your fleet on paper or installed software.
Fortunately, remote fleet management doesn't have to be difficult. To avoid lags in the maintenance process, the best strategy is to over-communicate. With the help of software, you can assign, track and comment on maintenance work orders digitally in real time to monitor technician productivity and ensure assets are repaired quickly.
Fleets that outsource maintenance to third party vendors can leverage Fleetio's Maintenance Shop Integration to remotely manage maintenance approvals, empower your drivers to find shops easily and manage repair costs in a centralized system.
Managing maintenance remotely with automated fleet maintenance software ensures you aren't spending hours playing phone tag with your in-house mechanics or third-party repairs shops. You can automate approvals, monitor work order status in real time and approve maintenance remotely.
Leveraging software to manage fleet maintenance keeps you in the loop while you're remote and allows you to connect with your team and ensure standards are being upheld throughout your fleet operation.
3. Mitigate Risks Through Safety and Cleanliness Protocols
While the concern for business remains ever-present, health and safety is the top priority during the coronavirus pandemic. Ensuring your fleet remains clean helps reduce the spread of COVID-19 and keeps both employees and the public safe.
Instruct your on-site team to avoid coming in close contact with coworkers or clients and ensure vehicles and equipment are thoroughly cleaned each day. If your drivers interact with customers on their routes, make sure they have protective wear, such as masks and gloves, to prevent potential spread.
To ensure sanitizing protocols are being followed, consider adding these tasks to your fleet's daily inspections. Tailoring mobile inspection forms to include cleaning tasks allows fleet managers to monitor the cleanliness of their team and ensure tasks are being completed. In the wake of this pandemic, Fleetio has added a COVID-19 inspection template to help your drivers sanitize and inspect vehicles efficiently.
Sanitizing vehicles and equipment should be completed periodically each day, ideally before and after each use. Including basic safety and cleanliness standards in your routine vehicle inspections is an excellent way to ensure your fleet is doing its part to combat COVID-19's spread.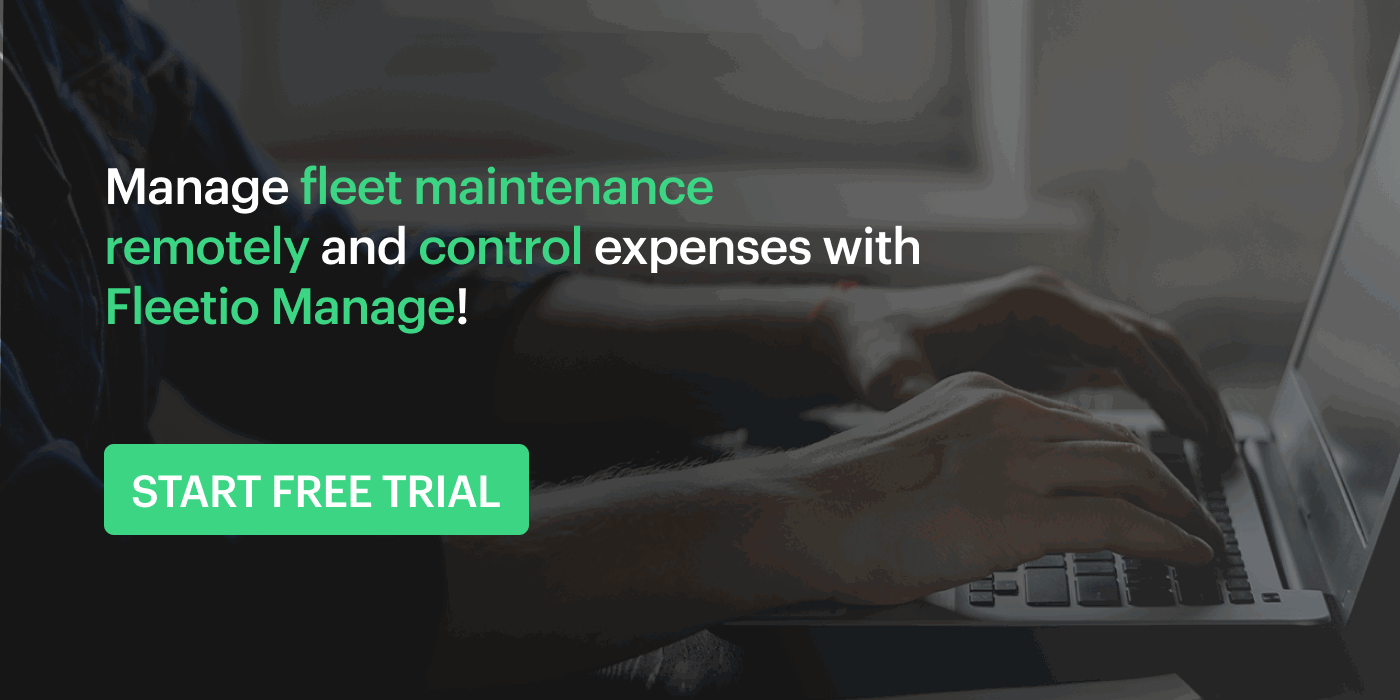 4. Optimize Inventory Management
Many fleet owners are concerned over potential shortages in the supply chain in the coming weeks. The majority of parts and equipment is shipped internationally, and stakeholders are closely monitoring any word of issues in the supply chain that could cause downtime.
Tracking your fleet's inventory is essential during this time. By keeping track of inventory levels, you can avoid stockouts during critical times and make the best decisions regarding usage and reordering before necessary items are sold out for weeks or months.
Using a web-based system to manage parts and inventory ensures your inventory levels are accurate and automatically alerts you of low levels. This level of visibility into your inventory ensures you avoid gaps in fleet maintenance and asset downtime. With uptime being more urgent, it's crucial to not have something as small as part stockouts slow your fleet down.
5. Monitor Fleet Maintenance and Expenses
Understandably, fleet owners are concerned about many aspects of business at this time. To navigate the COVID-19 pandemic smoothly, it's important to have a clear understanding of your fleet's expenses.
Fleet maintenance is one of the largest ongoing variable costs for fleets. As this number can fluctuate based on so many data points, it's critical to monitor your fleet's maintenance expenses and total operating costs during this time.
Monitoring maintenance costs and calculating total cost of ownership (TCO) can be a pain point for many fleets using outdated management systems, as getting an accurate look at expenses can be challenging without adequate data visibility.
Tracking your fleet's expenses on a granular level is essential to your company's success at this time. Analyzing your fleet's bottom line year over year and month over month enables you to forecast future revenue and make the best decisions regarding fleet maintenance over the coming weeks and months. Fleet management software automatically calculates your fleet's TCO to keep you informed.
With so many questions unanswered at this time, having easy, comprehensive access to your fleet's data provides peace of mind and allows you to ensure your fleet stays proactive and successful.
---
Ensure the health and safety of your entire fleet by streamlining maintenance in Fleetio. Start your free trial or request a demo today!