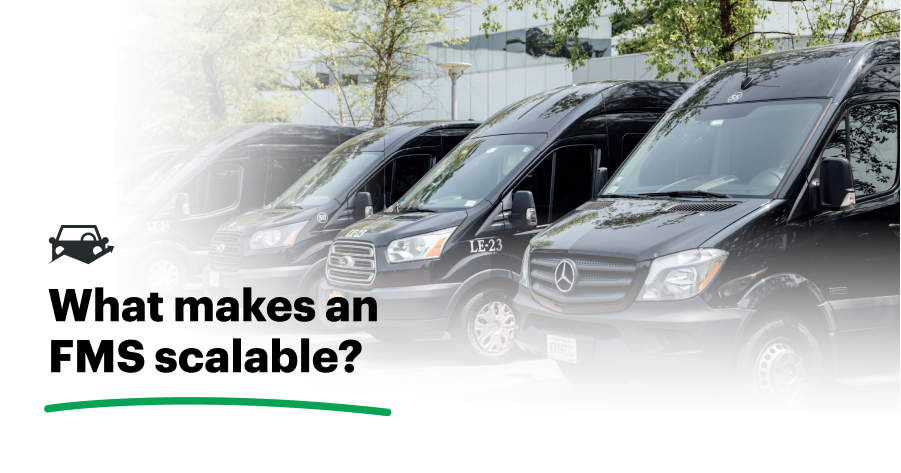 But before they dive deep into those concerns, large organizations tend to ask a basic question as they explore potential software—can this system scale alongside my business?
Between acquisitions and greenfield investments, enterprise organizations are constantly expanding, meaning their software needs are ever-evolving. To ensure your operations run smoothly, it's imperative that the software you rely on keeps pace with your rapid growth. After all, just because a solution is viable today doesn't mean it will remain a good fit into the future.
Three Components to Look for in Scalable Fleet Software
But what qualities make an enterprise fleet management software solution scalable? Ultimately, software for large fleets requires three elements to be effective.
1. Features That Facilitate Growth
Bulk actions
The staggering number of vehicles and assets enterprise fleets possess necessitate certain features for any fleet management system (FMS) to be effective. For instance, without the ability to bulk import vehicles, your personnel would be forced to spend countless hours manually entering data any time you expand your fleet.
Data visibility
Additionally, fleet reporting and fleet management dashboards become increasingly critical the more assets your organization owns. While identifying and correcting areas of inefficiency is valuable for fleets of all sizes, at enterprise scale, addressing recurring issues can result in untold savings.
What's more, it's common for enterprise organizations to have fleet managers responsible for individual branches report to regional fleet managers. To provide the intelligence all these individuals require, it's vital that any enterprise-level FMS has not just robust analytics tools, but also the ability to easily share reports to other users.
With features like these, you can rest assured that your FMS will never lag behind or constrain your constant growth.
2. Robust Technical Infrastructure
When it comes to enterprise-caliber FMSs, technical underpinnings are just as important as any UI element your personnel encounter on the surface.
Speed and stability
While it seems like every solution is cloud-hosted these days, you shouldn't assume that means performance is the same across the board. Even among systems using the same web hosting providers, performance can differ wildly. For enterprise organizations, anything less than lightning-fast performance from the apps you rely on is simply unacceptable. When shopping for solutions, you should make sure that any solution you consider can offer stellar performance to any geography you operate in (or plan to expand into).
Beyond quick response times, it's imperative that enterprise-aimed FMSs also boast impeccable uptime rates. Fleets depend on their FMSs for so many aspects of their operations, so when they're unavailable, productivity can grind to a halt. To be truly worthy of enterprise-level users, an FMS should be able to prove a history of 99% uptime (i.e. Fleetio's Status page). What's more, in the event of server failure, FMSs should be able to restore your data via emergency backups to ensure business operations are unaffected by unexpected downtime.
Data integrations
Finally, the ability to accommodate all manner of integrations is an essential part of an FMS being scalable. Enterprise organizations regularly implement new systems to improve their processes. To remain relevant, enterprise-oriented FMSs should provide your developers with everything they need to establish connections between themselves and other business systems (e.g. API access, web hooks, etc.).
At the enterprise level, the stakes are simply too high to run unreliable software. Large organizations should vet FMSs thoroughly to ensure whatever solution they go with is backed by a rock-solid infrastructure.
3. Experienced Customer Support
And lastly, any discussion of enterprise fleet management software would be incomplete without diving into the importance of quality customer support.
Onboarding support
At the enterprise level, implementing new software requires considerable preparation to minimize operational disruptions. Many FMS providers offer onboarding services to assist large fleets with change management and to get them started on the right foot. By partnering with a solution provider experienced with enterprise implementations, you can achieve buy-in from your personnel and ensure consistent adoption across all of your branches.
Ongoing support
Post-implementation, dedicated customer success managers (CSMs) can help enterprise fleets get the most out of their FMS. Part-customer advocate and part-software expert, CSMs regularly meet with fleets to identify their goals, collect their feedback and provide suggestions on how they might improve their workflows with the help of their FMS. As your fleet grows and your software needs evolve, CSMs can help adjust how you leverage your FMS in order to best accommodate your growth.
The ROI of fleet management software comes from helping organizations achieve greater productivity and eliminate inefficiencies. At the enterprise level, with an FMS that scales in parallel with the organization it supports, these productivity gains and inefficiency reductions can be extraordinary.
---
Looking to take your enterprise fleets to new heights? Fleetio can help. Start your free trial or request a demo today.