Fleet expenses can rack up pretty quickly and, these days, things are not cheap. Regardless of the industry your fleet sits in, the Current Cost Crisis™ has likely affected not only asset and parts costs, but job materials and trade supplies as well. And with the cost of living continuing to rise, that's another expense to take into account — increasing employee pay to meet (or at least get close to) inflation parity.
Key Metrics for Expense Tracking
In order to get control of expense management and better understand responsible cost cutting, you have to be able to track any and all fleet-related data, so let's talk numbers. Below are a few key metrics you should consider when it comes to tracking fleet costs.
1. Service Costs
The maintenance and repair budget makes up a sizable chunk of your fleet's expenses. Keeping a close eye on asset service histories can help you identify which asset or types of maintenance are driving up costs. Implementing custom preventive maintenance (PM) strategies can yield substantial savings by tackling small issues before they escalate.
2. Fuel Use and Costs
Fuel is another substantial cost for fleets. Tracking fuel efficiency, optimizing routes and asset maintenance and improving driver behavior can have a significant impact on fuel costs. Fleet solutions like fuel cards, telematics and fleet management software (FMS) often provide real-time data to help you fine-tune fuel consumption for reduced fuel spend.
3. Total Cost of Ownership
Understanding total cost of ownership (TCO) is like seeing a map of your whole operation from both a high-level perspective and on a more granular level. It accounts for all the financial facets of asset ownership, from acquisition to disposal and everything in between. Fleets can use TCO to help choose assets that provide the best value in the long run for improved savings.
Build a comprehensive fleet budget
Looking to build a better budget? Check out our white paper to learn common systems of budgeting and categories of fleet spending, as well as expense tracking best practices.
Learn more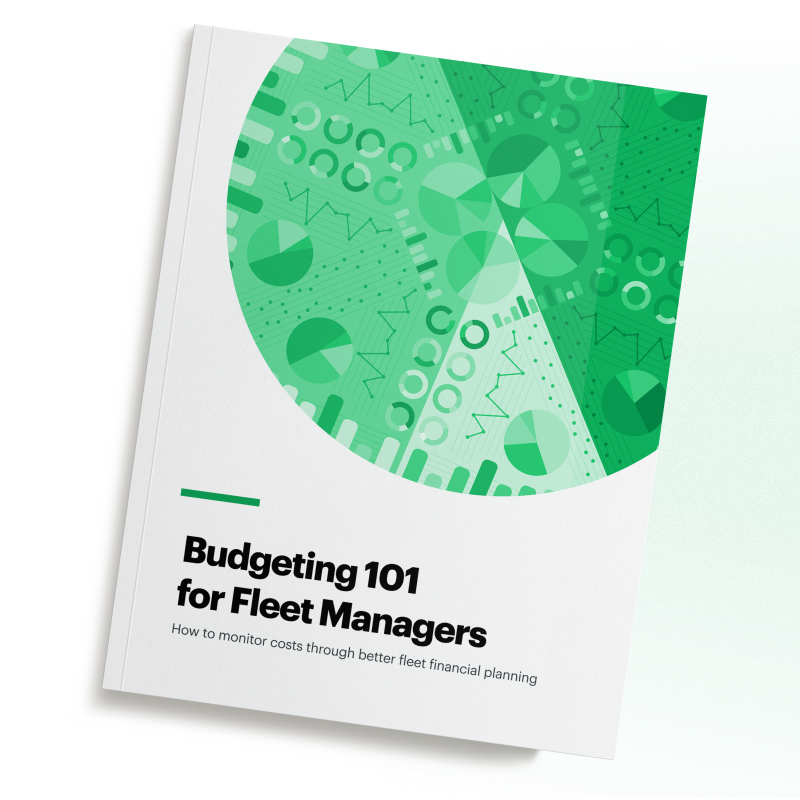 Expense Tracking and Management
The road to cost reduction starts with detailed expense tracking and management — and I do mean detailed. There are many factors that play into the metrics outlined above, such as inspection compliance rates, driver behavior, parts use and so on. Manually tracking fleet data can be exhausting and usually yields incomplete or error-prone data. Fleets can use FMS to improve data collection and analysis while saving time as well as money, thanks to accurate insights. Below are a few ways you can improve expense management.
Implement Integrated Fleet Solutions
Centralizing your expense data is a game-changer, ensuring that all pertinent information is accessible to the relevant parties, facilitating better decision-making. Fleets can integrate multiple fleet and business solutions onto a single, centralized platform with FMS, providing more detailed and robust data.
FMS offers a streamlined approach to collecting, aggregating and analyzing fleet data, as it automatically consolidates information from various sources, making it easier to evaluate and act upon. Fleet management reports are also generated automatically, and reports are configurable so you can see the exact data you need.
Categorize Expenses
To understand where your money is going, categorize expenses. Divide them into logical groups like maintenance and repair costs, fuel use, asset acquisition, etc. This type of categorization enables you to pinpoint areas where spending is high or needs to be adjusted.
Set Budgets and Expense Targets
Defining budgets and expense targets can put you on the path toward fiscal responsibility. Regularly revisiting and adjusting these targets ensures you stay on track, and having historical expense data can aid in better budgetary estimates for reduced reallocation needs down the line.
Achieving Efficiency and Savings
With the costs of managing a fleet continuing to rise, efficiency and cost savings are not mere aspirations but imperatives. Effective expense management empowers you to make informed decisions, cut waste and streamline operations, reducing fleet costs.
Expense tracking isn't just about saving a dollar here or there; it's about establishing a foundation for success. So, harness the power of technology, dive deep into your data and set your fleet on a course towards a brighter, more cost-efficient future.
---
Expense tracking made easy
Looking to boost your expense tracking and management game? Find out how Fleetio can help! Schedule a free, personalized walkthrough tailored to your fleet.
Book custom demo