Encouraging and acting on valuable feedback from drivers, technicians and other fleet employees can help improve employee morale and retention and increase productivity.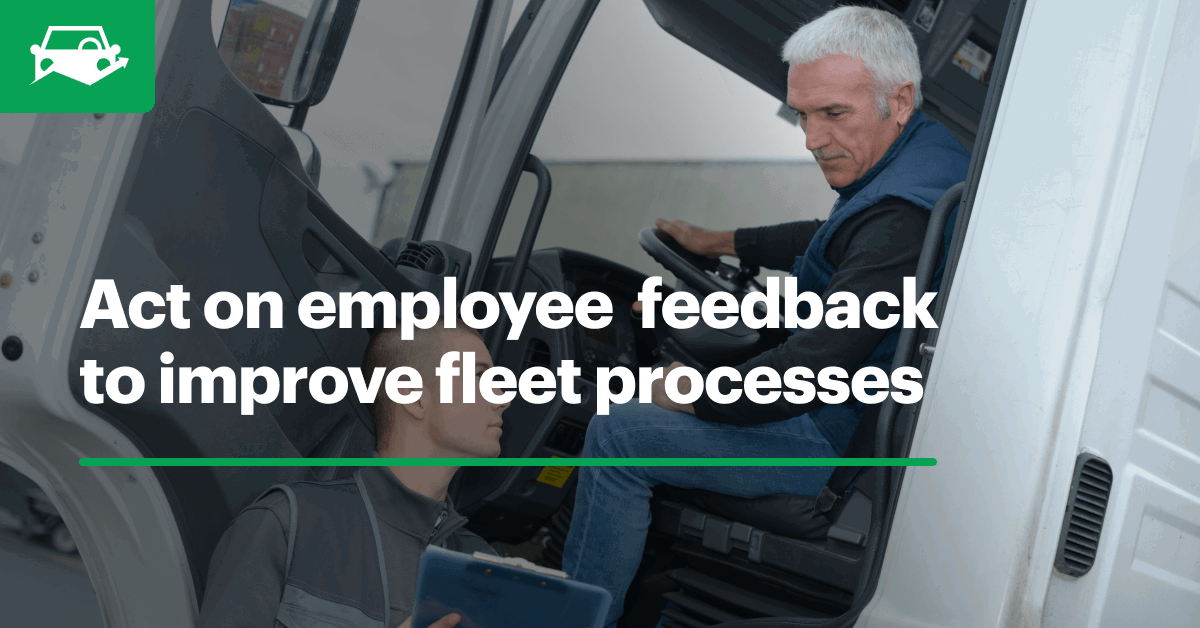 Listen, Learn, Lead: Proactive Management
The influx of fleet management and tracking solutions means fleet managers now have more tools at their disposal than ever for tracking asset data. With so much focus on tracking material assets, oftentimes a fleet's most valuable resource can go overlooked: the employees.
Employees are a highly valuable, often underutilized resource, yet collecting actionable employee feedback is fundamental in adopting a proactive management style—that is, focusing on controlling or managing known risks to decrease the chances and impact of hazards.[1] No matter how proficient a fleet manager is, it's impossible to know what all risks exist in every vehicle, every asset and within daily processes; however, employees encouraged to provide feedback can bring previously unknown risks to light.
Tap the Well of Knowledge
From drivers to technicians and dispatchers, employees who work with fleet assets daily can better pinpoint which operational processes work well and which could be improved. However, if employees feel their voiced concerns aren't being taken into consideration, workforce morale and employee satisfaction will drop. "Organization responsiveness to employee feedback leads to higher retention rates, lower absenteeism, improved productivity, better customer service and higher employee morale," according to SHRM.
Additionally, satisfied employees are more likely to advocate on the organization's behalf, not only with customers but also with potential new recruits. "Positive and high company morale will lead you to attract and retain top talent. Employees will be far more likely to remain loyal to the company when they have a good and healthy work environment which in turn leads to higher employee morale and that positive energy will help attract and retain talent," according to Connecteam.
Surveys show that:[2]
69 percent of companies are experiencing a record-high talent shortage
Nearly 45 percent of employers say their biggest challenge is finding and retaining high-quality candidates
Happy employees work faster and are 13 percent more productive
Cultivating a company culture that incorporates improving employee satisfaction not only increases employee retention and top-notch recruiting but also decreases work-related stress, injury and overall downtime.
Empower Your Team: Areas of Feedback Implementation
Some companies use annual or bi-annual feedback surveys as a "touch base" for checking in on how employees view their job and the company they work for. While these types of surveys can be good for evaluating general employee satisfaction, they often lack questions that can lead to actionable data.
Asking questions regarding vehicle procurement and replacement, upfitting, and maintenance and reporting, as well as process efficiencies can provide a wealth of actionable feedback. Decked, a commercial truck and van storage upfit manufacturer, explains that allowing employees to help with executive decisions around upfits helps make their job easier. "If they ask for running boards or steps to help save wear and tear on their knees, seriously consider it as it's much cheaper than having them out for a couple of months with knee surgery."[2] When creating or updating your vehicle upfitting program, be sure to ask drivers what they like and dislike about current upfits and what types of improvements could be made to reduce both employee and vehicle wear and tear.
Not every piece of feedback can be acted upon, but by consolidating feedback, you can discern and prioritize fleet-wide issues. If you service vehicles in-house, lean on your technicians to give you a better idea of common issue-items they feel can be remedied easily through, for example, switching parts brands. When it comes to vehicle replacement and/or procurement, both drivers and techs can provide valuable information regarding past vehicle performance and maintenance issues to ensure your fleet procures the best asset possible.
Facilitate Easy Communication with Software
While fleet solutions typically revolve around material assets, a robust fleet management software can help you procure and organize employee feedback. Whether your goal is to better manage fleet drivers, improve driver and fleet employee morale or incorporate better management practices, software can help facilitate your goals. In Fleetio, you can create a custom inspection form that can serve as an annual feedback review. From here, you can easily pull a consolidated report to hone in on areas of improvement. Furthermore, Fleetio allows for consistent, real-time communication, which streamlines maintenance, improves collaboration and expedites actionable employee feedback.
---
Curious to see how Fleetio can promote collaboration across your fleet? Start your free trial or request a demo of Fleetio today!
Sources
1 Proactive Management: Definition, Benefits & Example