With multiple approaches to upfitting available, from custom builds to stock acquisitions, determining which is best for your fleet can increase driver safety and productivity and maximize ROI.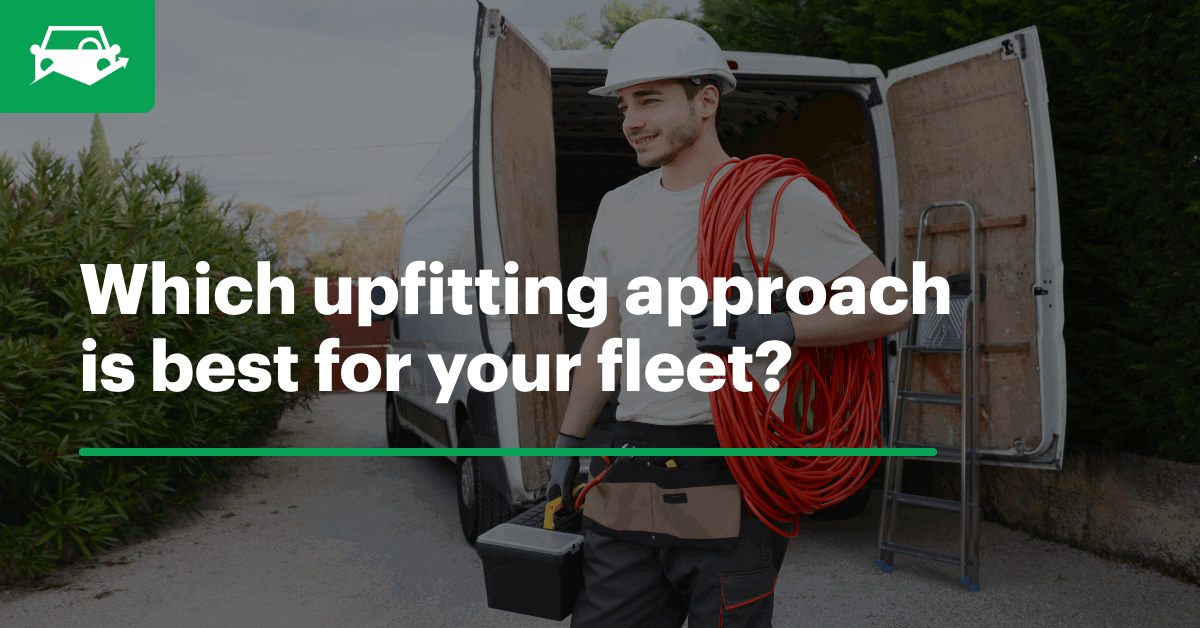 Basics of Vehicle Upfitting
Vehicle upfitting is a common and practical way to ensure your employees have an efficient set-up to help meet the demands of daily operations. Proper vehicle upfitting can increase productivity, driver safety and your overall return on investment (ROI). Additionally, according to Nissan, better upfitted vehicles "can attract more qualified employees."[1]
There are several approaches to take when it comes to upfitting, from custom spec'ing a new build to purchasing or leasing a standard upfitted vehicle, among others. When choosing the best approach for your fleet, there is a lot to consider, including:
Employee and Expert Input: Rely on input from everyone who works with the assets so you'll have a better idea of what is necessary vs. a nice-to-have. This is especially relevant when updating specs from previous upfits for new vehicle acquisition. Additionally, Adrian Steel recommends asking the upfit technicians for advice, as their experience can provide valuable information to help optimize your upfit.[2]
Driver Safety, Comfort and Success: While the goal of upfitting a vehicle is to help ensure individuals working from them have what they need in an easily accessible manner to increase productivity, it's equally important to consider safety and comfort. Upfitting for ergonomics and additional safety features "can significantly impact the bottom line by reducing workers' comp costs, improving driver productivity, and reducing fatigue-induced operator errors that can lead to preventable accidents."[3]
Time to Delivery: When planning your upfit strategy, be sure to research or ask your preferred dealer and upfitting partner about estimated lead times. With order to delivery averages of 10 to 12 months for vocational trucks—up from the four- to eight-month average in 2019—the further ahead you plan, the better.[4]
Budget: The cost of upfitting varies, with custom builds being on the more expensive end vs. either stock upfits offered through OEMs or standardized upfits; however, custom upfits more often provide the best ROI. Adding upfitting to your vehicle procurement and/or replacement strategies can give you a more accurate idea of which option will best suit your needs.
Weight Rating and Chassis Durability: Talk with your upfitting partner about your fleet's daily operations. Upfitting techs can give you an idea of material options that can withstand both the job and environment while not compromising the 85 percent rule (i.e. keeping the vehicle operating at no more than 85 percent gross vehicle weight rating (GVWR)). Additionally, they can help you make sure you're choosing the right chassis for both the build and the job.
Now that we've covered a few basics, we're going to dive into some of the pros and cons of the most common upfitting approaches so you can narrow down which might be the best for your fleet.
Custom Upfits
While custom spec'ing an upfit for a new vehicle can be more expensive and take longer from order to delivery, it's one of the most common and reliable approaches to upfitting. Many OEMs work with preferred upfitters to help streamline the build process, and some offer rebates and incentives for using "in-network" upfitters.
Pros
Built to meet the exact needs of your fleet
Increases driver safety and reduces potential for injury
Some leasing agencies offer custom upfits, allowing for customization with a decreased monthly cost compared to purchase
Cons
Expensive
Longer wait from order-to-delivery
Potential communication issues between buyer, OEM and upfitting partner, which could cause errors or delays in the build process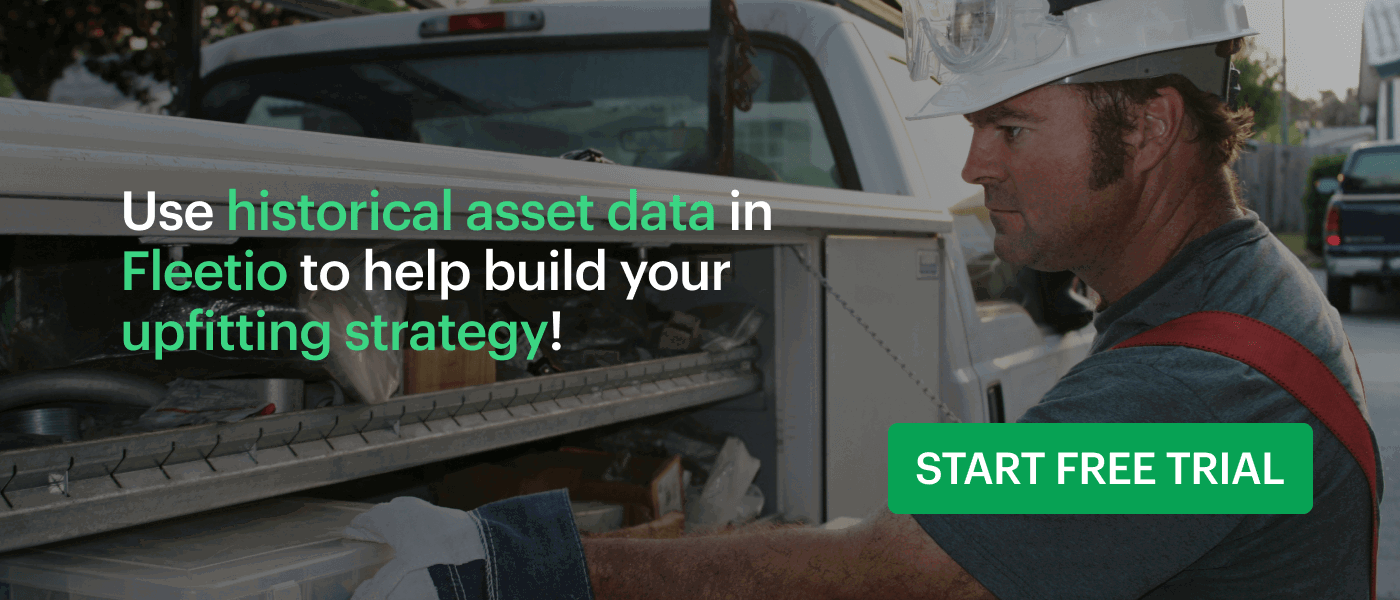 Stock Upfits
When it comes to stock upfits, you have the option to buy or lease vehicles generically upfitted by industry (e.g. landscaping, construction, utility, etc). Both leasing and purchasing have unique benefits and drawbacks.
Leasing Stock Upfit Pros
Can give you an idea of whether standard upfits are a good fit for your fleet with less commitment than a purchase
Lower monthly payments
Leasing Stock Upfit Cons
Vehicles may be cycled on a schedule that doesn't coordinate with your replacement analysis
Can't make modifications to the upfit if needed
Purchasing Stock Upfit Pros
Can modify the upfit if needed after delivery
More cost effective and readily available than custom builds
Provides more consistency across your fleet
Purchasing Stock Upfit Cons
Some modifications can affect the performance or integrity of the upfit (e.g. drilling holes into certain materials can cause microfractures when adding shelves or other organizational accessories) and may void any warranties
Upfit may not match your business needs, which could end up costing you via decreased productivity and increased maintenance
Honorable Mention: Standardized Upfits
You can also create a standard for your fleet based on an initial custom build, the specs for which should be updated/verified for each new model year vehicle purchased and based on changes in business needs. Standardizing fleet upfits allows for bulk ordering, which can reduce cost and delivery delays.
When building an upfitting strategy, it can be helpful to pull on additional resources, such as operational reports and maintenance histories stored in your fleet management software. Using fuel cost reporting can help you determine if you need to cut vehicle weight through lighter upfit material use, while maintenance reports can give you a better idea of any underperforming past upfits or abnormal chassis wear and tear from improper spec'ing. No matter which upfitting method best fits your needs, you can use historical fleet data to help build your upfitting strategy.
---
Improve fleet safety and productivity with Fleetio! Start your free trial or request a demo of Fleetio today.
Sources
2 5 Commercial Upfit Mistakes to Avoid
3 Ergonomically-Designed Equipment Reduces Workers' Comp Claims
4 2020 Supply Chain Constraints Carryover into 2021 Model-Year Ordering