Vehicle upfitting is a common way fleets can equip their vehicles with specialized parts and tools needed for their business. While a lot goes into vehicle upfitting, developing a strategic plan that fits your fleet's needs will make this a smooth process.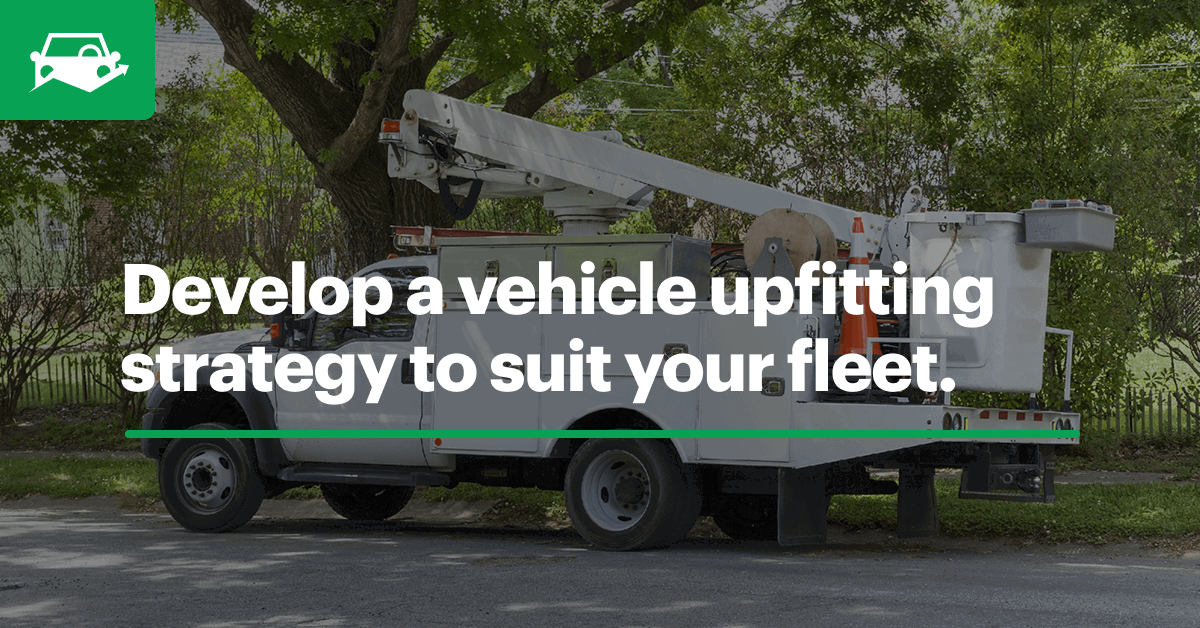 Optimizing Vehicle Upfitting for Fleets
Fleet vehicle upfitting involves a lot of planning on a fleet manager's part, but making the decision to upfit your fleet can increase efficiency across your entire fleet. While some vehicle upfits, like boom trucks for utility fleets, are required for certain functions, your fleet might not have gotten around to other upfits, like installing service bodies, due to a variety of reasons, mostly surrounding time and cost.
More than ever, vehicle upfitters are taking into account the unique needs of drivers and crafting highly specialized upfit designs. Whether you work with a partner or choose to upfit your vehicles in-house, it's important to have a clear idea of what upfits will allow your drivers to better perform their duties day-to-day.
Though it may sound like a daunting process, vehicle upfitting can be a smooth process for fleet managers who take a methodical approach to the process. On a basic level, your first steps towards vehicle upfitting should be:
Conduct research
Develop a plan
Know your budget
During this planning period, many questions will arise. Taking time to carefully plan and organize your goals enables you to carry out a vehicle upfit that is uncomplicated and effective. To help you determine the best course of action for your fleet, we've detailed four of the best tips for vehicle upfitting.
1. Determine the Best Time for Vehicle Upfitting
There are many complex questions surrounding fleet vehicle upfitting, but perhaps the most difficult question on a fleet manager's mind is straight-forward: when is the best time?
The right time for fleet vehicle upfitting is different for every fleet. Perhaps it's when you have space in the budget, or maybe when you have some gaps in your schedule and can easily send vehicles into the shop without worrying about filling jobs.
In the wake of the COVID-19 pandemic, fleet managers must be even more strategic in their decision-making. The largest considerations regarding vehicle upfitting at this time are spare time, supply chain issues, budgets and the future of each fleet.
If your fleet is experiencing a slowdown in business, you may be using this time to boost your preventive maintenance efforts and improve your vehicles. If you were already planning vehicle upfitting for your fleet, now might be the best time to act before a rush of demand returns (or a lack of available parts).
Fleet managers must also take the supply chain into account. With the possibility of future gaps in the supply chain, you may decide to bump up your vehicle upfitting schedule by a few months to ensure upfitters have the necessary parts on hand.
Moving forward with your fleet's vehicle upfitting process could help avoid part delays and provide peace of mind in the long run. Knowing your vehicles are upfitted to increase efficiency can help you set a strong pace when things return to somewhat normalcy.
2. Select Upfits that Maximize Driver Efficiency
When developing your vehicle upfitting plan, setting expectations and goals is imperative. What types of vehicle upfits will enable your fleet to operate more efficiently? How much more productive would your drivers be with the proper tools and equipment in place?
Understanding how each type of vehicle in your fleet is used day-to-day is critical in determining functional upfit options. Talk with your team about what type of accessories, shelving or tools would be most useful onboard your vehicles. Your drivers know their vehicles best, and they can provide insight into what is needed to increase productivity and performance.
How do you envision your fleet being utilized once the upfit is complete? Setting goals during the development stage ensures you know what you need. There are a variety of options that may suit your fleet, and while some service bodies come pre-built, you can customize your vehicle upfit to suit your needs. Consider some of the most popular accessories, including:
Cab protection
Winches
Liftgates
Toolboxes
Adjustable shelving
Ladder racks
Portable cranes
One important aspect to keep in mind while planning your fleet's vehicle upfit is your vehicle's gross vehicle weight rating (GVWR). Your GVWR is the maximum weight a vehicle is allowed to weigh according to the manufacturer's specifications.
The widely accepted rule when operating a vehicle is the "85 percent rule," meaning a vehicle should only operate at 85 percent of the maximum GVWR. This ensures you are maximizing vehicle lifespan and avoiding unnecessary repair costs.
When planning your vehicle upfit, be sure to consider how upfit weight will impact your payload and GVWR to ensure the safety of your vehicles.
Bonus tip: If you use Fleetio to manage your vehicles, take advantage of our VIN Decoder. Import over 90+ specs, including GVWR, to reference at a moment's notice!
3. Use Mobile Work Orders to Organize Tasks Remotely
Once you've done research, set goals and developed a strategy for vehicle upfitting, you need a way to keep your tasks organized. Being on the same page with upfitting technicians and tracking progress ensures a smooth process.
Utilizing configurable fleet management software is an excellent way for fleet managers to track maintenance from anywhere. Even if you're managing your fleet remotely, you can monitor and assign maintenance and vehicle upfitting tasks from anywhere to ensure your upfit is completed on time.
Using a cloud-based software, fleet managers can create and assign mobile work orders to track service from start to finish. For a vehicle upfitting project, fleet managers can leverage mobile work orders to view detailed line items, track service completed and view a detailed breakdown of costs.
Whether you're upfitting in-house or working with a service provider, having an organized system of managing service ensures a smooth vehicle upfitting process.
[![upfitting-cta](https://marketing-cdn.fleetio.com/images/blog/upfitting-cta.png)](/pricing)
4. Consider the Big Picture in Terms of Cost
So, you've set your goals, made plans and developed a timeline. Naturally, you're wondering how much all of this will cost.
While vehicle upfitting prices vary greatly depending on whether you're upfitting toolboxes onto your service truck or installing an aerial lift on your work truck, having a set budget at the beginning of the process can help you avoid problems down the road.
Vehicle upfitting is a costly process—there's no getting around that. However, it's important to keep in mind that while the up-front cost may be high, upfitting your fleet could pay off in dividends.
If done properly, a vehicle upfit can increase productivity and safety, enabling drivers to complete more jobs and provide a high return on investment (ROI).
When making the decision to upfit any fleet vehicle, fleet managers and stakeholders should carefully consider their fleet's true total cost of ownership (TCO). Having an accurate calculation of your fleet's TCO empowers you to make the best purchasing decisions, from acquisition and maintenance to upfitting and replacement.
Housing all of your fleet's data in fleet management software automatically calculates your fleet's TCO and provides a cost breakdown for you to analyze and make better decisions regarding allocation. By comparing this data with your current vehicle upfitting plan, you can confidently create a budget that fits your fleet's needs.
---
Increase productivity throughout your fleet! Start your free trial or request a demo today.