Just-in-time (JIT) inventory management is a common methodology for maintaining optimal inventory levels. Implementing JIT best practices enables fleets to reduce overstocking and control spending.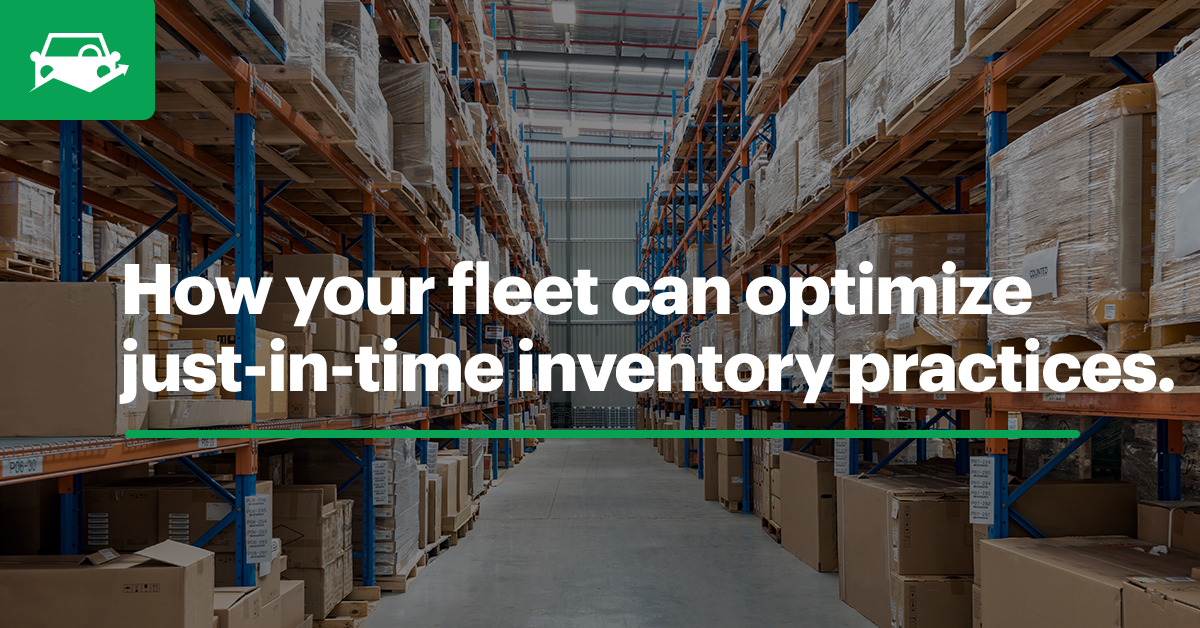 4 Just-in-Time Inventory Management Best Practices
Just-in-time inventory management is a method of managing parts and inventory that increases efficiency and reduces costs by operating lean inventory and receiving parts only when needed. The JIT system originated in Japan as a way to meet current demand without maintaining an overstock of inventory.
Leveraging a JIT inventory strategy can be a great option for fleets aiming to optimize inventory space and maximize the efficiency of their inventory system. Unfortunately, fleets that still use paper processes to track parts and inventory run into trouble when trying to develop an effective JIT inventory system due to a lack of visibility across operations.
Without a way to comprehensively track and manage your inventory in real-time, the just-in-time inventory system isn't as effective. With a lean operation like JIT, fleet managers must have a clear understanding of inventory levels to avoid stockouts and always have the right parts on hand.
To effectively manage and monitor parts usage and maintain JIT best practices, many fleets are turning to fleet management software. Using a software solution to manage parts and inventory not only ensures fleet managers can view and update inventory levels in real-time, but it also empowers managers to control inventory remotely.
Implementing a just-in-time inventory management system for your fleet doesn't have to be challenging. Streamlining JIT inventory management through a cloud-based software is a simple, effective way for fleet managers to optimize inventory levels, control expenses that contribute to your fleet's total cost of ownership and monitor parts usage across your fleet.
1. Maintaining Optimal Inventory Levels
The JIT system is all about lean inventory, but in the uncertain times of COVID-19, inventory management has become a balancing act. Fleets who are used to operating lean systems may be concerned about the supply chain's ability to maintain order fulfillment.
How do fleets ensure they have the right amount of parts to avoid stockouts while still maintaining a tight budget?
Fleets across industries are concerned about the supply chain being impacted during COVID-19, especially as most suppliers are in Asia. While this may seem like a good time to buy large quantities of parts to secure your inventory, it's critical to your bottom line to have a strong understanding of which parts you actually need at this time.
Fleet management software provides a complete system of record for parts usage, ensuring fleet managers have hard data regarding utilization and cost breakdowns to make the best purchasing decisions. Having this knowledge enables fleets to adhere to traditional just-in-time inventory practices while choosing what parts might need to be ordered sooner to ensure optimal inventory levels.
Perhaps you want an extra two month supply of a certain type of part to ensure you can perform proper fleet maintenance and avoid uptime. Having this cushion can still work in a just-in-time inventory practice.
Adapting your fleet's JIT inventory strategy is necessary during uncertain times, like the COVID-19 pandemic, and closely monitoring configurable inventory reports with fleet management software ensures you have the proper knowledge when deciding which parts to source at what time.
2. Tracking Inventory to Avoid Stockouts
A just-in-time inventory management system is only as effective as your inventory management system. Tracking quantities in real-time is essential for reducing part stockouts and ensuring you have the right parts on hand.
The best way to maintain your JIT inventory plan is to comprehensively record parts usage in an automated fleet management software. Users can update quantities in a mobile app or on a computer to trigger reorder notifications, ensuring you order new parts just in time to avoid stockouts.
Fleet management software also tracks part usage, allowing fleet managers to analyze which parts are most often used across operations. With an uncertain supply chain, having usage data provides fleet managers the information needed to make clear decisions on how to properly reorder to maintain a lean, yet secure inventory.
See how one fleet optimized their parts inventory with the help of Fleetio.
3. Managing Multiple Inventory Locations Remotely
Many fleet managers are tasked with tracking multiple inventory locations, which can be challenging when you don't have real-time inventory monitoring software. Tracking your parts with fleet management software is the most efficient way to track and manage your JIT inventory due to its ability to calculate current inventory totals across multiple locations.
This can be a game-changer when you're managing a fleet remotely (which you might currently be adjusting to due to COVID-19). No matter where you are, you can monitor and manage inventory levels and ensure your team is maintaining a neat and efficient inventory.
Fleet management software allows you to specify the location of each part throughout multiple warehouses. Having clear documentation of where each of your parts is down to the aisle, row and bin ensures parts don't go missing and your team can find the parts they need quickly.
[![jit-cta](https://marketing-cdn.fleetio.com/images/blog/jit-cta.png)](/pricing)
4. Calculating Inventory Value in Your TCO
Fleets often choose to leverage a just-in-time inventory management system due to its cost-saving benefits. A JIT system provides fleets with a lower inventory holding cost and dead stock, as parts are only purchased as needed.
This is an effective strategy for tight budgets, but it requires fleet managers to have maximum visibility into inventory levels, usage and their total cost of ownership (TCO). Clarifying inventory value not only keeps your fleet in check regarding inventory budget, but comprehensive expense reporting ensures you have all the data you need to make the best financial decisions for your fleet.
Parts make up roughly 30-35 percent of maintenance costs, and maintenance is one of the largest ongoing expenses for fleets. To effectively track your fleet's success and maximize your return on investment (ROI), it's critical to include parts costs when calculating your fleet's TCO.
While expense reports may sound intimidating, fleet management software automatically calculates the total cost of ownership and provides a breakdown of costs on a granular level. Not only does this improve your JIT inventory purchasing, but it also enables you to make confident decisions regarding every aspect of your fleet.
---
Optimize your inventory and control costs by leveraging Fleetio! Start your free trial or request a demo today.