As brick-and-mortar stores have fallen, e-commerce has exploded in popularity. For many consumers, the convenience of shopping online has made in-person retail mostly irrelevant. After all, why go to a store when you can have purchases dropped off at your door with same-day delivery?
To keep up with skyrocketing consumer demand, e-commerce businesses big and small have heavily invested in their last mile delivery (LMD) operations in recent years. 53% of total shipping costs are accrued during the proverbial final mile of getting a package to a customer's porch, so reducing last mile delivery costs can be immensely beneficial to an organization's bottom line.
Here are four technologies last mile delivery fleets should know about:
1. Tires designed for last mile delivery
Compared to other kinds of fleet operations, last mile deliveries might not seem particularly wear-intensive. In reality, the rigors of transporting cargo in urban environments can degrade vehicles and their components far quicker than you might think. Tires are a prime example of that.
Due to a number of factors, tires used in LMD operations only last about three months. Frequent stops to drop off packages cause tires to endure greater amounts of friction and heat from braking than average. Constant turns through complex city streets cause added stress. LMD drivers often graze and hit curbs when parking, which can damage tire sidewalls. In fact, the tendency for LMD drivers to be less experienced than other fleet drivers also results in accelerated wear and tear in general.
Tire manufacturers like Goodyear, Bridgestone and Continental have taken notice of these challenges and developed specialized solutions. Designed specifically for LMD operations, LMD tires boast a variety of features intended to improve driver safety and cost per mile. Reinforced sidewalls help LMD tires withstand regular curb contact. Cut and chip-resistant tread compounds safeguard against debris commonly found on urban roads. Some LMD tires are even designed to have greater traction in wet and snowy conditions to help facilitate the frequent stops that LMD drivers fulfill rain or shine.
Given how intense LMD operations are on tires, fleets should consider looking into these specialized solutions.
2. LMD-specialized electric vehicles
For a long time, electric vehicles (EVs) were viewed as ill-suited for LMD work due to "range anxiety" or the fear of EVs running out of juice in the middle of delivery runs. But thanks to recent improvements in battery and charging technology, many of the largest e-commerce businesses in the world are going all in on EVs for their LMD operations.
In 2022, Walmart announced that it would be purchasing 4,500 "Lifestyle Delivery Vehicles" from EV startup Canoo. Canoo claims that its futuristic-looking electric vans offer the maneuverability of small passenger vehicles and the cargo capacity of commercial delivery vehicles thanks to their modular interiors. By customizing in-cabin components, the company states that their EVs are perfect for storing a large amount of small packages. Additionally, Canoo touts that its vehicles were designed with frequent stops and vehicle to door drop-offs in mind, making them ideal for grocery and meal deliveries.
While Walmart has yet to deploy these vehicles in a non-testing capacity, as state and federal regulations on vehicle emissions continue to intensify, it's very likely that the future of LMD operations is electric.
Accelerate your LMD operations
Maximize your delivery fleet's performance by eliminating inefficiencies and taking a proactive approach to maintenance. Empower your drivers and technicians with real-time data.
Learn more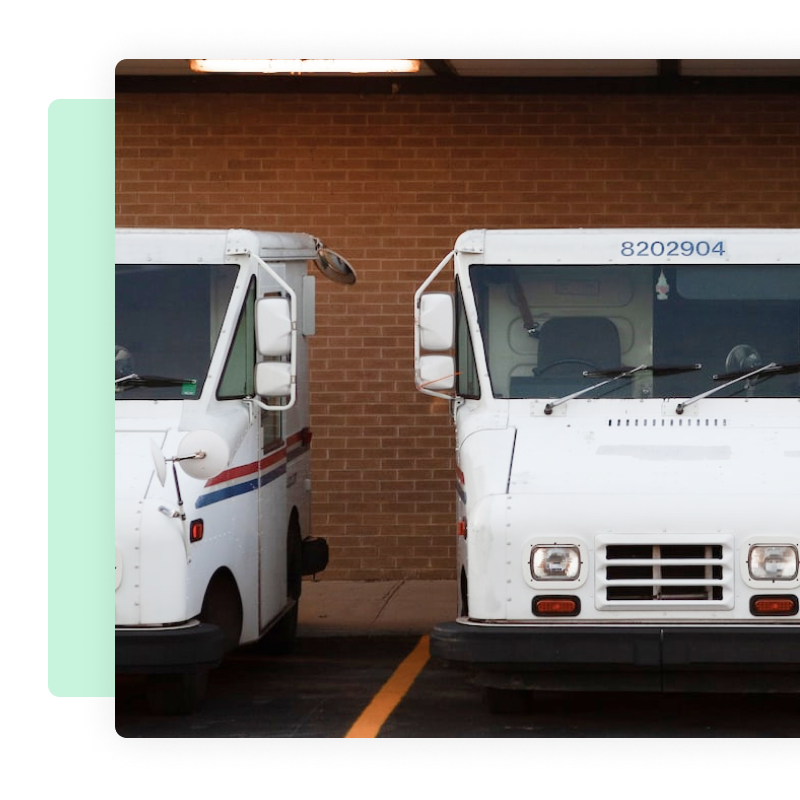 3. Proximity sensor-equipped vehicle locks
It's not hyperbole to say that, given how busy LMD drivers often are, every second counts. Even the seemingly insignificant time it takes for drivers to exit and enter their vehicle and unlock and lock its storage area adds up over time. But given the possibility of vehicle or cargo theft, leaving any part of a vehicle unlocked, even for a brief moment to perform a delivery, poses some level of risk.
Fortunately, thanks to automated locks and latches, LMD fleets don't need to compromise between efficiency and security. Through the use of proximity sensors, advanced electronic locks can respond to the presence (or absence) of a key fob to unlock and lock entirely on their own. In addition to saving valuable time, this hands-free approach to accessing and securing a vehicle is especially convenient when drivers are working with large packages that require both hands to carry.
And to save fleets even more time, many electronic locks are capable of automatically unlocking a vehicle's rear door whenever a driver puts the vehicle in park. When performing a high volume of deliveries in different locations, this function can result in significant efficiency gains in the long run.
4. Video telematics
While video telematics can benefit all kinds of fleets, their ability to document accidents through footage and driving behavior data is especially relevant to LMD fleets. Due to a combination of being constantly on the road, often operating in highly populated cities and typically employing comparatively inexperienced drivers, fender benders are particularly pervasive with LMD operations. But thanks to video telematics, establishing liability when they occur is much less of a headache than with driver testimony alone.
Additionally, video telematics provide fleet managers an easy way to monitor how their drivers behave behind the wheel. Many video telematics solutions automatically flag reckless and wasteful conduct like speeding, severe acceleration, aggressive braking and idling when detected. Once notified, fleet managers can address these actions by mandating additional training, issuing penalties, etc. Video telematics can be used to make sure lessons learned in remedial training stick and that penalties aren't forgotten, ultimately making our roads safer for all of us. Best of all, video telematics can be integrated with delivery management software to consolidate the platforms fleet managers need to keep an eye on.
---
Managing a delivery fleet with spreadsheets alone is often as frustrating as it is ineffective. Fortunately, fleet management software (FMS) can make overseeing your LMD fleet far more streamlined. By providing complete visibility over your assets, maintenance activities, operating expenses and more, FMSs allow fleet managers to eliminate inefficiencies, increase uptime and reduce costs.
Keep your delivery fleet at peak efficiency
Fleetio provides LMD fleet managers with complete visibility over their assets and maintenance needs. Ensure issues are addressed ASAP and no tune-up is forgotten.
Schedule a walkthrough