It goes without saying that effective communication is an essential aspect of successful fleet operations. But while virtually every fleet understands the importance of communication, many fail to realize how inefficient the methods they use to relay information truly are.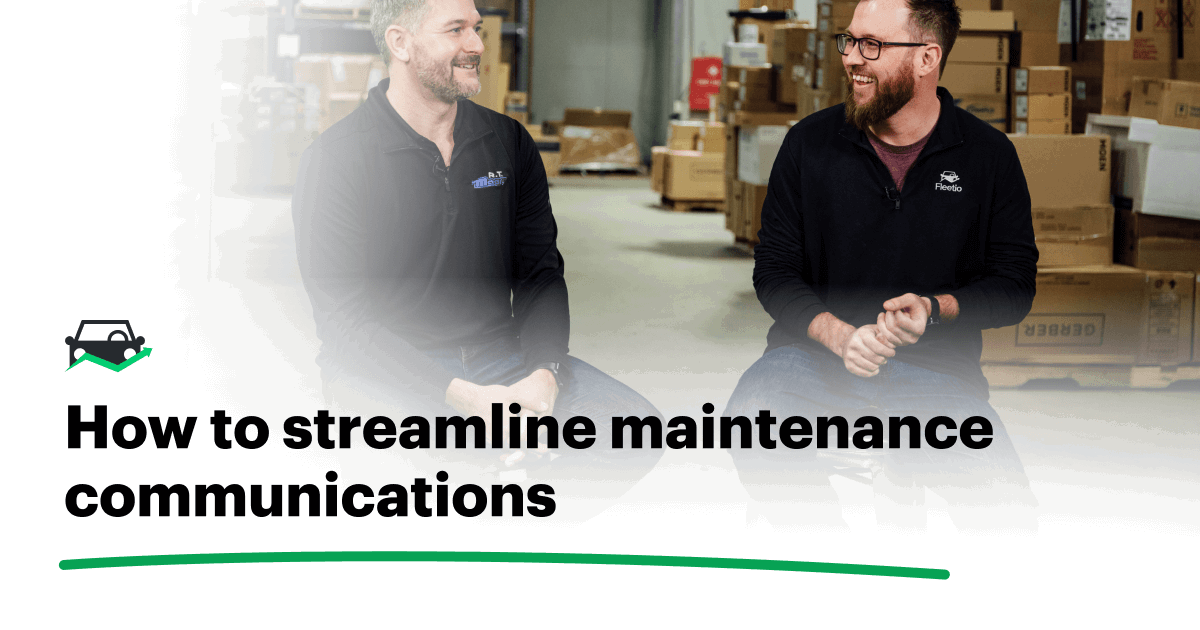 In today's day and age, fleets can do so much better than paper invoices and seemingly endless games of phone tag. Whether a fleet handles their maintenance work themselves or outsources to third-party repair shops, streamlining how they communicate can result in significant efficiency gains.
To help fleets accelerate their maintenance workflows, we'll be exploring the pitfalls endemic to traditional communication methods and how the right technology can facilitate effective collaboration within your fleet.
Inefficiencies with Internal Maintenance Communications
Across fleets of all sizes, fleet managers are always busy. With so many responsibilities and so little time to waste, anything that takes up an inordinate amount of their day negatively affects an entire fleet.
When handled via paper documents or basic spreadsheets, managing maintenance work is often slow, prone to error and opaque in terms of visibility. Tasks like approving or rejecting repair line items and assigning work to technicians have hard speed limits when they require tons of manual data entry, printing of documents and physically transporting paper forms to and fro.
Furthermore, when technicians have questions or feel the need to relay something to their manager, their options are leaving the service bay to physically find their manager or calling their manager over the phone. Both approaches significantly detract from invaluable wrench time.
Inefficiencies with Outsourced Maintenance Communications
As you might expect, due to physical distance, communication between fleets and third-party maintenance shops is inherently more challenging than intra-fleet communication. But on top of that, many of the ways fleets and repair shops tend to communicate are fraught with inefficiency.
For instance, repair shops often ask for work approvals and provide status updates over the phone. Given how busy both fleet managers and repair shop personnel often are, this can result in fruitless games of phone tag as vehicles languish out of order. And even when both parties manage to hop on a call together, those calls demand the full attention of a fleet manager for minutes on end.
While data on how long these calls tend to run is limited, in 2019 the phone services company Hiya reported that calls between individuals and businesses averaged around three minutes. They also reported that the automotive industry was among the top five industries in terms of total call volume to mobile phones. While three minutes might not sound like much at first blush, when you consider how many calls a single vehicle repair can involve, that figure quickly snowballs.
Additionally, it's common for repair shops to communicate with fleets through a variety of different mediums. Between dropping a vehicle off and picking it up, a fleet is likely to receive multiple phone calls, emails and paper invoices along the way. With nothing to centralize these exchanges and documents, information often winds up lost or forgotten.
Streamlining Maintenance Communications with Software
Fortunately, with the help of fleet management systems (FMSs), fleets can streamline their internal and external maintenance communications and avoid all of the inefficiencies that we've covered.
FMSs make it easy for fleet managers and other fleet personnel to collaborate with technicians. With just a few clicks, managers can view a technician's workload, go into a digital work order and assign that associated service task to that technician. And with many FMSs, if a technician has any questions or comments regarding their assignment, they can easily write a comment and @mention their manager from within the software. Thanks to mobile accessibility, fleet personnel can communicate with one another through this method from anywhere with internet access.
Additionally, many FMSs feature maintenance reminders that automatically notify specified users when service work is due soon. This ensures important maintenance tasks don't wind up forgotten about and provides a heads-up that allows fleets to allocate their resources accordingly.
What's more, FMSs also provide in-depth fleet reporting that managers can use to better understand the efficiency of their operations and monitor their costs. A huge part of being a fleet manager is presenting tailored information to fleet stakeholders and the analytics FMSs provide makes fulfilling that responsibility much easier.
As for outsourced maintenance, FMSs significantly reduce the need for cumbersome phone calls. For example, Fleetio boasts a maintenance shop integration with nearly 85,000 national and independent shops all over the U.S. From within Fleetio, shops can create and submit repair orders that fleets can then approve or reject on an individual line item basis. In addition to saving both parties considerable time, this also prevents surprise bills from ruining otherwise positive transactions.
Additionally, many FMSs give fleets the option of setting up automatic approvals for line items that fall within that organization's guidelines. When used with trusted maintenance providers, this streamlines communications even further and saves fleet managers considerable time. Ultimately, by improving the way they communicate internally and externally, fleets can accelerate their maintenance workflows in ways that directly improve their productivity and profitability. With the right tools in place, managers can spend more time realizing big picture fleet goals and technicians can spend more time wrenching.
---
With the help of Fleetio, you can help kick your fleet's maintenance communications into high gear. Request a demo or start a free trial to see how Fleetio can streamline your workflows.