Fleet is at the core of pest control operations – without vehicles, technicians would have a hard time getting from customer to customer each day. But when it comes time to purchase new vehicles, there's a few things fleet managers can keep in mind that will ensure their company trucks keep drivers happy and get the job done while staying cost efficient.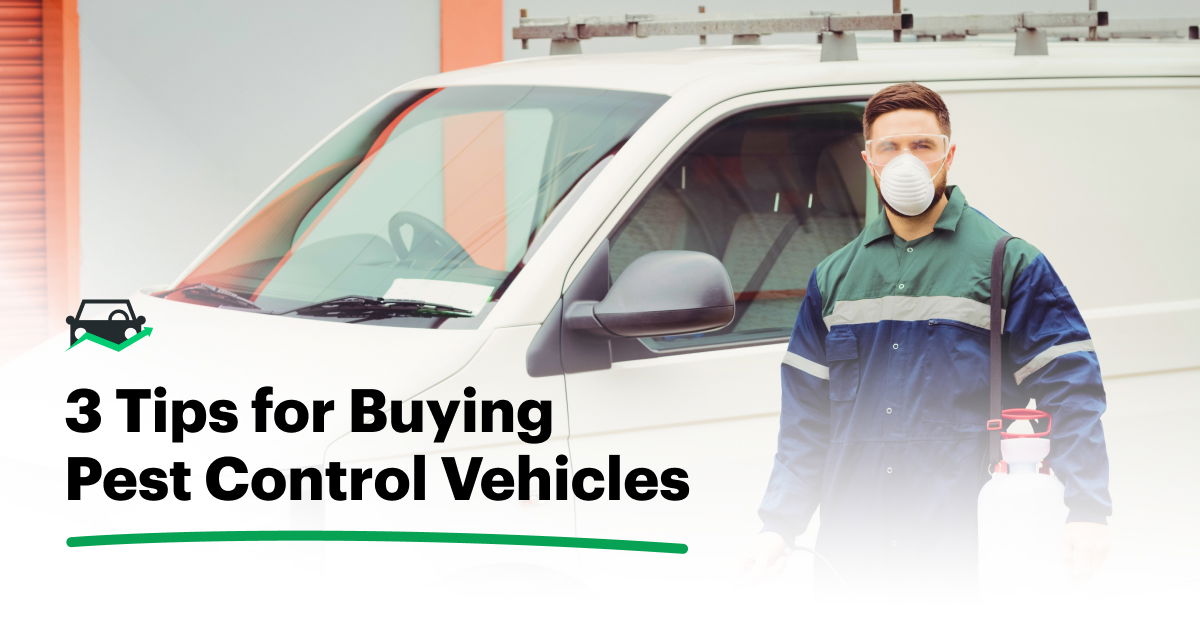 With the constant advancement of vehicle technology and features, deciding on the right vehicle for your fleet when it comes time to procure new assets can present a wide range of questions and opportunities. Here are a few things that can help guide you through your vehicle replacement plan and get you the best trucks for the job.
1. Collect Technician Input
When the rubber hits the road, it's your technicians that will be behind the wheel day in and day out. It's important to ensure that the vehicles you buy not only meet the fleet's needs, but meet your technicians' needs as well.
Getting technician input is key to making sure you select the right vehicles for your fleet. Start with your current vehicles and do an audit led by technician feedback. What do they like or dislike about the current assets in the fleet? What are some features they think would make their jobs easier? Knowing what they appreciate in a truck and trying to honor that where you can gives you an easy win in ensuring technician satisfaction and keeping their enthusiasm for the job high.
2. Think About Upfitting
Pest control vehicles are like a traveling tool shed-slash-office – everything a technician needs to complete a job needs to be on hand in the vehicle. The fleet vehicles you choose should be designed to fit the day-to-day needs of pest control, and that will mean taking a close look at not only the standard features of the vehicles you consider, but the vehicle upfitting opportunities as well.
Storage is the name of the game in a good pest control vehicle. Technicians will be transporting large amounts of chemicals and equipment, so having enough room to comfortably organize and inventory everything they need on board is a top priority. To adhere to pesticide labels and regulatory requirements, vehicles will have to have a clearly separated space between chemical storage and the technicians, but making it a truly functional space will take some insight into the way your technicians interact with their vehicles on the job.
You should also consider how much and what kind of work you want each truck to be able to accomplish. Trucks can be upfitted to support multiple service lines, meaning technicians can be dispatched to different jobs throughout the day instead of being limited to a single service.
You'll want to consider the technology you want present in the vehicle as well. This can include Bluetooth capability for hands-free driving and communication, or backup displays and collision avoidance systems to ensure safer driving and parking.
3. Plan for Lifecycle, Maintenance and Utilization
Choosing a base vehicle that you can rely on means looking at fleet lifecycle management – how long you want the vehicle to last before needing to offload it, how you plan to keep them running in the meantime, and what it's going to cost you. The cornerstone of a good fleet lifecycle management strategy is starting with a vehicle optimized for a profitable lifespan to begin with.
One of the best ways to ensure a profitable lifespan is by having a preventive maintenance plan in place for all new vehicles. Prioritizing maintenance from day one gives you the best chance to extend your vehicle lifespan as much as possible. Fleet maintenance management entails having a solid system set up to accommodate an OEM-guided preventive maintenance schedule so your vehicle is being serviced on an optimal timeline to ensure its longevity.
When you're considering lifecycle and maintenance, it's a matter of quality. Go with makes and models that you can rely on for consistent performance, and also consider the availability and cost of repairs and regular service to those vehicles. A reliable vehicle you know you can get serviced beats a vehicle with a smaller price tag up front that has a lot of issues down the line, or even a more expensive vehicle with service costs too hefty to be sustainable.
Vehicle utilization, on the other hand, is a matter of quantity – how many vehicles you plan on utilizing and how often. If you're tracking your asset utilization in a fleet management software, it should become pretty clear to you where the gaps lie in your asset scheduling. Use that data to figure out if expanding or scaling back your fleet might create more efficiency for your operation, and take that into account in your vehicle replacement strategy.


Want a better way to track your pest control vehicles from day one? Start your free trial in Fleetio or request a demo today.