If you're in the fleet industry, you've undoubtedly heard about the value of preventive maintenance (PM). But did you know that preventive maintenance comes in different forms? Depending on the source, there are upwards of four major types of preventive maintenance.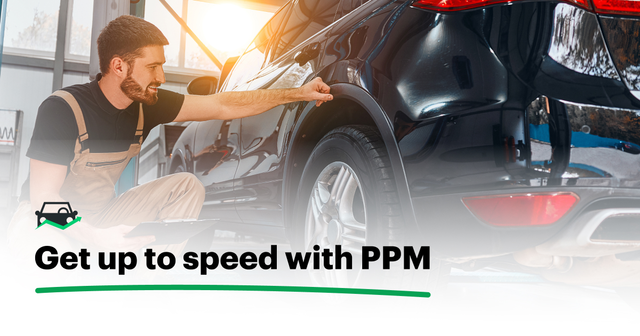 To get you up to speed on one of the best things a fleet can do for the success of their operations, we'll be taking a deep dive into planned preventive maintenance (PPM).
What is planned preventive maintenance?
Before we explore the benefits of PPM and how to get started with it, let's begin by defining the term. In a nutshell, planned preventive maintenance is a proactive, schedule-based approach to asset upkeep. Instead of repairing defective assets, PPM aims to keep working assets functional by addressing their maintenance needs before they snowball into major issues. And to ensure that maintenance is delivered on a consistent basis, PPM follows a set cadence based on meter or time intervals. For instance, if a fleet performs oil changes every six months and tire replacements every 50,000 miles, both policies are examples of planned preventive maintenance.
Advantages of planning preventive maintenance
By taking a proactive, schedule-based approach to their vehicle and asset maintenance, fleets can improve their operations in a litany of ways. Here are some of the most notable benefits of PPM:
Prolonged asset lifespans
As assets age, repairing them after they suffer major breakdowns becomes increasingly costly. Eventually, they reach a point where it no longer makes financial sense to keep them and fleets are forced to purchase replacements.
But by minimizing breakdowns through PPM, fleets can continue to get value from their vehicles and equipment for much longer. In addition to being beneficial to any fleet's bottom line, this has the added benefit of insulating organizations from supply chain shortages that can make procuring new assets difficult.
Reduced maintenance spend
It might be tempting for fleets to forego preventive maintenance in an effort to reduce their operating spend, but such approaches are penny-wise and pound-foolish. In the long run, costs related to PPM pale in comparison to expenses associated with serious repair work. While oil changes certainly aren't free, they might as well be when measured against the cost of having to replace a warped engine.
Through reducing their overall maintenance spend, PPM enables organizations to improve their bottom line and invest in other aspects of their fleet or overall business.
Fewer interruptions of business
Beyond repair costs, unplanned downtime can also result in lost business. If a fleet is unable to complete a job due to one or more of their vehicles being out of commission, a potential client is practically guaranteed to seek the services of a competitor. And for certain delivery fleets, a breakdown on the road can lead to thousands of dollars worth of cargo becoming completely worthless.
Planned preventive maintenance offers the best defense fleets can have from such disastrous interruptions. Fewer unpleasant surprises directly translates into fewer apologetic calls with clients, fewer headaches for fleet employees, and fewer lost opportunities.
Improved safety compliance
While drivers are the ones who inspect vehicles most frequently, technicians also play an integral part in maintaining compliance with safety regulations. When fleets stick to a consistent equipment preventive maintenance program, their mechanics regularly get to examine their vehicles and assets, providing another set of eyes to detect possible signs of wear and tear. This results in potential safety issues being resolved faster, thereby improving compliance and general safety.
How to implement PPM
Once you've determined that planned preventive maintenance is the right approach for your fleet, your first step should be to take inventory of your assets by producing a list. By documenting every asset you own (including details such as year, make and model), you'll ultimately be able to develop a schedule that meets all of their maintenance needs. As comprehensive visibility is one of the core components of fleet preventive maintenance, service histories for each asset should also be included in this list.
Next, you'll want to create a list of original equipment manufacturer (OEM)-recommended maintenance tasks and intervals for your assets. No one has more data on what it takes to keep their products in tip-top shape than manufacturers, so you would be well-advised to follow their recommendations on what maintenance tasks to perform and how often to conduct them.
Finally, refer to your inventory list and your maintenance task list to create a preventive maintenance calendar for every asset in your fleet. You can review an asset's meter readings to determine the order in which tasks should be performed. Importantly, you should refrain from having an excessive amount of overlapping downtime so as not to overburden your mechanics or leave your fleet shorthanded.
Why PPM works best for fleets
While planned preventive maintenance is beneficial for just about any organization with assets requiring upkeep, PPM is especially useful for fleets. Here are some of the most notable fleet-specific benefits:
With more vehicles comes more liability, but with PPM liability can be reduced across the board
Scheduling ensures even large fleets can address all maintenance needs without overburdening mechanics
By eliminating seemingly minor defects that reduce fuel efficiency across multiple vehicles, significant savings can be achieved
PPM reduces the need to purchase replacement parts, a significant operating expense for sizable fleets
How preventive maintenance software helps
At the end of the day, the value a fleet gets out of PPM boils down to how consistently they adhere to their preventive maintenance schedule. And given the litany of responsibilities fleet managers have, that task can be surprisingly difficult without any assistance.
Fortunately, equipment maintenance software can automate various aspects of PPM coordination. For example, instead of having to manually keep track of when various maintenance actions are scheduled, software can provide due soon and overdue reminders to ensure nothing gets overlooked. These notifications can be configured based on specified intervals and can be delivered through various means. Additionally, software allows these reminders to easily be managed in bulk, a feature that is especially convenient for larger fleets.
Furthermore, software also makes taking action on preventive tasks far smoother, whether PPM is outsourced or conducted in-house. Fleet managers can use equipment maintenance software to approve work orders at the line item-level (thereby eliminating surprise bills) and even track progress of PM tasks in real-time.
Fleetio streamlines PPM even further by automatically populating OEM-recommended maintenance schedules directly to users' vehicle profiles. This spares fleet managers the hassle of having to look that information up themselves and ensures fleets are always working up-to-date suggestions.
Additionally, Fleetio automatically predicts when a service reminder will be due based on a vehicle's average daily use. This further allows fleet managers to allocate their resources ahead of time, ensuring fleet operations are uninterrupted and mechanics are available to service assets when needed.


Whether your fleet is just getting started with PPM or looking to take its PPM approach to the next level, Fleetio can elevate your operations. Start a free trial or request a demo today.