Equipment Maintenance Software
Streamline your entire equipment maintenance process
Equipment maintenance solutions aren't created equal. Manage your heavy equipment, vehicles and other fleet assets together in Fleetio. Keep your equipment operating smoothly with our equipment maintenance software. Automate service reminders, monitor maintenance progress in real time and maximize uptime.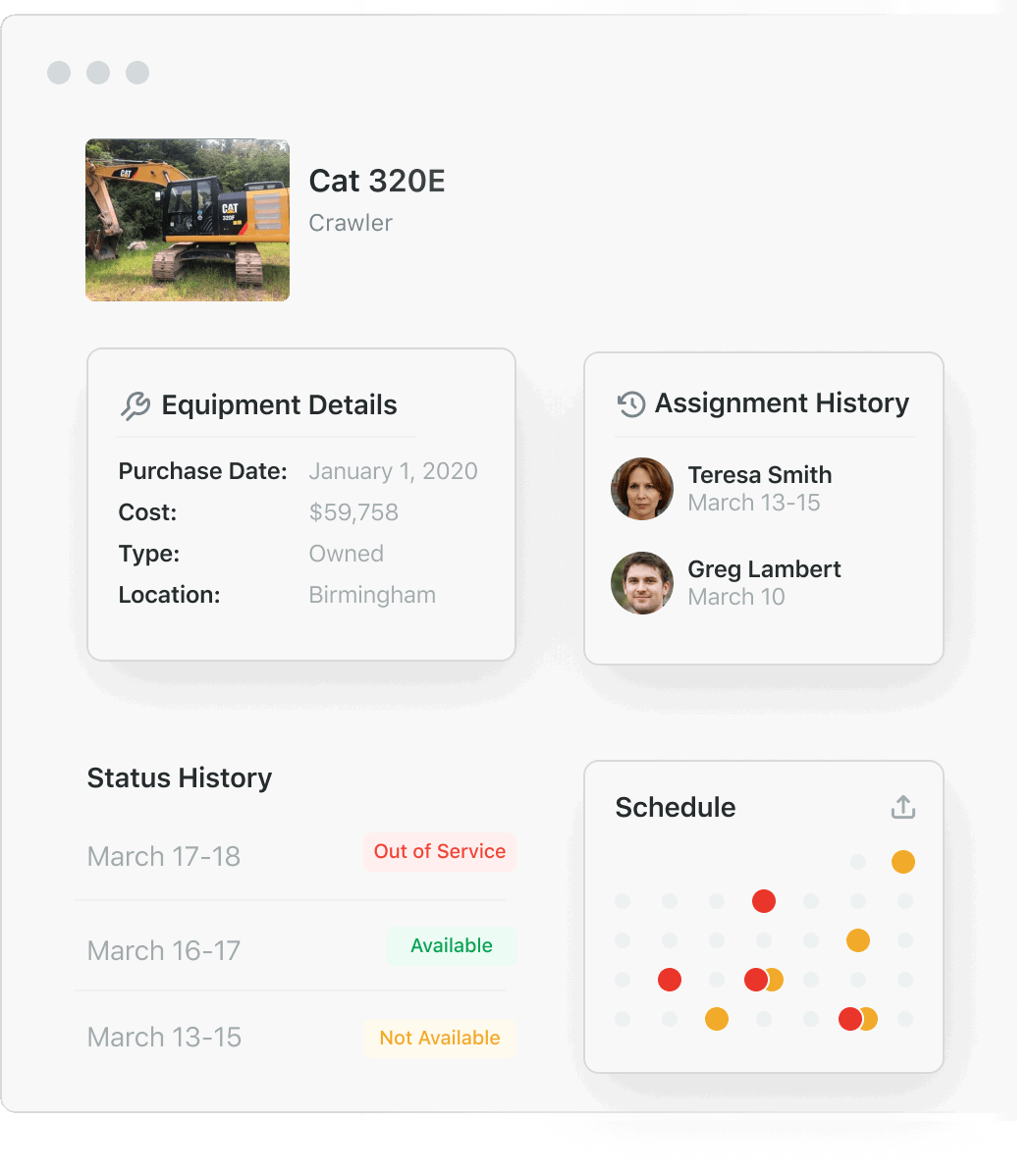 Maximize heavy equipment usage and longevity
Whether your equipment is new or used, proper maintenance is key to longevity. Fleetio enables you to easily manage your entire maintenance process proactively with automated service schedules and reminders. Have peace of mind your equipment is running properly.
Eliminate bottlenecks across your maintenance workflow
Bridge the gap between the field and your maintenance providers. Collaborate directly with your operators and technicians to streamline maintenance workflows. Identify and address repair needs immediately and track maintenance history to uncover trends.
Monitor equipment maintenance tasks in real time
Maximize equipment uptime while increasing your return on investment. A preventive equipment maintenance system will help maximize uptime and equipment availability to ensure your team can complete its daily tasks. Hold technicians accountable and track maintenance progress with automatic status updates.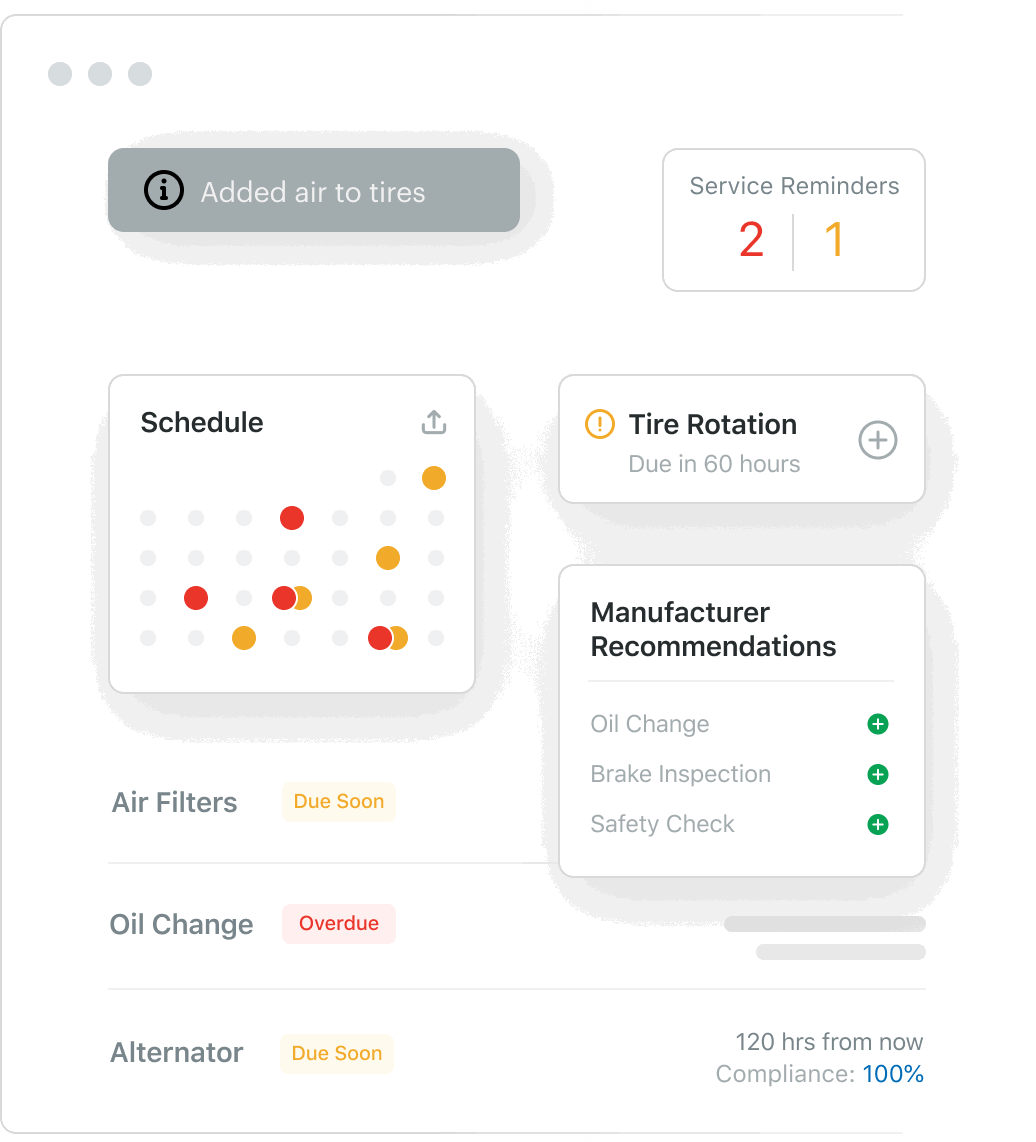 Automate service schedules for all heavy equipment.
Embrace a proactive equipment maintenance process with the help of Fleetio. Configure service schedules based on equipment types and bulk manage service tasks to save precious time. Set service reminders based on OEM recommendations or usage and never miss equipment maintenance again.
Set service reminders based on time and usage intervals
Keep track of maintenance from anywhere with mobile reminders
Create due soon thresholds to be informed of tasks
Always know the health and status of your equipment
Leverage service reminders to initiate maintenance workflows. Automatically generate work orders and assign them to technicians. Track service progress with instant notifications sent to your inbox or mobile device and collaborate directly with your team.
Auto-generate and assign maintenance work orders
Group and bulk-manage service tasks by equipment type
Receive real-time notifications for status updates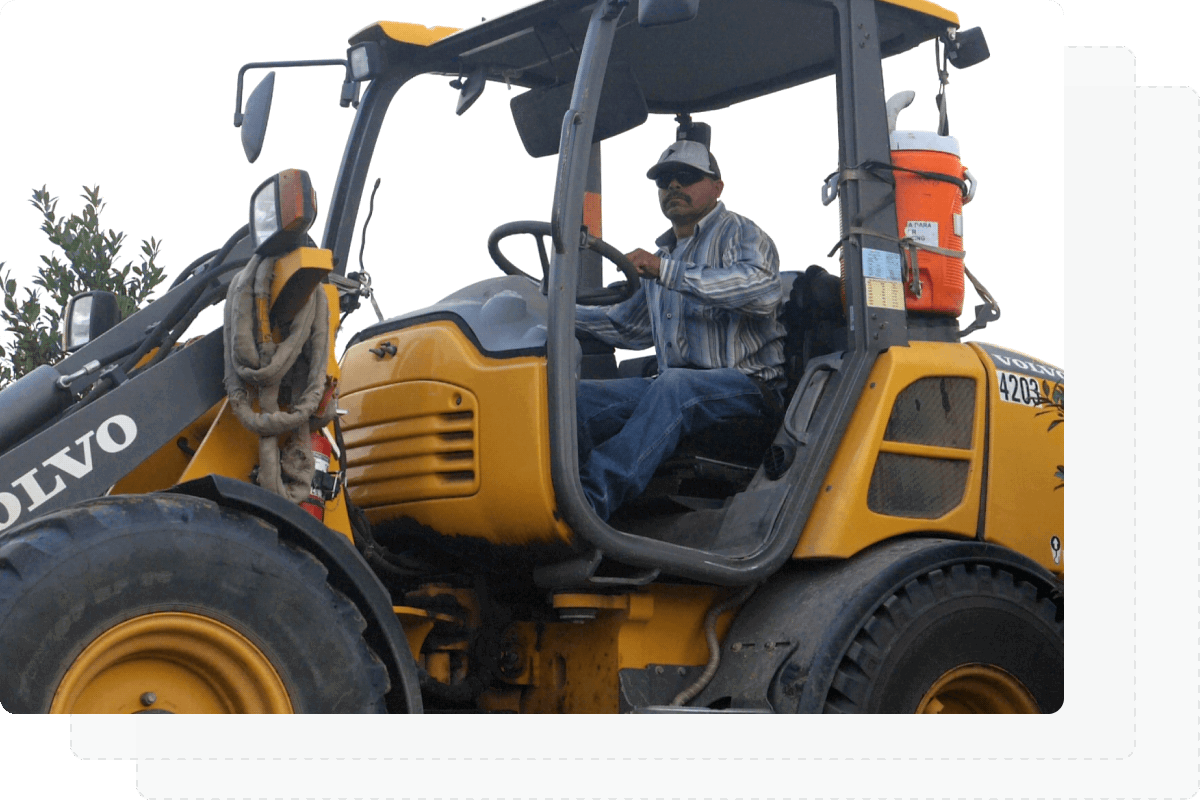 Examine equipment costs to improve profitability
Heavy equipment purchases and maintenance are no bargain. With Fleetio's equipment maintenance software, you can keep track of all your maintenance expenses, from purchase to replacement, in a single system. Include all other fleet expenses to automatically calculate total cost of ownership, and uncover trends to take action and remain on budget.
Determine an asset's cost per mile, km or hour
Create and share reports with key stakeholders
Visualize your maintenance data to make informed decisions
Set service schedules and reminders across your fleet
Stay on top of regular service items such as oil changes, wheel alignments, brakes and more. Manage reminders in bulk with Service Programs and Fleetio will remind you when service is due - helping you increase efficiency and maximize vehicle uptime.