Establishing equipment maintenance procedures for your fleet is the most effective way to keep all of your tools and small equipment running smoothly. Conducting routine maintenance and monitoring equipment health lengthens asset lifespan to give you the best return on investment (ROI).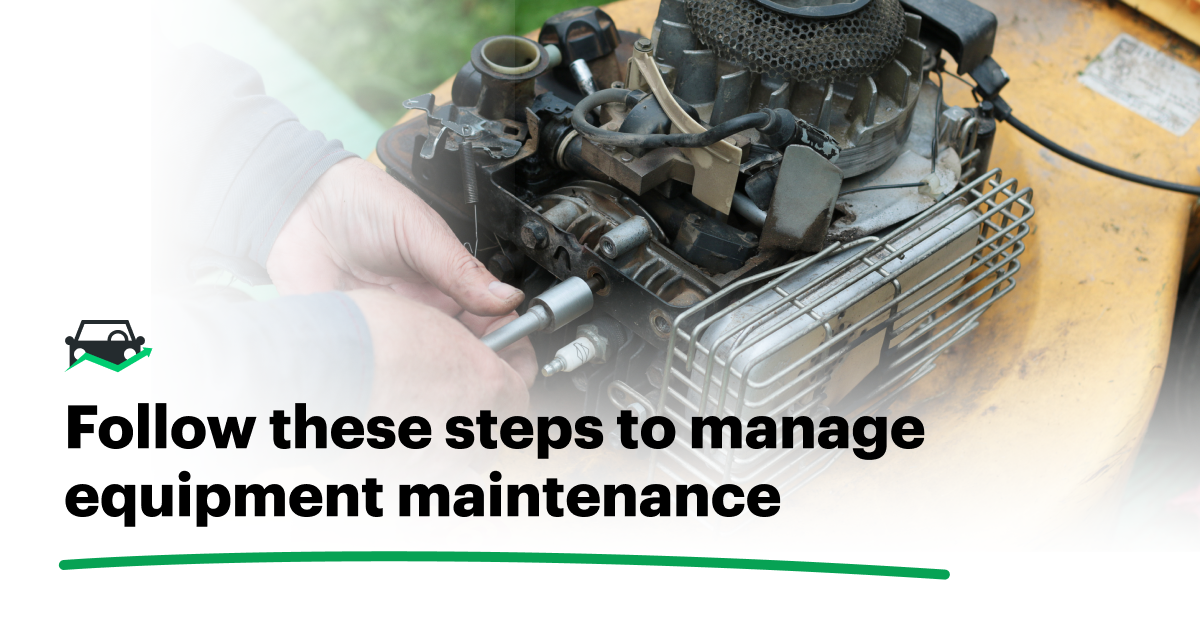 The Benefits of Equipment Maintenance Procedures
Though you may have a strategy for vehicle maintenance, defining an equipment maintenance program for your fleet is just as important to ensuring fleet efficiency. Without properly functioning equipment, your crew may face downtime while on a job and cost your business time, money and its reputation.
Developing an equipment preventive maintenance checklist for your organization enables you to closely monitor the condition of your small tools and equipment. Tracking equipment health and conducting routine maintenance maximizes uptime and allows you to get the most out of your tools.
Replacing small equipment may seem inconsequential, but dollars add up over time. Adhering to an equipment maintenance procedure allows you to increase the longevity of your tools and avoid unnecessary replacement expenses.
Whether you're managing heavy equipment and machinery or small equipment and tools, tracking maintenance in a robust equipment management software enables you to streamline repairs, reduce expenses and increase efficiency across operations.
1. Optimize Equipment Maintenance Schedules
Small equipment, like leaf blowers and wet vacuums, may not have recommended maintenance schedules. That doesn't mean you shouldn't create them for your equipment, though. Developing a preventive maintenance schedule allows you to fix small issues before they compound and cause downtime.
With equipment management software, you can schedule preventive maintenance for all of your assets based on usage, time intervals or calendar days. To ensure maintenance is completed on time, service reminders can be sent directly to your inbox, alerting you to upcoming tasks.
Creating preventive maintenance schedules for your equipment ensures your team avoids downtime and allows you to keep tabs on equipment condition. If you notice certain tools need to be serviced more often due to age or usage, you can easily configure your preventive maintenance schedule or bulk manage service reminders to maximize its lifespan.
When scheduling preventive or reactive maintenance, fleet managers should strive to schedule repairs around team operating hours to maximize uptime. Take note of equipment and vehicle assignments in equipment management software to determine the best time to schedule repairs. This keeps your team productive during peak hours and helps you avoid the headache of finding replacement equipment.
2. Identify Equipment Issues Through Inspections
While routine preventive maintenance allows you to monitor equipment condition and conduct necessary service, having your team inspect equipment on a daily basis provides maximum visibility into equipment health. Including daily inspections in your equipment maintenance procedure helps you avoid downtime by uncovering issues that may otherwise go unnoticed.
Paper inspection forms are an inefficient method of communicating maintenance needs. Equipment management software bridges the gap between field and office. Your crew can conduct comprehensive inspections in a mobile app and upload results instantly. When issues arise, fleet managers are notified immediately to begin troubleshooting.
Configurable equipment management software also allows you to easily create inspection forms for each type of equipment you operate. Tailoring forms to equipment improves organization and ensures your team is able to clearly communicate issues.
Because your team is busy, equipment that fails inspections may have to stay in their vehicles for the day. Broken equipment may pose a safety hazard, so it's important that any issues are communicated across your team. Consider labeling a piece of broken equipment as "out of service" in your software, and even create a sticker to place on the tool that says "unsafe to operate."
3. Initiate Equipment Maintenance Needs
Once issues are uncovered via inspection, fleet managers must act quickly to plan and schedule maintenance. For maximum efficiency, it's important to have effective equipment maintenance procedures and be able to effectively communicate with your maintenance team.
Tracking maintenance on whiteboards and paper is unorganized and often leads to confusion across your team. Because your team is often dispersed, you end up wasting valuable time playing phone tag to schedule and monitor repairs.
Equipment management software streamlines maintenance by cultivating team collaboration and maximizing visibility. Fleet managers can create work orders based on issues identified via inspections or mobile defect reporting.
Work orders enable you to monitor repairs from issue identification to resolution. Technicians can update progress in a mobile app to keep you informed. Fleet managers can track repairs through detailed line items to monitor parts, labor and expenses.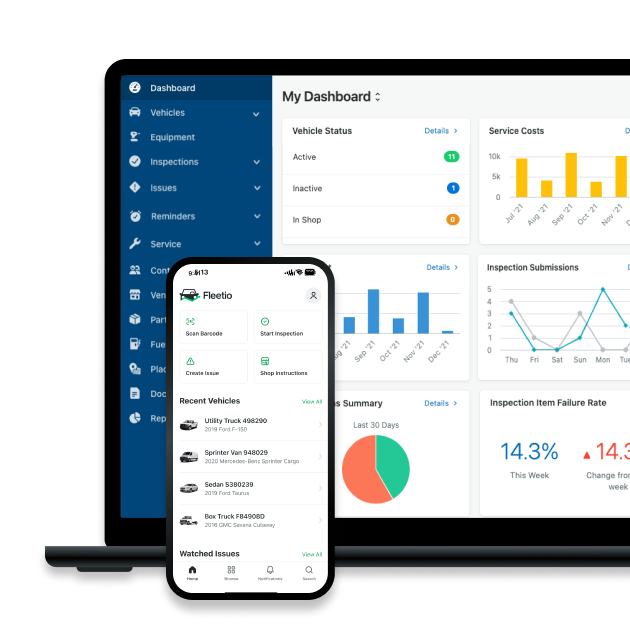 4. Track Service History
An asset's maintenance history can provide powerful insight into its condition and value. Unfortunately, many fleets don't have an easy, organized method of logging and accessing service history.
Even using the best maintenance work order template, combing through spreadsheets or sorting through binders of work orders is a poor use of time and a difficult way to glean relevant information. Streamlining maintenance through equipment management software automatically logs all service data and enables you to access maintenance records in an instant.
Monitoring service history is a valuable aspect of your equipment maintenance procedure. A comprehensive record of service allows you to identify recurring or overarching issues and make better decisions for your fleet's future.
You may identify a recurring issue on a piece of equipment is costing you more money to fix than it would be to replace. You could also notice that a certain part wears out on all of your hedge trimmers, allowing you to make a note to purchase a different brand next time. Insights like this enable you to make budget-conscious decisions.
5. Control Maintenance Expenses and Calculate TCO
We've discussed conducting and tracking equipment maintenance, but it's equally important to monitor and control maintenance expenses. Knowing exactly how much you're spending on equipment maintenance can help control your bottom line and maximize profitability.
Instead of crunching numbers or keying formulas into spreadsheets, managing maintenance in equipment management software automatically tracks expenses on a granular level. With robust reporting capabilities, you can comprehensively monitor spending and leverage real-time data to make better decisions regarding maintenance and tool replacement.
Because maintenance is one of the largest ongoing costs for fleets, it's a huge part of your fleet's total cost of ownership (TCO). While some managers have a hard time determining TCO, one of the benefits of CMMS (computerized maintenance management system) for equipment is that it automatically calculates it. With an accurate view of all expenses, you can evaluate your equipment management strategy and make actionable changes to improve your fleet.
---
See how Fleetio's maintenance solutions can lengthen your equipment's lifespan! Start your free trial or request a demo today!