A computerized maintenance management system (CMMS) is a software tool that helps organizations streamline maintenance operations. Using a CMMS software enables fleets to track and automate maintenance tasks on all of their mobile assets.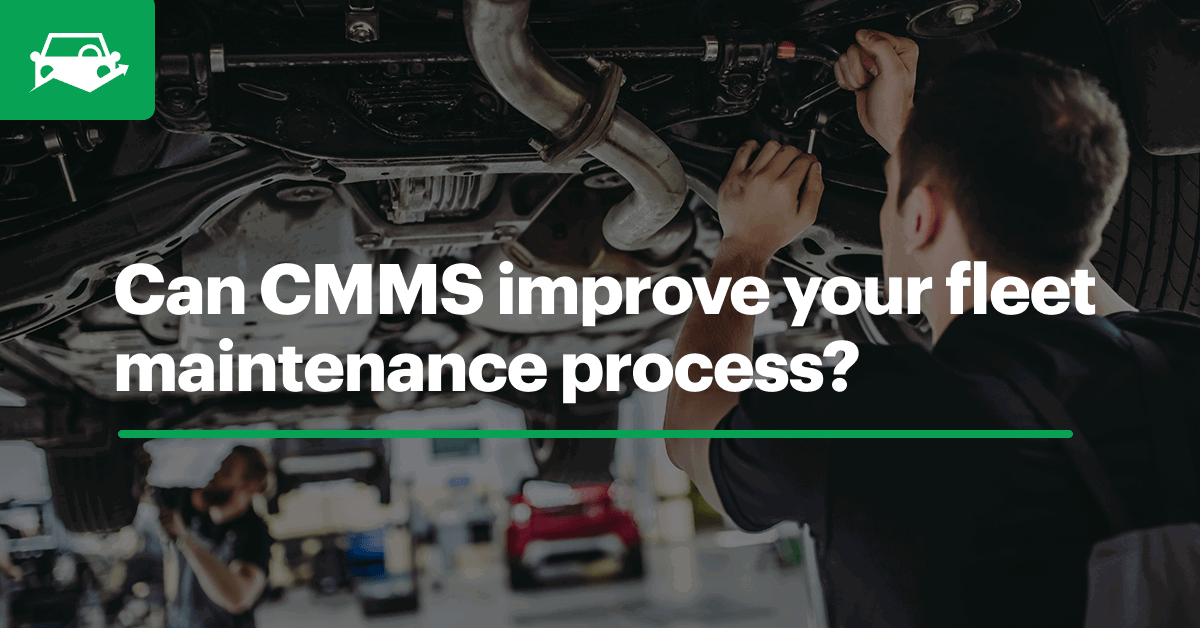 What is a CMMS Software and What are the Benefits?
As mobile fleet management solutions become increasingly necessary in our society, many fleets are turning to CMMS software to optimize their maintenance process. CMMS software automates workflows and enables fleet managers to track and manage fleet maintenance on-the-go.
Housing all fleet maintenance data in a mobile-first software allows you to develop improved maintenance practices across your fleet. By tracking every aspect of your maintenance program, from turnaround time to labor expenses, you can accurately measure the success of your fleet maintenance program.
To help determine whether a CMMS fleet management software is right for your mobile assets, we've outlined five of its most beneficial aspects.
1. Automation
Staying on top of fleet maintenance tasks can be challenging no matter how many mobile assets you have. Fleet managers who still use outdated processes to manage vehicle maintenance spend countless hours manually entering data and trying to get in touch with mechanics.
CMMS software automates fleet maintenance tasks to maximize efficiencies across your assets. Fleet managers can configure maintenance workflows that make sense for their fleet to eliminate manual data entry, improve communication, reduce downtime and control expenses.
Automating fleet maintenance with the help of CMMS software saves you countless hours by streamlining maintenance tasks. Whether you manage your fleet maintenance in-house or outsource to a third party, CMMS software allows you to automate tasks to improve fleet uptime.
In-House Maintenance Automation
Many fleets take on the task of managing maintenance in house to control every aspect of the maintenance process and lower labor costs. This is a great strategy for many fleets, but it does come with the responsibility of maintaining an organized maintenance system.
Paperwork orders and orchestrating maintenance schedules in outdated systems result in many inefficiencies. Paper forms can be misplaced or damaged, and trying to get in touch with drivers to remind them of upcoming service can be frustrating.
Using CMMS software to manage in-house maintenance streamlines processes and keeps your entire team on the same page. Fleet managers can create preventive maintenance schedules and automate service reminders to stay on top of routine maintenance.
Managers can also create mobile work orders and instantly alert technicians of new service tasks and keep an organized maintenance schedule. From viewing detailed service line items to tracking service duration, fleet managers can monitor every aspect of their maintenance program to get a detailed look at efficiency and overall cost.
Outsourced Maintenance Automation
In-house maintenance may not be feasible for your fleet, and that's okay. Whether your fleet is spread out across the country or it's more cost-effective to go to a local repair shop, outsourcing fleet maintenance to a third-party is a great solution to managing maintenance.
Outsourced maintenance isn't without its challenges, though. Playing phone tag with shops can be frustrating, and you may not have a transparent look at repair costs and productivity.
Fleetio is setting a new standard for managing outsourced maintenance with Maintenance Shop Integration. Users can manage external repair orders, consolidate billing and monitor technician productivity.
Maintenance Shop Integration streamlines the maintenance process to get your vehicles in and out of the shop quickly and gives you full control over repairs. Fleet managers can auto-approve or reject any line item with a click of a button, eliminating surprise line items on your invoices and ensuring your vehicles only receive the service you approved.
2. Expenses and Reporting
Perhaps the most valuable aspect of a robust CMMS software is its ability to aggregate all fleet data and provide hard numbers for analysis and improvement. Measuring the success of your fleet maintenance program is imperative, as vehicle maintenance is the largest ongoing cost for fleets.
A CMMS fleet management software unlocks powerful insight into your maintenance program by providing a comprehensive service history from repairs completed to detailed cost reporting. Fleet managers can create and share configurable fleet reports regarding key data including:
Service line items and cost summaries
All-time service costs by asset
Downtime reporting
Scheduled vs. unscheduled maintenance
Most common service activities across your fleet
Vehicle operation costs (fuel and maintenance)
Total fleet operating cost by month
CMMS software provides a granular look at your fleet's performance and automatically calculates your fleet's true total cost of ownership (TCO). By automating fleet maintenance processes, fleet managers have the time to analyze these reports and determine the best strategies to improve operations across their fleet.
3. Integrations
Your fleet may already be using some form of technology to streamline processes. Many fleets utilize a GPS/telematics system to track vehicle location or use fuel cards for ease of use and fuel perks.
Pairing these tools with a CMMS software, like Fleetio, can boost your fleet maintenance efforts. By integrating current systems into your CMMS software, you can capture all fleet data in one place and get a complete view of your fleet's overall health.
Connecting your telematics tool with CMMS software can automatically capture odometer readings, making it easier to keep up with preventive maintenance tasks. Telematics tools also can send diagnostic trouble codes (DTC) and engine fault alerts to your CMMS software, ensuring you're alerted to issues immediately.
Fuel cards provide a wealth of data regarding fuel consumption and cost. Leveraging this data in your CMMS software allows you to monitor fuel efficiency and make the best decisions to help lower fuel costs across your fleet.
[![cmms-cta](https://marketing-cdn.fleetio.com/images/blog/cmms-cta.png)](/pricing)
4. Mobility
One of the major drawbacks of managing fleet maintenance on paper and spreadsheets is the lack of visibility and communication across your fleet. A fleet manager can't always be in front of a computer to access their fleet dashboard. The flexibility of a mobile app helps fleet managers track and manage their mobile assets from anywhere.
Using a mobile-first solution like CMMS software, fleet managers can manage fleet maintenance and stay connected to operators and mechanics through a mobile app. Operators can even conduct mobile inspections in the field to instantly notify fleet managers of any issues. Fleet managers can use real-time inspection results to initiate maintenance work orders.
By managing fleet maintenance in CMMS software with a mobile app, users can view and access real-time maintenance data including:
Vehicle specs
Service and renewal reminders
Inspection results (DVIR)
Work orders
Service history
Engine fault alerts
Parts and Inventory levels
Repair requests
Vehicle recall notices
Maintenance costs
Amid the COVID-19 pandemic, it is more important than ever for fleets to have a solution for managing fleet maintenance remotely. Leveraging CMMS software to streamline fleet maintenance enables managers to schedule maintenance tasks from anywhere and monitor vehicle status to ensure efficiency across operations.
5. Ease of Use
While some fleet managers may be hesitant to upgrade to modern software due to a learning curve, the best CMMS software is one that is intuitive and simple to use. Many options employ the use of a dashboard for users to view all fleet maintenance data at a glance, as well as easy-to-use features like streamlined work order creation and performing vehicle inspections through clicks and swipes.
One of the easiest ways to begin using CMMS software for fleet maintenance is to bulk upload your vehicle identification numbers (VIN) into a VIN Decoder. Within seconds, over 90 vehicle specs are instantly populated into your CMMS for you to easily create service schedules based on OEM recommendations.
---
Automate your fleet maintenance process with a robust CMMS tool! Start your free trial of Fleetio or request a demo today!