Tracking tool inventory and maintenance can play a key role in operational efficiency, both in the shop and on the road.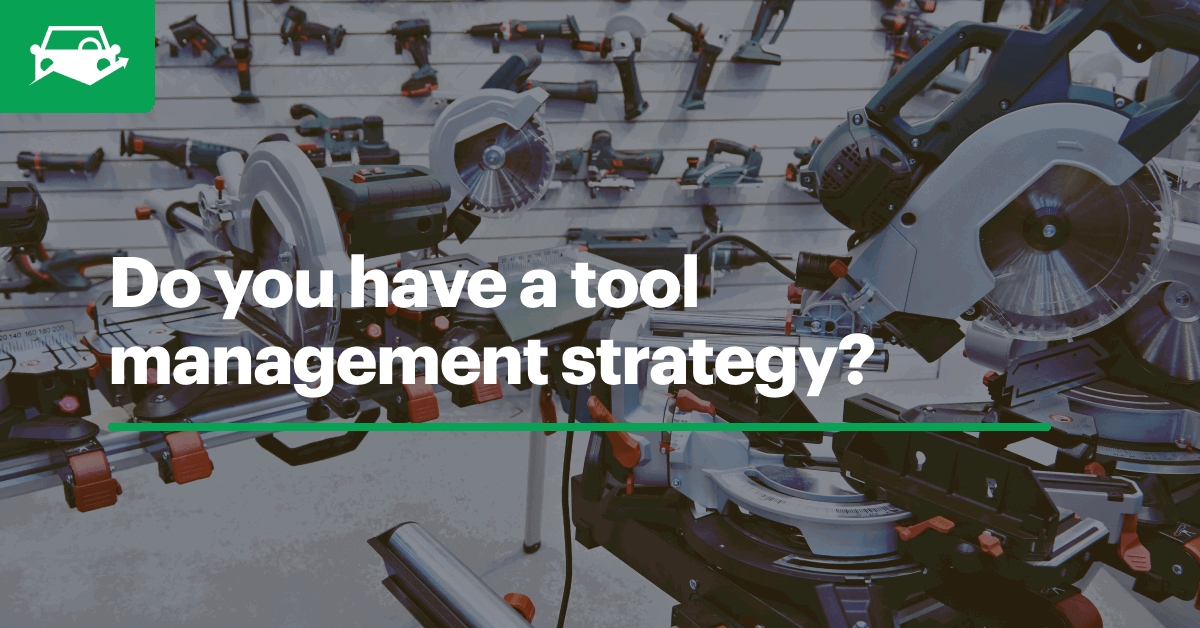 Importance of Tool Tracking
While fleet management tends to be thought of as mainly vehicle- and large equipment-focused, small equipment and tool inventory tracking and maintenance are just as important. Being able to quickly and easily access tools needed in daily operations is vital in any industry. Lost, mismanaged, stolen and poorly maintained tools can cost fleets time, money, brand reputation, employee retention and even new talent.
Let's go ahead and break down our tools into three categories: shop tools, trade tools and tech tools. Shop tools are any tools or small equipment that stay at a fleet's base of operations and are typically used by in-house technicians for fleet maintenance, but can be used by other employees for other tasks, such as general building or janitorial maintenance. Trade tools are any tools or small equipment needed at a jobsite or on the road to perform a task or service. Tech tools are any tools or small equipment fleets require technicians to provide upon employment, or for which techs are given an allowance, and it is up to the discretion of the company and employees as to whether these tools remain at the shop or with the employee.
Save Time Through Strategic Storage Practices
One major reason for tool misplacement is less-than-ideal storage. Determining which tools are shop, trade and tech can better help you set up appropriate stations for storing and maintaining your tools and small equipment inventory.
Shop Tools
Ideally, you'll want to store all shop tools in a central location. The more tool stations you have—like mobile tool carts and stations at multiple vehicle bays—the more likely you are to experience lost or missing tools. Creating a centralized location for your tool inventory allows you to better manage the following:
Condition: How you store your tools plays a key role in keeping them in good condition. For instance, storing greased/lubricated tools, such as ratchet wrenches, away from areas that have a high volume of dust or particulate matter keeps the tools from needing to be repaired as frequently.

Assignment: Track accountability easier when tools are kept in a central location by way of keeping a sign-out sheet present and visible. Alternatively, you can use fleet management software with mobile capabilities to add barcodes or near field communication (NFC) tags to tools, allowing techs and other employees to quickly and easily scan out tools as needed.

Maintenance: When all tools are stored in a central location, they can be better sorted for repairs and assigned a preventive maintenance schedule, as applicable, using color-coded tags or labels. Or, using fleet management software with mobile capabilities, add barcodes or NFC tags to tools to flag issues, send items for repair/maintenance and follow services through resolution.
Trade Tools
Depending on the industry and operational setup, storing trade tools in fleet vehicles can maximize efficiency and reduce the potential for tool loss, misplacement and use by unassigned or unauthorized individuals. While some fleets use vehicles that are spec'd or upfitted to store trade tools and small equipment, others rely on the grab-and-go system, having drivers grab what they need each morning from the shop and load up before leaving for the jobsite.
Grab-and-go: When using the grab-and-go system, you want to make sure you're storing trade tools in an area where they 1) won't get mixed up with shop tools and 2) can be easily and quickly found, identified, gathered and assigned. Keeping your tool and small equipment categories separate allows for better maintenance tracking and reporting, so you can tell where you're overspending and where to make budget adjustments. It's also essential that employees be able to grab the trade tools they need quickly, with little to no searching required, and assign themselves to those tools to maximize fleet asset accountability.

Upfit Storage: For vehicles spec'd to store trade tools and small equipment, determine baseline inventory counts and PM schedules as applicable. It's also important to determine how assignments work—for example, if different drivers use the vehicle each day, are the vehicle's tools and equipment automatically assigned to the driver when the vehicle is, or does the driver still have to sign out or scan the tools to assign them? Or if a team uses the vehicle, are the tools assigned out by use at the jobsite? Additionally, when storing trade tools in vehicles, are proper storage methods being used, such as trays and dividers with lids for small, easily lost components, like air compressor fittings?
Successfully adopt your new fleet management system
The implementation period of a new fleet management system is the most important. Learn which steps to take to get the most out of your new fleet management software.
Download now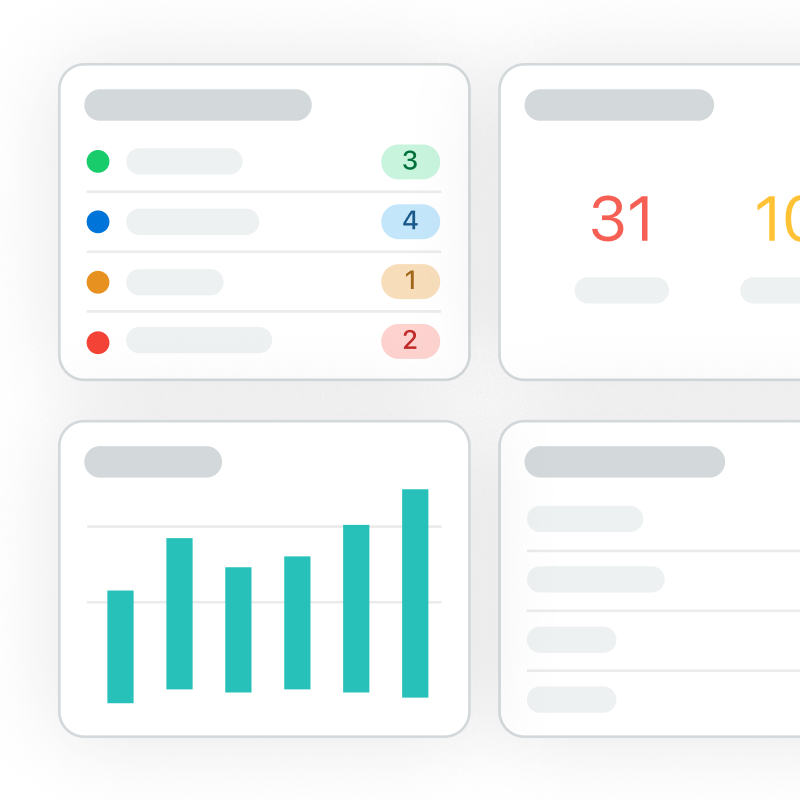 Tech Tools
Many techs are required to provide their own tools—both trade and shop—making it essential to be able to differentiate between who owns what. Since trade positions are already hard to fill due to a shortage in skilled trade laborers, it's a good move to show current workers and potential new hires that you can protect their assets by providing a clean, secure environment for the tools and small equipment they bring to do their job. If workers are permitted to store their tools in the shop, it should be away from company-owned tools, and each worker should have their own secure location if possible.
Optimize Inventory Through Tool Categorization
Once you've categorized your tools and established proper storage, it's time to turn to inventory. If your fleet requires tech tools, start there, as this should make up your lowest inventory count. While it may seem counterintuitive to stock tools specifically meant to be provided by techs, think of it as a safety net for:
New hires: Whether your company provides a certain allowance or requires new hires to come in with specific tools, not everyone will be in a position to have those tools upfront (they may need to wait until their first paycheck). In these cases, having tech tools they can sign out until they can bring their own is a good practice.

Damage and warranty returns/replacements: Some techs may need to work with tool distributors like Mac, Snap-on or GearWrench when tools break, are damaged or wear while under warranty. These replacements can sometimes take weeks or even months to handle, so having backups in the shop for when these situations arise is another good practice.
You should already have a list of tech tools you require your employees to bring in. Determine how much tech tool inventory to keep on hand based on fleet size and growth, and talk to your employees about high replacement items.
For trade tool inventory, consider fleet size, growth and maintenance/repair history. It's important to keep on hand enough inventory for daily operations plus backups for any time a tool or piece of small equipment fails. Using maintenance/repair histories will give you valuable insight into how often certain trade tools and small equipment are out of operation due to service needs, allowing you to see how much backup inventory you'll need to keep your fleet running efficiently.
Shop tools will likely be the bulk of your inventory, especially if you service your fleet vehicles and other assets in house. Instead of looking at fleet size and growth to determine shop inventory, you'll primarily want to look at:
Maximum output: Determine the maximum number of employees that can work in the shop at a given time. Whether or not the maximum number of employees will actually be scheduled at one time, it's considered a best practice to have enough inventory on hand of high-use tools and small equipment that at any given time, in an all-hands-on-deck situation, all techs have the tools they need to get the job done.

Asset specs: Determine what you need and the amount by your fleet assets and parts used. For example, some types of oil filter removal tools, such as straps, swivel wrenches and pliers can fit multiple filter sizes, while dome or cap style oil filter wrenches are more specific to filter sizes and flute number. Still, some oil filter brands, like K&N, have nuts for removal with standard tools. If you're running a fleet with several different filter sizes, using more universal fit filter wrenches at a higher inventory count may be a better way to go vs stocking more types of exact-fit filter wrenches at lower quantities. This applies to other tools as well.

Maintenance/repair history: Pull and assess tool and small equipment maintenance and repair history to get an idea of high wear assets so you can be sure to stock these appropriately as well as implement optimal PM schedules.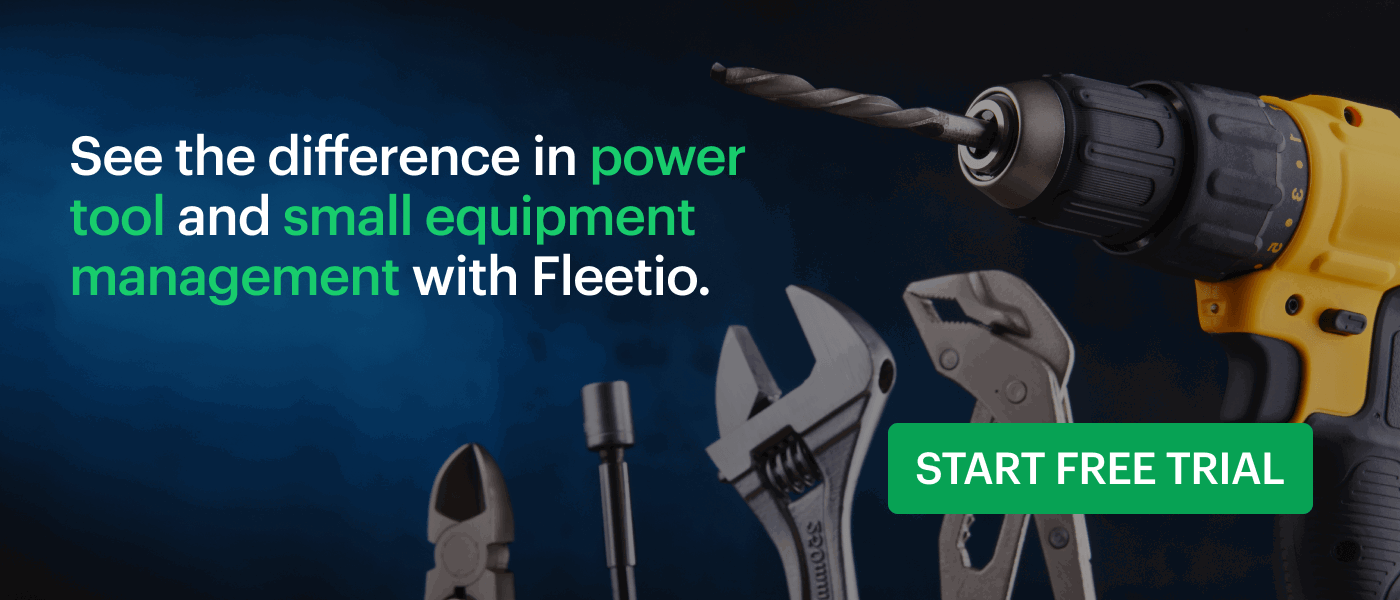 Fleet Management Software for Tool Management
We've covered a lot so far and, while tool and small equipment management may seem a daunting task, using fleet management software can cut down on a majority of the work through automation. With Fleetio's equipment management feature, you can track tool and small equipment inventory, assignments (whether assigned to fleet vehicles or employees), issues from start to resolution, PM history and more.
Using fleet management software to track and automate inventory, assignments and workflow provides better visibility into all your fleet's assets and helps prevent lost or misplaced items that can lead to a budget drain and loss of productivity. Furthermore, it holds team members accountable, reduces the risk of theft, and promotes a more secure work environment.
---
Curious to see how Fleetio can help you manage tools and small equipment to maximize fleet operations? Start your free trial or request a demo of Fleetio today!