CMMSs can be a powerful tool for managing and optimizing your maintenance processes. Let's take a look at what it is, who it's intended for, and how it can benefit your fleet.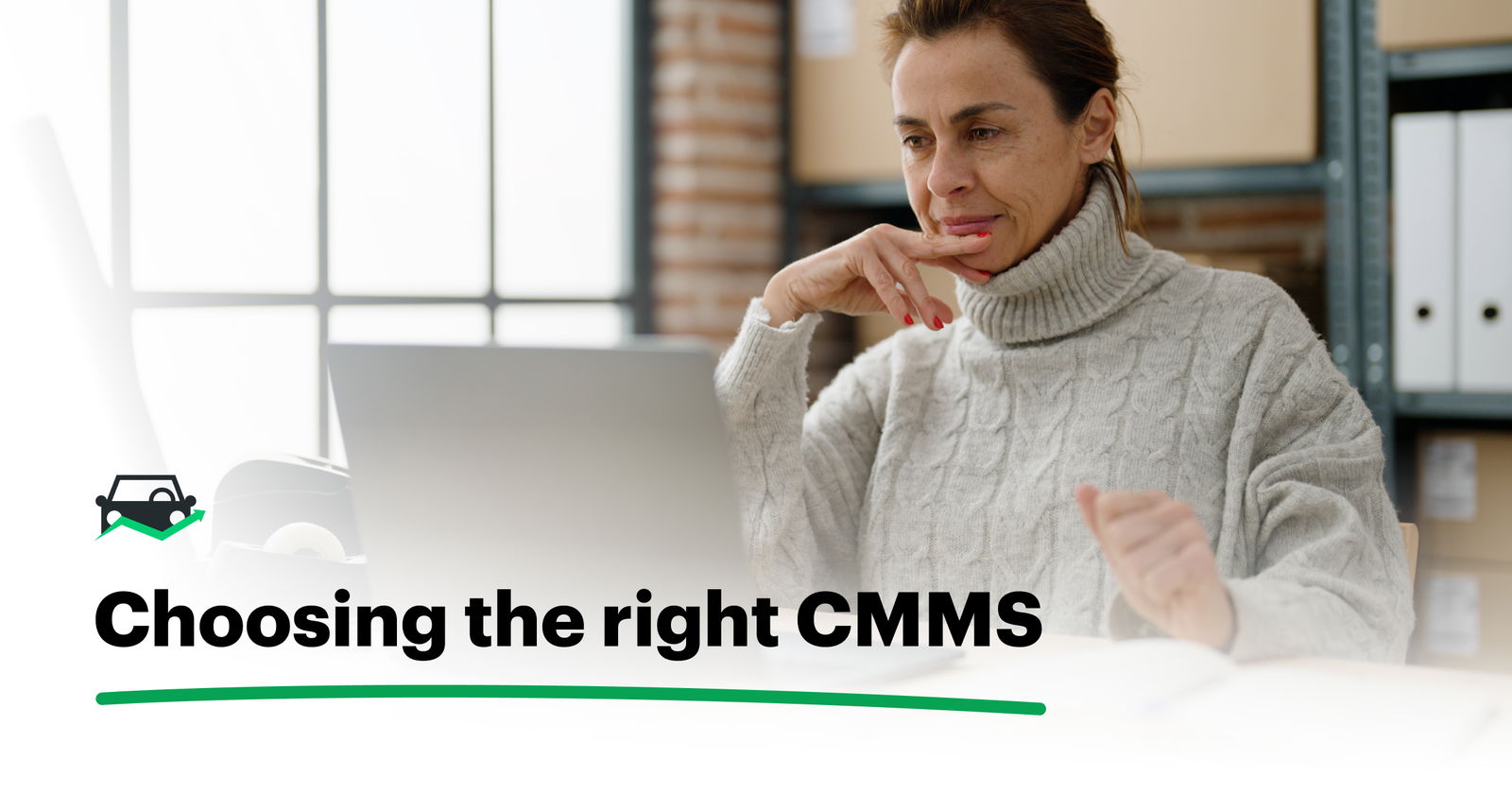 What is CMMS and what does it do?
CMMS, or Computerized Maintenance Management System, is an maintenance software intended to manage and streamline maintenance. Its features generally include maintenance scheduling, work order management, parts and assets inventory, and data storage and reporting. A lot of these tasks can often be managed with automation, so that things like PM tasks and work orders are automatically generated.
CMMSs are primarily designed to replace maintenance spreadsheets while optimizing operational workflows, and can help organizations create greater efficiency in their maintenance processes while also saving them money and downtime.
So what's the difference between CMMS and FMS, ERP and EAM?
Simply put, fleet management software, or FMS, is just a type of CMMS. Many organizations that don't necessarily revolve around fleet benefit from a CMMS to help them manage their assets that require maintenance. But FMSs like Fleetio are specifically designed to address the needs of fleets and can create a more seamless, customized experience for fleet managers than a more generic CMMS can.
ERP, or enterprise resource planning, can be used in tandem with a CMMS to manage business operations, though they have different areas of focus. ERP platforms tend to deal a little more broadly with the financial and operational sides of an organization, and less with the maintenance side, though it can be useful for parts and inventory accounting.
Similarly, enterprise asset management, or EAM, focuses on another more narrow piece of fleet that CMMSs don't necessarily deal with as granularly. EAM platforms are designed to help fleets track asset lifecycles, including acquisition, procurement, maintenance needs, and disposal, and helps organizations keep track of metrics like asset usage and depreciation.
There are plenty of software solutions out there for fleets to choose from, and can balance any need for specificity or generalization that a fleet might need. Many platforms serve as more of a one-stop shop for maintenance data, or some that have robust integration capabilities that let you align multiple software platforms into one dashboard. It all depends on what your particular fleet needs.
Who uses CMMS?
CMMSs are really common in fleet, often presented as fleet management software, but CMMSs are intended for use across a broad range of organizations and industries, including healthcare, government, hospitality, utilities, education and more. Basically, anyone who has equipment or other assets that require regular maintenance should be utilizing CMMS.
What are the benefits of a CMMS?
A CMMS can be a game changer for fleets who have been tracking their maintenance processes on paper, replacing physical inspection forms and work orders with powerful automations that do a lot of the heavy lifting of fleet maintenance for you while simultaneously improving operations and vehicle health.
Here are a few of the key benefits of a CMMS:
1. Asset reliability
Scheduling PM intervals to OEM specifications is vital to ensuring that you get the most reliable use out of your assets. A CMMS can help you optimize timelines and scheduling to keep your assets in working order without having to wait for physical signs of a need for maintenance.
2. Maintenance workflow efficiency
With automated work orders and PM schedules, fleet managers can spend way less time tracking their assets through repairs and maintenance while seeing an overall reduction in maintenance timelines.
3. Increased regulatory compliance
Because you'll have a preset timeline for maintenance as well as a recorded log of service history, CMMSs can be a great line of defense for compliance.
4. Improved inventory management
CMMSs can be great for helping you manage parts and inventory so you always have everything you need to maintain your vehicles on-hand, with no bottlenecks for ordering.
5. Better safety
Keeping vehicles regularly maintained on OEM timelines means they will be safer to operate, which means you're focusing on your drivers' safety and limiting liability for your company in the process of doing maintenance.
6. Data Insights
A CMMS is a great way to track your maintenance data without any additional data entry – everything is stored automatically in the program, and you can run automated reports to analyze that data on a regular basis.
Choosing the right CMMS comes down to looking at what your fleet needs – do you need a singular solution that addresses your concerns a little more broadly, or do you want high specificity and integrations that can maximize the most important facets of your fleet? Consider running a small internal audit to figure out exactly what you require from your software providers.
So Which CMMS is the Best?
Best CMMS for Fleet Maintenance – Fleetio
Fleetio is a cloud-based fleet management software with a heavy emphasis in fleet maintenance, allowing you to utilize digital inspection, automate work orders, and track PM schedules and tasks all from a convenient app. Fleetio also has a large integrations library so you can integrate your other platforms into a streamlined dashboard.
Best CMMS for Facility Maintenance – MaintainX
MaintainX is an IoT-enabled platform designed for maintenance, safety, and operations on equipment and facilities. The software focuses on creating trackable workflows for reactive and proactive maintenance as well as storing information for ease of use during audits.
Best CMMS for Machinery Maintenance – Limble CMMS
Limble CMMS is a mobile-first platform for maintenance and boasts a pretty hefty customer list including McDonald's, Rite Aid and more. As an emerging favorite on multiple software ranking sites, Limble focuses on reducing downtime with a paperless approach and other automation capabilities.
Best CMMS for Property Maintenance – Fiix
Fiix not only streamlines asset organization and maintenance, but also integrates other property management functions from other business systems. Fiix also recently launched an AI-powered system that can track trends across maintenance data for better forecasting.
Best General CMMS Solution – Hippo CMMS
Hippo CMMS offers real time analysis as well as all the features you'd expect from a comprehensive CMMS, including work order management, PM scheduling, inventory management, and reporting and analytics.


Want to get the most powerful insights from your fleet maintenance? Start your free trial in Fleetio or request a demo today.