Technology continues to help fleets increase efficiency and improve operations. Here are a few 2021 fleet industry trends to keep an eye on in the new year.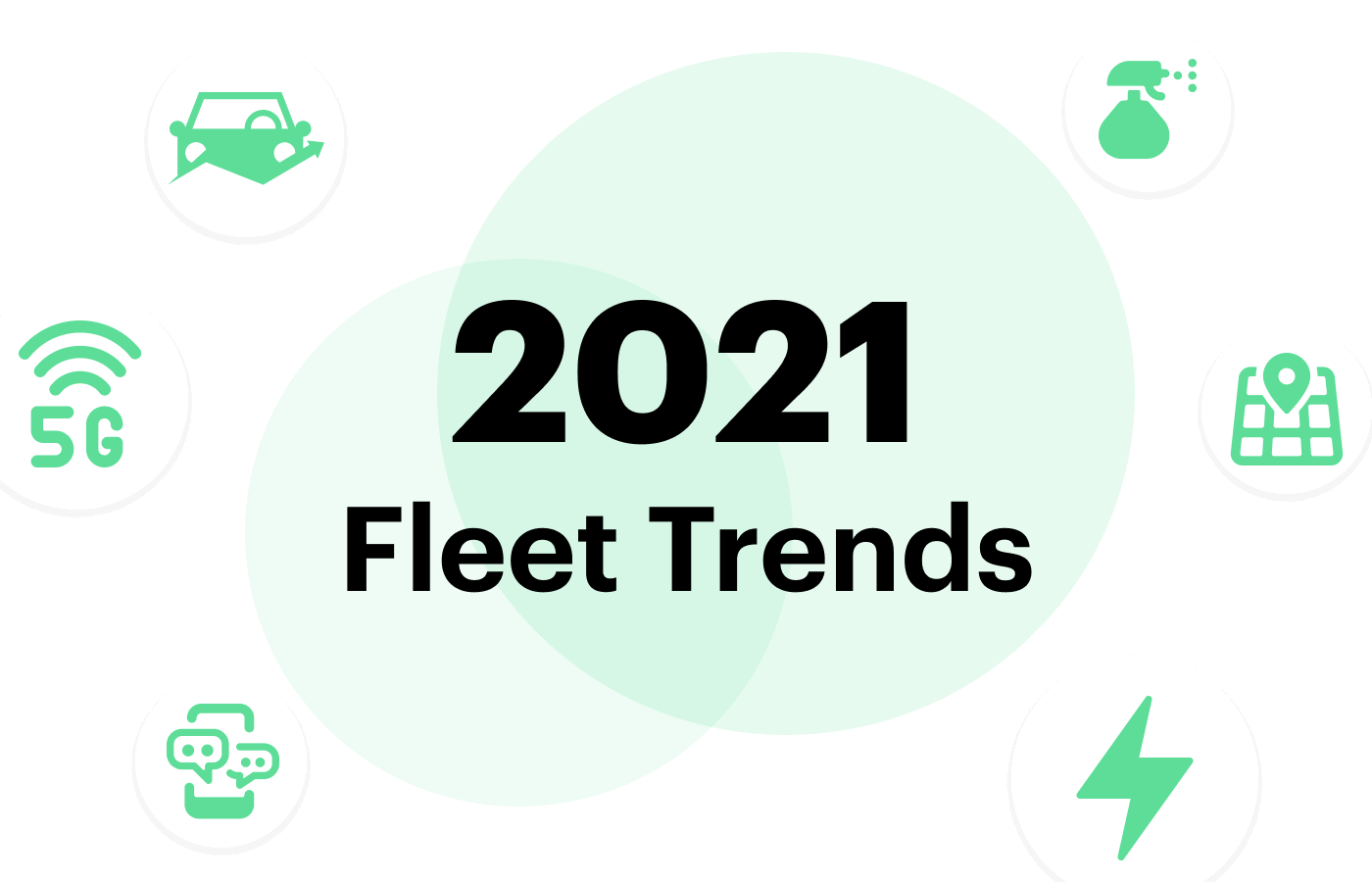 2021 Fleet Industry Trends
2020 was a year like no other, and while it may have caused some roadblocks across industries, it also paved the way for some interesting 2021 fleet industry trends. Throughout 2020, every industry has learned to adapt to new challenges, and all the while, the fleet industry continues to innovate and adopt technology that increases fleet efficiency.
As you make plans for your fleet's future success, consider these seven 2021 fleet industry trends that can foster collaboration, maximize efficiencies and keep you connected to your team:
1. Adapting to Remote Fleet Management
At the beginning of the COVID-19 pandemic, it was essential for almost everyone to adjust to a remote working environment to flatten the curve. While fleet managers are used to their team being dispersed, remote work was still a challenge to overcome.
As the pandemic continues, and even once it ends, we will continue to see many organizations choose to enact remote fleet management. The most effective way to manage your fleet remotely is to ensure you have real-time visibility across operations.
Many fleet managers chose to adopt fleet management software as a way to track fleet data in real time and stay connected to their team. Although budgets may have tightened, the value of software is particularly evident in a remote environment.
Managing tasks and monitoring productivity in a remote environment doesn't have to be difficult. Instead of trying to manage a fleet with outdated systems, fleet managers can clearly communicate using software and a mobile app from anywhere.
2. Implementing Safety and Sanitization Measures
In addition to remote fleet management, the pandemic also brought awareness to the importance of health and safety protocols for fleets. In 2021, the fleet industry will continue to put a premium on safety measures that protect drivers and the public at large.
Taking simple measures, like adding sanitization measures on vehicle inspections and ensuring drivers have personal protection equipment (PPE), can go a long way in keeping your fleet safe. By implementing health and safety protocols for your fleet, your drivers, passengers and clients can be confident that your organization is doing your best to mitigate risks and avoid exposure.
3. Increased Data Visibility
Fleet technology continues to evolve at a rapid rate. With software solutions, GPS and telematics systems and other advancements, your fleet produces a mass amount of data.
With an increased amount of data comes the potential to increase your fleet's efficiency and return on investment (ROI). By leveraging fleet data strategically, you can analyze operations and make decisions that positively impact your fleet.
While data visibility will expand in 2021, the only way to ensure your data is actionable is by aggregating it in a centralized system. Fleet management software collects all of your fleet's data, including from outside systems, and allows you to generate configurable reports to measure performance, monitor expenses and make confident decisions to improve your fleet.
4. 5G Expansion
It won't be long until 5G becomes the norm across our mobile devices. One of the biggest 2021 fleet industry trends is the advent of 5G fleet management. By increasing the speed at which information travels, fleets have the opportunity to reduce latency and increase productivity.
Organizations that leverage a mobile fleet management app will benefit from 5G the most. From increased coverage to instantaneous notifications, fleet managers and their teams can stay connected and boost productivity.
With 5G technology imminent, now is the perfect time for fleets to adopt a fleet management software that enables connectivity. By having time to get used to the technology, you'll be able to maximize efficiency and stay ahead of the competition when 5G is widely available.
5. Enhanced Connectivity and Telematics
While telematics isn't inherently new, fleet technology is continuing to evolve to improve the way managers monitor drivers. From electronic logging devices (ELD) to in-cab video, fleet managers are seeing the value of leveraging technology to monitor driver behavior in real time.
GPS and telematics tools offer real-time vehicle updates regarding safety, health and performance. Not only can fleet managers leverage this data to monitor driver behavior, but ELD and other devices can provide insight into maintenance needs and help fleets combat downtime.
As we mentioned, with heightened data visibility, fleets can monitor operations and make strategic adjustments for improvement. Integrating a telematics system with fleet management software centralizes fleet data and allows you to sync odometer readings, get fault alert notifications and capture vehicle data automatically.
[![2021-trends-cta](https://marketing-cdn.fleetio.com/images/blog/2021-trends-cta.png)](/pricing)
6. Expansion of Fleet Electric Vehicles
As more auto companies release affordable electric trucks and vans, all-electric fleets are becoming more of an inevitability than a possibility. While this won't happen in 2021, auto companies and government officials are laying the groundwork for an increase in electric vehicles.
In fall of 2020, California Governor Gavin Newson signed an executive order that all new cars and trucks sold in the state must be emission-free by 2035. While there are many challenges surrounding this goal, there are also plenty of opportunities for businesses to begin adapting to the idea of an all-electric fleet.
One of the biggest questions surrounding electric vehicles (EV) is affordability. Many experts forecast that EVs should have competitive pricing with gasoline-powered cars in the next few years.
Aside from up-front cost, electric vehicles can save fleets a significant amount of money on fuel. A gas-powered car cost $0.16 per mile, while an electric car only costs $0.03 per mile. When fuel is one of your largest expenses, this can be a huge difference. See the chart below to consider potential savings.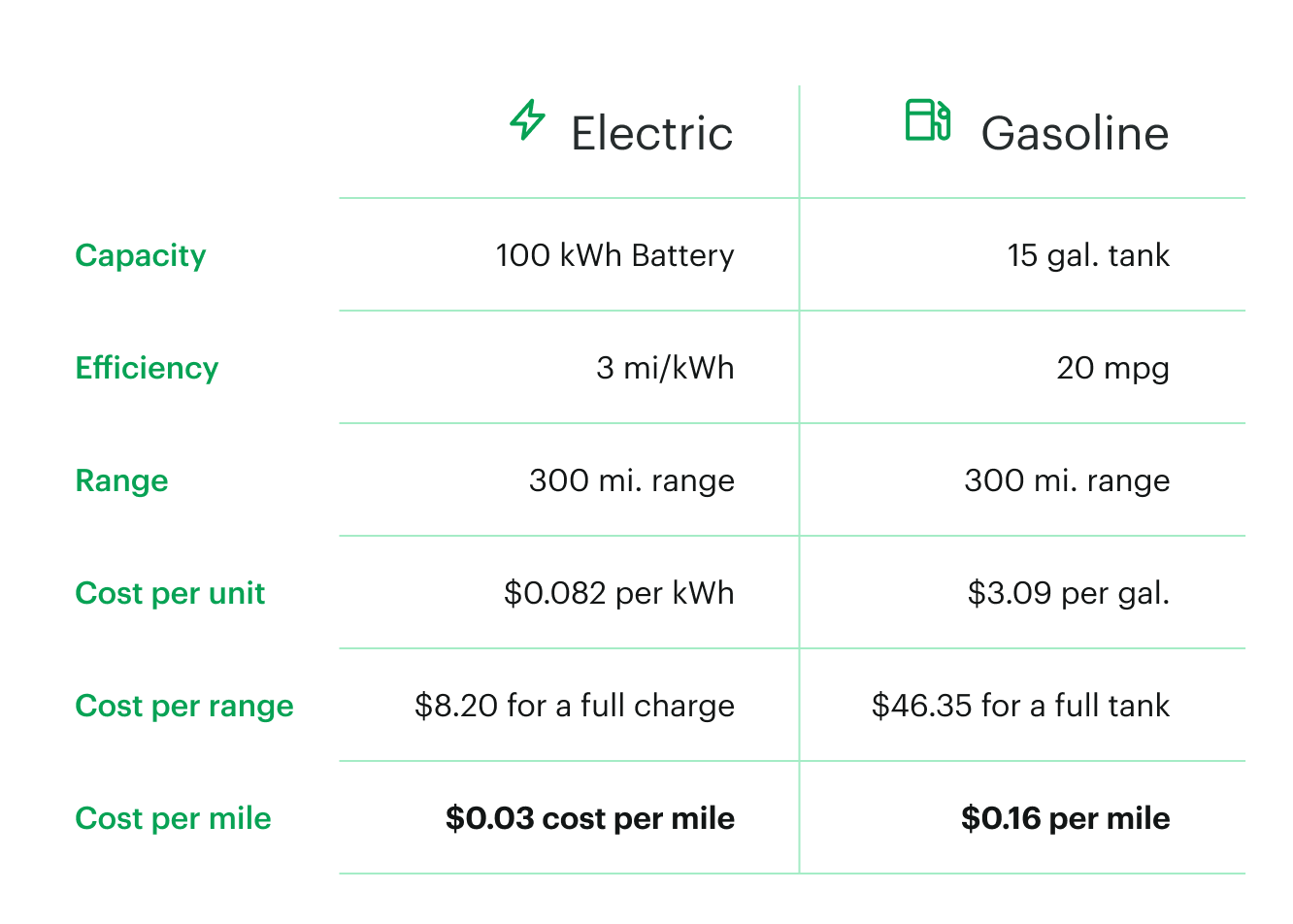 Another challenge is securing charging stations. For widely-dispersed fleets, particularly over-the-road trucking companies, there must be a way to source and manage car charging stations.
While these aren't immediate concerns, it's important that fleet managers keep their eyes on the future and begin brainstorming strategies for EV adoption.
7. Considering the Future of Autonomous Vehicles
Along with EV, autonomous vehicles (AV) are another futuristic technology fleet managers are looking towards. While it will be many years before fully autonomous vehicles will be widely used, fleets should pay particular attention to the advancements of AV and it's pending adoption.
The fleet industry stands to benefit immensely from AV technology. Not only do certain fleets have a shortage of employees, but with AV, there's an opportunity to increase driving hours, thus boosting productivity and profitability.
At the time of publication, there are no new regulations in the Federal Autonomous Vehicle Policy, but government officials are bringing forth legislation to lay the framework for further AV regulation. With bills like the SELF Drive Act, there's a possibility that the U.S. can pass legislation that can advance the rate of AV testing.
---
Prepare your fleet for the future by centralizing your fleet ecosystem in Fleetio! Start your free trial or request a demo today.