Small business fleets must be able to track and manage all fleet data to be successful, but gaining complete fleet visibility can be challenging with outdated systems. Fleet management software enables managers to easily track every aspect of their small business fleet.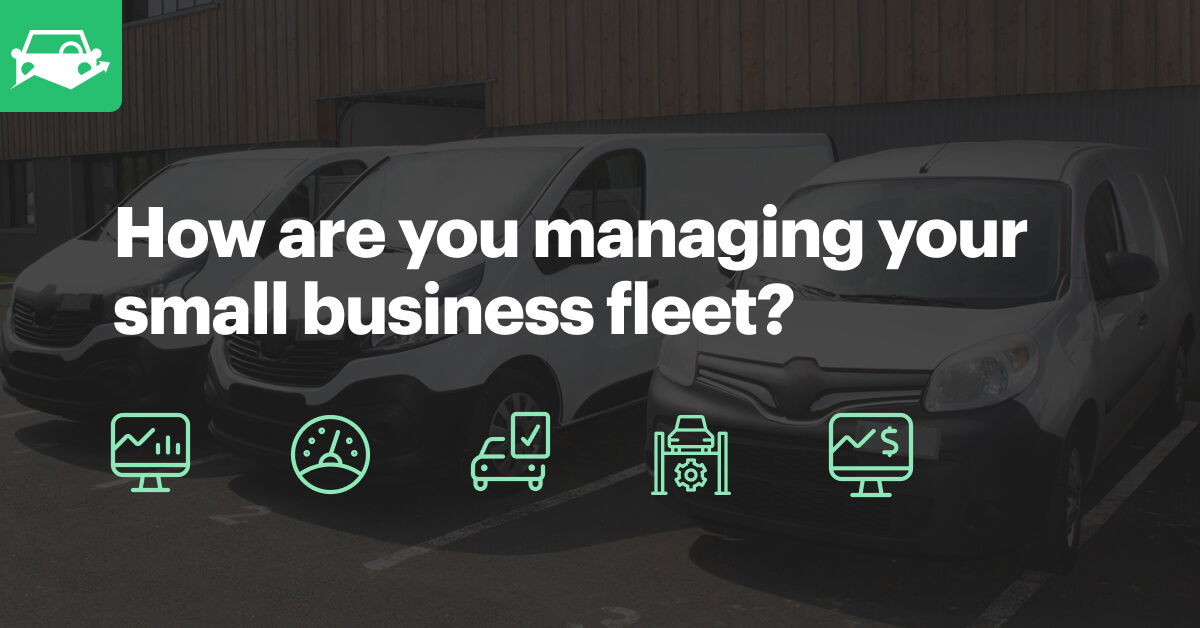 Small Business Fleet Management Challenges
Managing a small business fleet is no easy task. You're juggling many roles to keep things running smoothly, and worrying about asset reliability should be the least of your concerns. That said, maintaining an efficient fleet can be a challenge when you lack data visibility.
To properly track vehicles, reduce downtime and control costs, fleet managers must have a strong management system in place. Though this may sound straight-forward, maintaining a well-organized management system can be a challenge (particularly when you may not be a trained fleet manager).
Using outdated methods like paper and spreadsheets to manage your small business fleet is inefficient. These systems cause communication bottlenecks and typically lack the ability to surface information easily, which leads to downtime and unnecessary expenses.
One of the most important aspects of managing your fleet is controlling your bottom line. When you can't easily track and analyze your fleet data, it's difficult to know your fleet's true total cost of ownership (TCO). Without this number, you may end up making critical errors in your fleet operations.
Small business fleet managers can benefit from using fleet management software to track and manage every aspect of their fleet. Fleet management software enables managers to automate processes, house all fleet data on a centralized platform and track operating costs with ease.
Optimizing your small business fleet and automating processes with the help of software frees up valuable time for you to focus on improving your bottom line. Here are five management tips you can implement in your fleet management system.
1. Automate Fleet Processes
It's critical for your business to keep vehicles on the road and expenses under control. This can be a challenge for small business fleets that use outdated tracking methods like paper and spreadsheets.
Fleet managers are often too bogged down in manual data entry to properly track and manage their assets. When you're busy managing every aspect of your fleet, data entry and combing through spreadsheets is a poor use of time. To alleviate these burdens, many small business fleets are leveraging fleet management software.
Fleet management software is the best solution for automating fleet processes and streamlining data. Using data collected from all aspects of your fleet, from inspections and maintenance to costs and utilization, you can create automated processes that save time and allow you to focus on other tasks to improve your fleet.
Automating workflows to have all fleet data uploaded into a centralized software improves asset health, operator productivity and the overall efficiency of your fleet.
2. Know Your Fleet's Operating Costs
Your bottom line is the ultimate measurement of your small business. Knowing your fleet's true total cost of ownership (TCO) allows you to control expenses and make data-driven decisions for your fleet's future.
Your fleet's TCO is the most comprehensive metric you can track, but trying to determine operating costs manually can create a huge margin of error—something your fleet can't afford.
Fleet management software uses an aggregate of fleet data to automatically calculate TCO in easy-to-read reports. Knowing your fleet's true TCO gives you an understanding of your return on investment (ROI) and ensures you are making the best decisions for the future of your small business fleet.
TCO is separated into two categories: fixed and variable expenses. Fixed expenses, like insurance and registration, mostly stay the same year over year, but it's still important to keep track of them to manage your budget. Variable costs change depending on the size, type and overall efficiency of your fleet.
The two most expensive variable costs for fleets are fuel and maintenance. Using software to calculate your TCO enables you to view detailed reports and determine how to best manage and reduce variable costs.
By implementing efficient processes like fuel management systems and preventive maintenance schedules, you can improve your TCO and ROI.
3. Manage Issues with Electronic Vehicle Inspections
Regardless of fleet size, you're responsible for ensuring your drivers are completing vehicle inspections and keeping your assets safe and compliant with Department of Transportation (DOT) regulations. In addition to compliance, vehicle inspections are also the first step in creating a strong preventive maintenance program, by uncovering any vehicle issues to jumpstart the repair process.
Many small business fleets have unique needs, and having configurable vehicle inspection reports is the best way to ensure fleet managers receive the most relevant data. With this data, you can easily manage issues and reduce vehicle downtime.
While many fleets still use paper inspection forms, fleet management software offers users to perform electronic vehicle inspections on a mobile app to communicate issues accurately and efficiently.
Electronic daily vehicle inspection reports (eDVIR) allow drivers to perform inspections and instantly upload results into fleet management software. Instead of waiting for drivers to return with completed reports, issues identified in the field are communicated quickly for administrators to begin troubleshooting.
4. Create Maintenance Workflows
One of the most important aspects of managing a small business fleet is taking a proactive stance on maintenance. Your assets must be in good condition for your business to operate, and without a strong maintenance strategy, your fleet could be facing unexpected downtime and costly expenses.
Whether you conduct maintenance in-house or outsource to a third party, managing maintenance with the help of fleet management software allows you to create efficient maintenance workflows to streamline processes and maximize uptime.
Implementing a preventive maintenance schedule is one of the best ways to proactively manage maintenance. Configurable service schedules can be created in fleet management software based on calendar intervals or odometer readings. Fleet managers are notified when vehicle maintenance is due soon, ensuring your team conducts maintenance on time.
Many small business fleets choose to outsource maintenance. With Fleetio's Maintenance Shop Integration, fleet managers can streamline maintenance, consolidate billing and manage service history at over 30,000 shops nationwide.
Creating issues and work orders in fleet management software enables you to keep an organized record of vehicle repair status and oversee the entire maintenance process. With maintenance being one of your largest ongoing expenses, proactive vehicle maintenance can help reduce costly, unexpected repairs in the long run.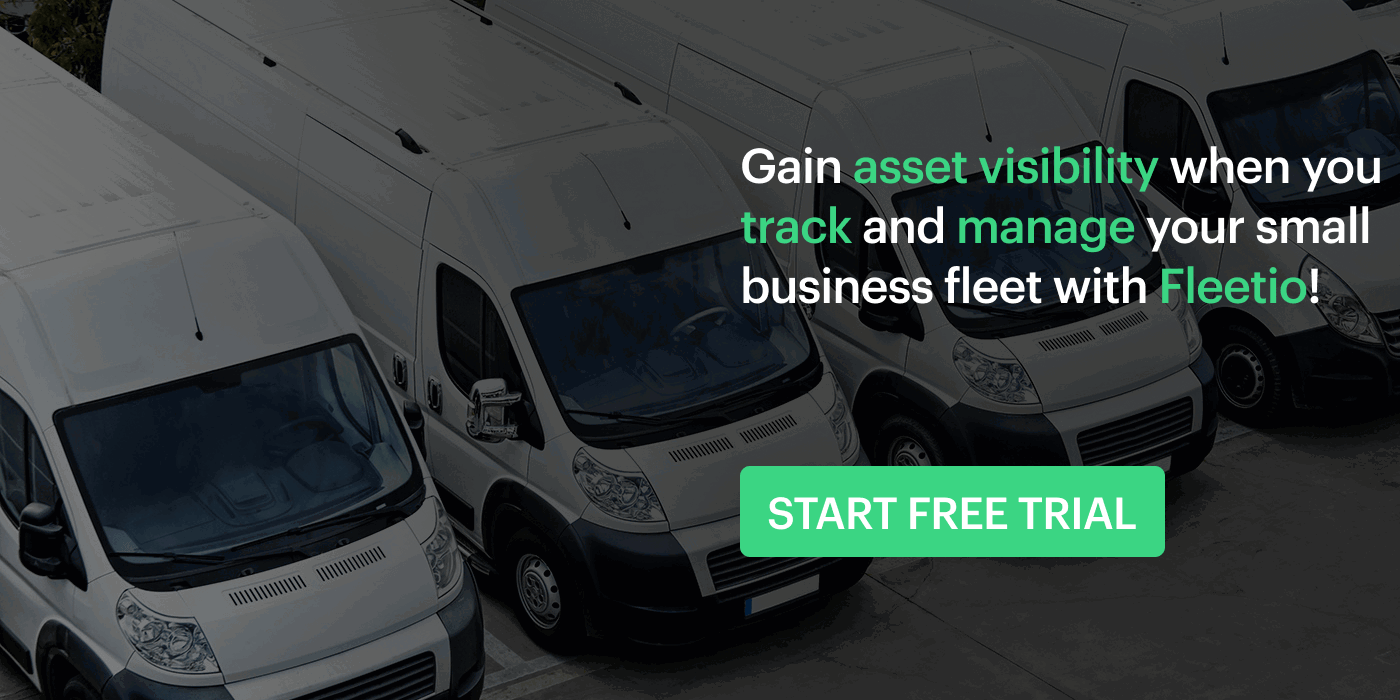 5. Measure Assets Performance and Health with Configurable Reports
As a small business fleet manager, you should be tracking and measuring asset performance consistently to ensure your fleet is at the top of its game. That said, having so much data to track can be challenging without maximum data visibility.
In addition to eliminating manual data entry, fleet management software provides configurable fleet reports on virtually any fleet metric. Leveraging reports enables you to get a comprehensive look at asset health and utilization to identify trends and spot deficiencies.
Fleet managers or administrators can generate configurable reports with the metrics most relevant for their business. These reports can easily be shared with management and other stakeholders to ensure everyone is on the same page.
Configurable fleet reports can be as high level or as granular as you require. As a small business fleet manager, accurate metrics matter. Having insight into every aspect of your fleet helps you optimize performance and make the best decisions for your business.
---
Start your free trial of Fleetio or request a demo to see how your small business fleet can be improved with the help of software!