The benefits of car fleet management software has evolved in recent years due to advancements in technology. Collaborative software solutions are making it easier than ever to manage car fleets without fleet management companies and give you complete access to your fleet data in real time.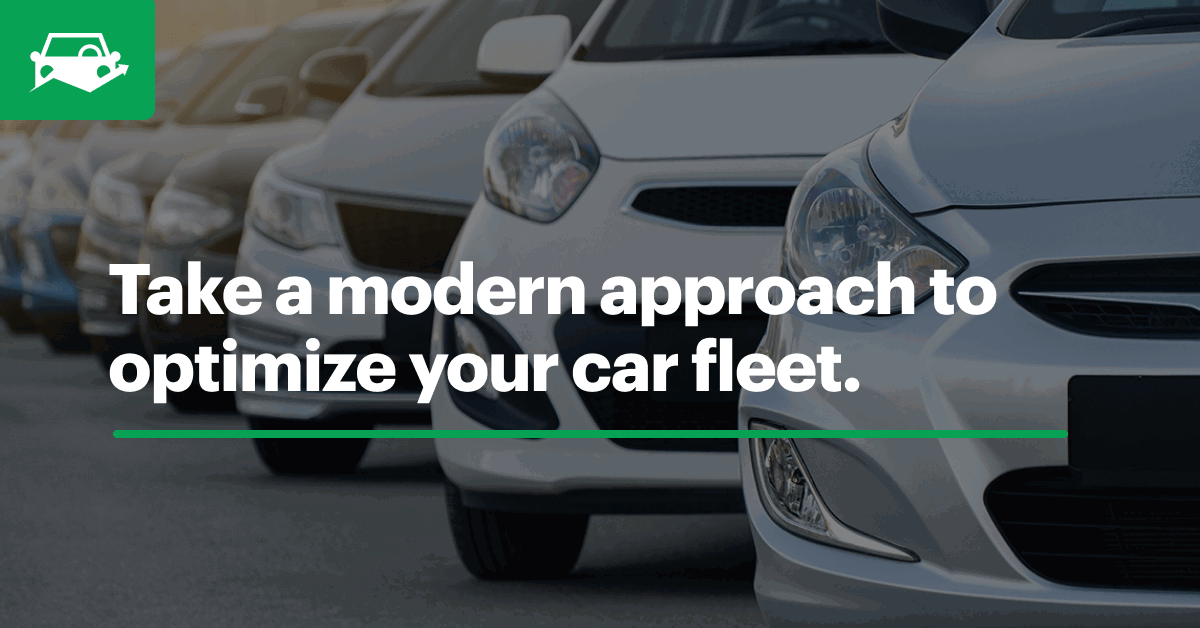 What are the Benefits of Car Fleet Management Software?
An effective car fleet management strategy ensures the success of your business by maintaining vehicle performance and profitability. Some car fleets in the government and corporate sectors outsource management to large fleet management companies (FMCs).
Though FMCs can offer insight and make decisions for your fleet, they typically only provide high-level metrics with limited visibility into your fleet operations. In-house car fleet management gives you the power to access all fleet data and make the best decisions for your business.
When evaluating the features of car fleet management software, take time to ask these questions:
How transparent and accessible is my data?
Can our team effectively collaborate and stay connected?
Are we tracking expenses in real-time?
While most FMC and software solutions are one-size-fits-all, car fleet management software allows you to develop the best strategies to improve your fleet. In-house fleet managers who leverage car fleet management software have real-time access to data, allowing them to comprehensively monitor operations and make informed decisions.
Real-Time Access to Car Fleet Data
Who knows your fleet better than you? Having control of how your fleet operates ensures you're making decisions that aren't only cost-effective but positively impact your fleet in the long run.
While an FMC may send out monthly reports on fleet performance, they often lack the granular insight to effect positive change. Without detailed data, stakeholders can't truly determine whether the decisions made for their car fleet are optimal.
Comprehensively monitoring fleet data in real time is the only way to truly understand your fleet's performance and maximize efficiency. Track maintenance, expense and utilization metrics in car fleet management software keeps you informed.
Because your car fleet is constantly on the move, the ability to access data and monitor metrics daily is imperative. Even if you aren't a fleet expert, car fleet management software provides easy-to-read, configurable reports. Having complete access to your fleet's data empowers you to improve operations.
Mobility and Team Collaboration
Consistent communication and fleet visibility are critical to fleet management. While fleets are inherently mobile, many businesses are altering their car fleet management strategies to better enable remote work.
Mobile access to fleet operations provides real-time visibility to ensure productivity and foster collaboration. Car fleet management software can be accessed on a computer or mobile app, allowing teams to upload vehicle information on the go and efficiently resolve issues.
With a mobile-first platform, fleet managers can eliminate common communication roadblocks that cause downtime and confusion. Users can take advantage of electronic vehicle inspections to immediately notify managers of vehicle issues. Instead of waiting for paper inspection forms or playing phone tag, managers are instantly informed of issues and can create digital work orders.
Many car fleets outsource maintenance to third-party vendors. This is a great, cost-effective strategy for fleets without space for a workshop, but fleets who use FMCs often don't often have complete visibility into the repair process.
A lack of visibility into repair decisions can result in using lower quality parts to save money. While this may seem like a good strategy, you may have to replace parts more often, ultimately costing you more money in the long run.
Car fleet management software gives you complete control of maintenance decisions. Fleet managers can track detailed line items and clearly communicate needs with third party shops.
With Fleetio's Maintenance Shop Integration, managers can automate repair approvals or rejections for common issues. Not only does this save time and bridge communication gaps, but it also ensures that mechanics are performing the repairs you need with the right parts.
Integrating Fleet Management Systems
You may already be using technology tools and other business systems to track and manage your fleet. Solutions like fuel cards or GPS and telematics devices make it easier to manage operations and provide plenty of data to leverage when making decisions.
While these are powerful tools, the amount of data can be overwhelming, particularly when you don't have a way to centralize your data. This can result in limited visibility into operations and increased time manually pushing and pulling data into different systems.
To get a complete view of your fleet, car fleet management software allows you to integrate current business systems. From automating fuel card entries to syncing odometers to trigger preventive maintenance reminders, centralized fleet management software makes it easy to track and manage day-to-day operations.
Powerful car fleet management software, like Fleetio, also offers an open application programming interface (API). Open API enables you to further centralize your data by automatically pushing and pulling data from Fleetio to systems like accounting software. This saves countless hours, eliminates the risk of double entries and provides deeper insight into your fleet.
[![car-fleet-cta](https://marketing-cdn.fleetio.com/images/blog/car-fleet-cta.png)](/pricing)
Transparent Fleet Expense Tracking and Total Cost of Ownership
For your organization to be sustainable, you must have a complete understanding of operating costs. There's no getting around the fact that car fleets are expensive, but comprehensive expense tracking can help you maintain your budget.
In addition to charging monthly or annual fees, FMCs also make maintenance and other purchasing decisions on your behalf. While most FMCs have your best interest at heart, controlling expenses and purchasing in-house ensures you're making decisions that positively impact your fleet's future.
Car fleet management software provides complete and transparent expense tracking. Instead of quarterly high-level reports, managers can monitor expenses in real time. Having a comprehensive view of operating costs allows you to make data-driven decisions to control your bottom line.
In addition to monitoring expenses day-to-day, aggregating all of your data in car fleet management software allows you to automatically calculate total cost of ownership (TCO). Understanding your fleet's TCO and analyzing real-time expenses on a granular level allows you to make informed choices that maximize your fleet's ROI.
---
Fleetio puts you in the driver's seat to fully manage your vehicles! Start your free trial or request a demo today.