What is CMMS Implementation?
Before we dive into CMMS implementation, let's first tackle the question of what is a CMMS. A CMMS, or computerized maintenance management system, is a tool that aids in asset maintenance management, whether it be for medical devices or aircraft. There are many CMMS providers and, while some are general purpose, others are industry-specific. A fleet CMMS is more likely to better match the goals of your fleet and overall organization.
So, what is CMMS implementation? It's the act of integrating a CMMS throughout an organization's systems and workflow process in order to ensure its consistent use as a natural part of daily operations. Because a CMMS is only useful if employees actually use it, successful implementation is a must.
Why Implement CMMS?
CMMS benefits all aspects of an operation. Or it should, if it's implemented correctly. While maintenance is sometimes thought of as just one part of fleet, the effects of poorly managed maintenance can ripple throughout the entire organization. CMMS affords fleet such benefits as:
Reduced repair spend
Reduced downtime
Predictive insights
Improved asset lifecycles
Improved productivity
10 Steps to Implementing CMMS Successfully
Being proactive when it comes to CMMS implementation can help ensure its success. During the shopping around phase, it's important to gather feedback from the employees who will be using the system most heavily. This will help you determine what features and functionality will be most useful and best implemented. Here are 10 more steps for implementation success:
1. Assess Your Needs
Before diving into the world of CMMS, take a step back and evaluate your needs. Consider such questions as:
What specific challenges is your fleet currently facing?
What maintenance issues are recurring and impacting your operations?
Are there regulatory compliance requirements that need to be met?
Do you have visibility into your maintenance costs and service history?
Are you looking to streamline PM schedules?
2. Choose the Right CMMS Software
Selecting the right CMMS software for your fleet is crucial to successful implementation. Consider your fleet size, industry and specific needs and goals. Ensure that the CMMS you choose aligns with those needs and goals. For example, if you're managing a first responder fleet, a CMMS designed for such vehicles is essential.
Get a handle on fleet maintenance
Find out how Fleetio can help your operation extend fleet asset lifecycles and reduce service spend.
Learn more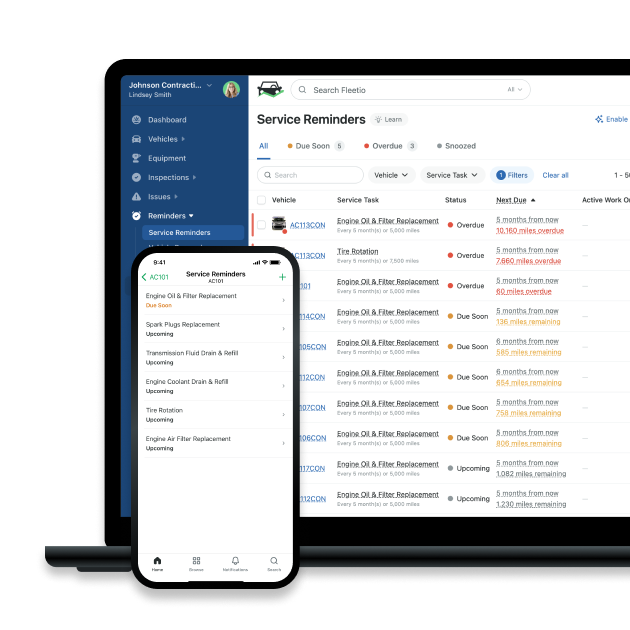 3. Collect Data
Data is the backbone of an efficient fleet and, as Bryan Abbott, Fleet Manager, Asplundh Tree Expert Australia, says, "If you can see it, you can manage it." Real-time fleet data availability is the next best thing to being able to physically see all your assets all the time. Gather any previous asset data you have — whether from paper documents, spreadsheets or legacy software — so you'll have a jump start when setting up your CMMS. Some key data points to include are:
Vehicle specifications and details
Maintenance records
Inspection reports
Regulatory compliance data
Work order history
Fuel consumption data
4. Import Data
Once you've collected the necessary data, import it into your chosen CMMS. Depending on your fleet's size and complexity, this can involve integrations, application programming interfaces (APIs), customer support or manual data entry. With some systems, you can actually bulk import vehicles using the VIN decoder feature, which instantly imports essential vehicle information and more than 90 vehicle specs.
5. Configure Systems
Work closely with your IT department (if applicable) and your customer service contact at your chosen CMMS provider to configure the system according to your fleet's requirements. For example, customize your dashboard to easily skim key metrics, tailor PM schedules according to asset type, age, usage or simply by OEM recommendations and set user roles and permissions for your team.
6. Train Your Team
The success of CMMS implementation relies on those who use it. Train your team on how to use the system effectively. Provide clear instructions (and expectations) and ensure they understand how to use the system for daily tasks (i.e. create work orders, report issues, access critical data, etc.). If your chosen CMMS provider has a help center and/or other resources readily available, even better.
7. Pilot Test
Before rolling out CMMS across your entire fleet, conduct a pilot test. Select a number of employees, from drivers to technicians and even accounting, to test the system's functionality. Gather feedback from your team to see how it stacks up against their expectations and find out what does and doesn't meet their needs. Make any necessary adjustments based on their input.
8. Rollout
After a successful pilot test, it's time for the full rollout. Implement CMMS across your entire fleet. Ensure that all users, vehicles, equipment, tools, parts inventory, etc. are integrated into the system and that your team is ready to use it effectively.
9. Review and Adjust
Once your chosen CMMS is in use, regularly review its performance. Monitor how it affects maintenance schedules and associated costs, downtime and productivity. Be open to adjustments and improvements based on real-world usage.
10. Continuous Improvement
Continuous improvement is a significant factor in successful fleet management. Use the data and insights provided by your CMMS — in addition to feedback from your employees — to fine-tune maintenance schedules and processes, optimize resource allocation and enhance overall fleet performance.
Leverage CMMS for Better Maintenance
With a CMMS in place, you can supercharge your fleet management. Fleetio (just for example, of course) offers a range of features that can be tailored to fleets of any size, in any industry. Fleetio is more than a CMMS; as a full fleet management system, Fleetio streamlines workflows and automates processes to cut out unnecessary downtime and boost productivity. Data is automatically collected — including data from integrated fleet or business solutions — consolidated and aggregated into easy-to-read, configurable reports.
Ready for more than just a CMMS? Find out what makes Fleetio different
Implementing a CMMS successfully involves careful planning, data collection and a focus on continuous improvement. By following these 10 steps, fleet managers can improve their operations and ensure that assets are well-maintained and compliance requirements are met — and the reduction in service spend doesn't hurt either.
---
More than just a CMMS
With integration options, outsourced maintenance automation and a wide range of vehicle-related features, Fleetio is more than just a CMMS.
Schedule custom walkthrough