The Commercial Vehicle Safety Alliance's (CVSA) annual Operation Safe Driver Week is July 12-18, 2020. Law enforcement personnel throughout North America will be on the lookout for unsafe driving behavior and faulty equipment during their vehicle inspections.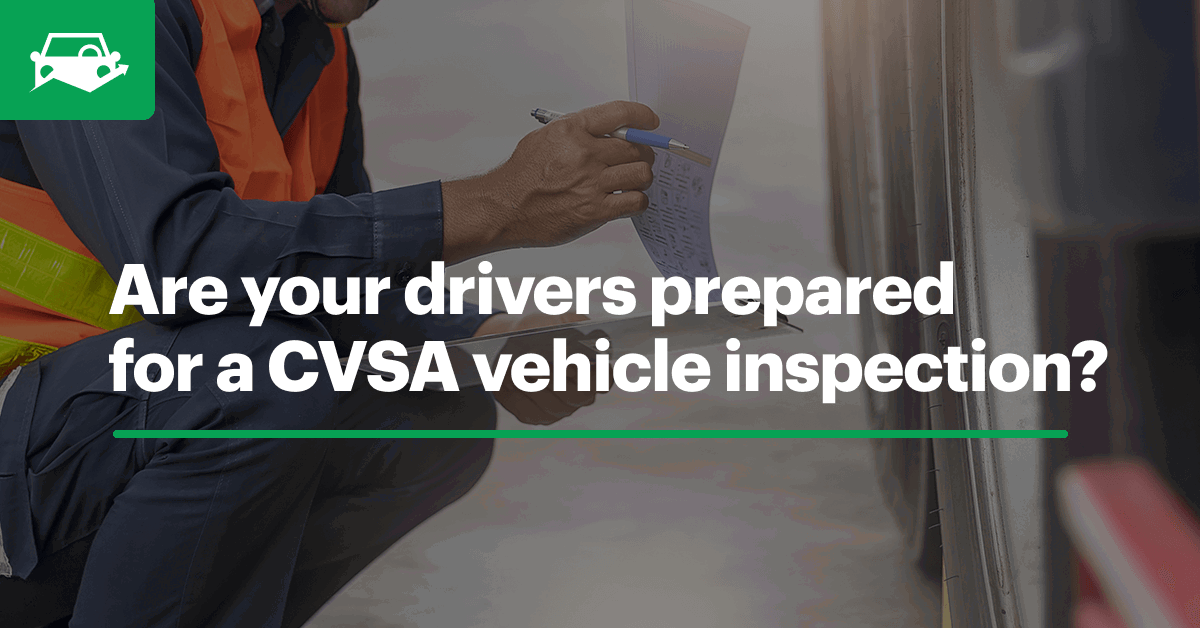 CVSA Operation Safe Driver Week 2020
Each year, the CVSA holds Operation Safe Driver Week, a large-scale safety enforcement campaign, to highlight the importance of safe driving behavior. While this year's focus is on speeding, most inspectors will also conduct a standard 37 point vehicle inspection.
With fewer drivers on the road due to the COVID-19 outbreak, many jurisdictions across North America have seen a large spike in speeding. In the five largest U.S. metropolitan areas, law enforcement saw average speeds increase as much as 75 percent.
While there may be less traffic on the roadways, it is critical to stress to your drivers the importance of safe driving behavior. Not only does this keep them in regulatory compliance and avoid fines, but it also keeps your team, your assets and the public safe.
Because the CVSA postponed their International Roadcheck in May due to COVID-19, many inspectors will be conducting vehicle inspections and focusing on driver requirements. Drivers found with critical violations may be placed out of service until issues can be rectified.
In addition to discussing safe driving behaviors with your team, it's also important to ensure they conduct thorough pre-trip inspections to avoid critical issues and potential violations.
Improving the Inspection Process
In North America, most commercial fleets must complete Driver Vehicle Inspection Reports (DVIR) to maintain regulatory compliance with the Department of Transportation (DOT). While keeping up with DVIRs helps your fleet avoid violations, routine vehicle inspections help you avoid downtime and costly repairs by uncovering vehicle issues as soon as they occur.
Unfortunately, many fleet managers have trouble getting their drivers to complete thorough inspections. Paper inspection forms can be frustrating for drivers due to their small font sizes. There often isn't enough space to provide details, resulting in missing or illegible information.
Furthermore, completed inspection forms aren't delivered to managers for weeks at a time, slowing down the maintenance process. These inefficiencies and communication gaps lead to problems throughout your fleet management system.
Switching to a digital inspection process increases efficiency by empowering drivers to complete fast, thorough vehicle inspections. Drivers can conduct vehicle inspections in a mobile app via clicks and swipes, as well as provide comments and photos for clarity. All results are instantly uploaded into fleet management software for supervisors to review.
See how Stanley Steemer saved over 83 percent of time spent on vehicle inspections.
The Benefits of eDVIR
Electronic DVIR (eDVIR) enables drivers to complete and record all vehicle inspection data in an organized, cloud-based system. Instead of having to keep up with inefficient paper DVIR forms, drivers can complete thorough inspections on a mobile phone or tablet and instantly upload results into fleet management software.
eDVIR is also easily configurable. Fleet managers can include special instructions to drivers and tailor forms to include additional inspection items specific to your fleet. To avoid drivers skipping inspections, fleet managers can create configurable schedules to prompt drivers to complete inspections on time.
With the ability to use the inspection app from anywhere, fleet managers can gain peace of mind by receiving regular updates from drivers of asset conditions. Having this increased level of visibility is extremely valuable when you're managing a dispersed fleet.
Maintaining Compliance
Safety and compliance should be front of mind for any fleet manager, but ensuring drivers follow your fleet's safety procedures can be challenging. Operation Safe Driver Week is a great time to stress the importance of safe driving and DOT compliance, though fleet managers should also review safety policies with their team on a regular basis.
Employing the use of eDVIR is one of the easiest ways your fleet can maintain regulatory compliance. Having an organized system of record for your eDVIRs eliminates the possibility of misplaced or damaged inspections.
Completing daily eDVIR ensures all vehicles are in good condition before entering the roadways. When drivers must prove DOT compliance, they can easily pull up inspection history in their mobile app.
Communicating Issues
Your drivers may be on the road for days or weeks at a time, making it impossible to deliver paper DVIR results promptly. When drivers can't effectively communicate issues from the field, vehicle issues can compound and lead to unplanned downtime and costly repairs.
eDVIR eliminates communication bottlenecks by providing instant results to fleet managers. Supervisors can receive email notifications for any failed inspection item to troubleshoot immediately. This proactive approach jumpstarts the maintenance process and reduces time spent in the shop.
[![safe-driver-cta](https://marketing-cdn.fleetio.com/images/blog/safe-driver-cta.png)](/pricing)
Streamlining Maintenance
Vehicle inspections and maintenance go hand-in-hand. When issues are uncovered in an inspection, the maintenance process can begin. Leveraging eDVIR and digital vehicle inspections allows fleet managers to create efficient workflows and expedite the maintenance process to get vehicles back on the road.
With configurable fleet management software, managers can create inspection failure workflows to facilitate the maintenance process. When an inspection item fails, issues can be automatically created, informing managers of vehicles that need immediate attention.
Fleet managers can create and schedule maintenance work orders based on issues. Linking inspection failures, issues and work orders allows you to maintain an audit trail of all repairs, from discovery to completion.
Managing all of your fleet's data in fleet management software provides a complete picture of your fleet's health and performance. Instead of reacting to issues once vehicles break down, you can take a proactive approach to fleet management to reduce downtime and keep your vehicles safe on the highway.
For more information on Operation Safe Driver Week, check out the CVSA news release.
---
Maintain compliance and streamline vehicle inspections with Fleetio! Start your free trial or request a demo today!