Your fleet's maintenance needs change based on the vehicle manufacturer, age, use and season. Use fleet maintenance checklists to help your technicians keep track of what type of maintenance is needed and when.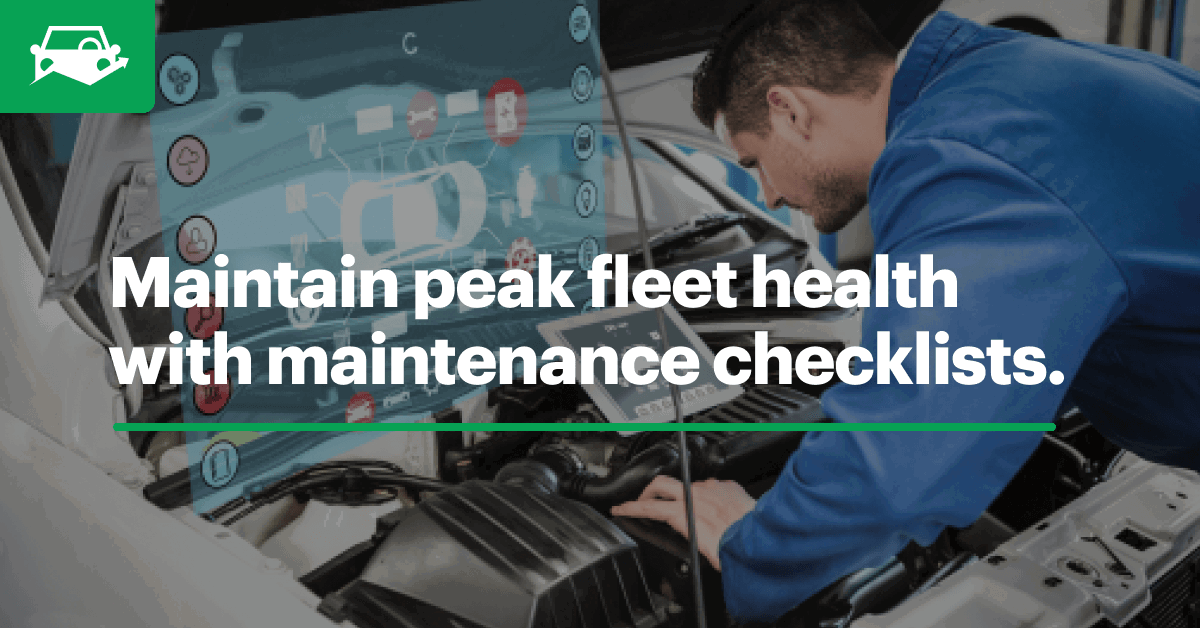 Maintenance Complexity Increases
Repairs are a variable cost that can leave a serious dent in your fleet's total cost of ownership (TCO). Unfortunately, average roadside repair costs have been increasing 30 percent year over year, and average mechanical repair costs for commercial vehicles reached a record high last year.[1],[2] Because many repairs can be avoided through preventive maintenance (PM) schedules, taking a proactive stance can save you time and money.
As automotive technologies continue to evolve, PM becomes more in-depth. Late-model vehicles need added PM intervals to inspect safety features that didn't exist a decade or so ago, such as lane departure and corrective steering. Without a checklist to keep track of each maintenance task, it's not surprising to see how something could slip through the cracks.
The Importance of Checklists
Maintenance checklists are a key tool in ensuring any technicians working on your fleet's assets are being thorough and consistent, whether the work is performed in-house or through a fleet service provider. Checklists help keep track of the type of maintenance that needs to be done at certain times (such as seasonal maintenance like winterization) and should include any specifications across makes, models and asset types.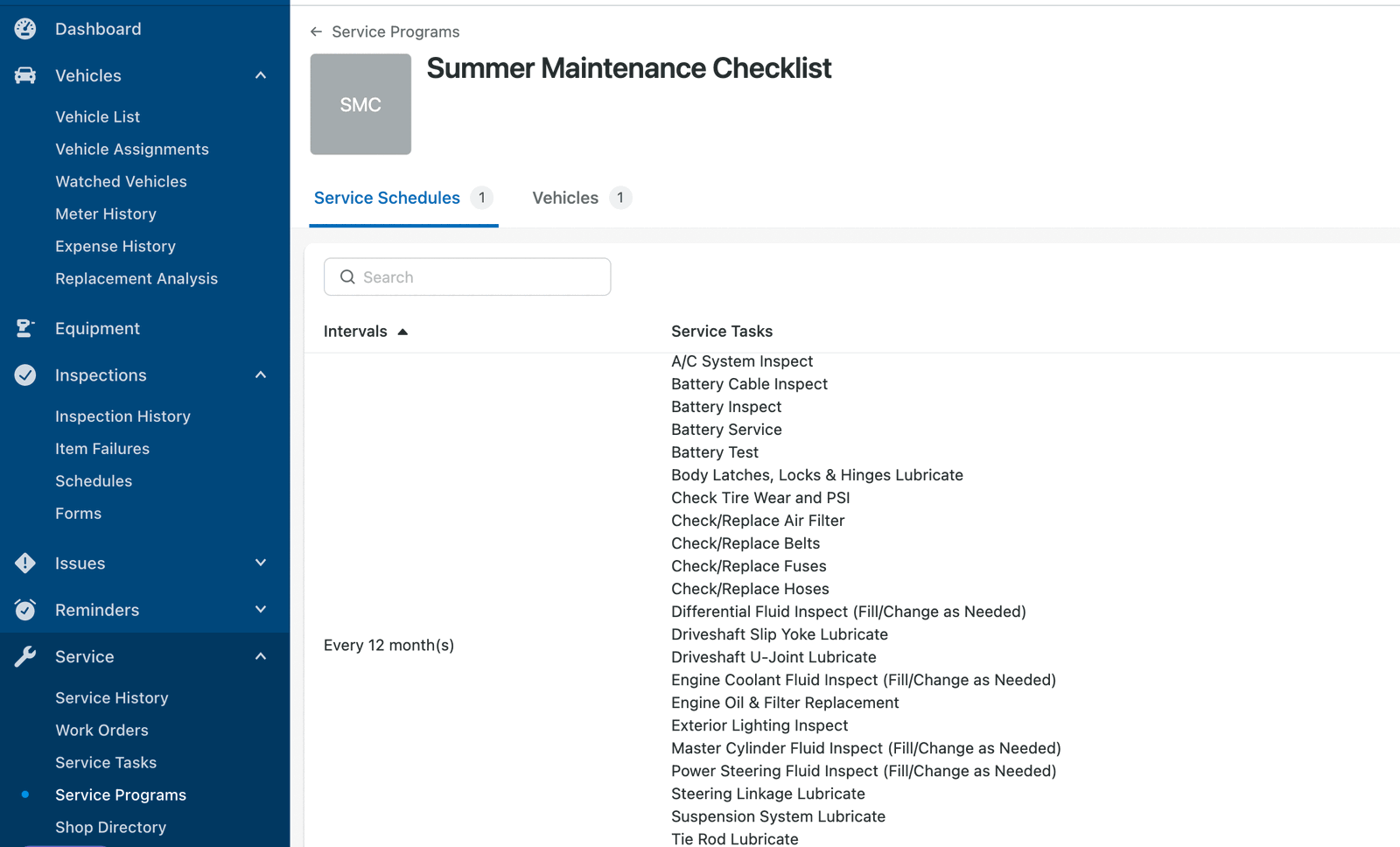 Integrate Checklists With Ease
While it may seem daunting to think about having a checklist for different maintenance and asset types, you can customize and consolidate checklists using service programs with comprehensive fleet management software. Service programs allow you to create proactive maintenance schedules and reminders and apply them to assets in bulk, by group, by specific vehicle, or by year, make and model.
Fleetio's service program feature comes with several templates available and ready for use, but you can also add onto these templates or build a new schedule from scratch. These service programs act as a checklist for technicians, and through the mobile app, techs can check off each task as it's completed.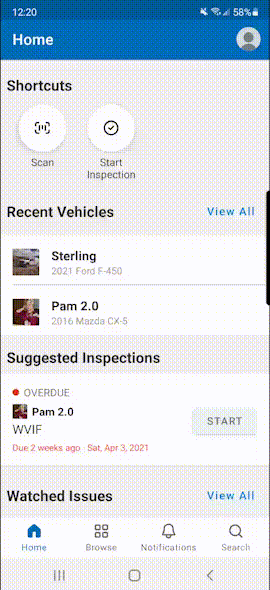 Why Customization Matters
Customizing your maintenance checklists can be crucial to keeping your overall TCO down, especially if you're using data to drive PM schedules. You can get a clearer picture of vehicles that may need additional attention using reports based on data pulled from vehicle inspection and service histories. You can then add these issues to the appropriate maintenance checklist.
Furthermore, if you have some vehicles using upfits that need PM, for example, trucks that use auxiliary power units (APUs), you can add that item to a checklist for that specific group of vehicles. This ensures all aspects of your fleet are being properly maintained and nothing is being overlooked.
PM Checklists: What to Include
A general PM checklist is a great jumping off point to building better service programs throughout your fleet. Dependent on vehicle Class and mileage interval, general PM typically includes:
Change engine oil and filter
Rotate tires and check PSI
Check air and cabin air filters (change if needed)
Check brake system/replace worn components
Check exhaust system
Lubricate grease fittings
Check fluid levels (coolant, brake, power steering, transmission, differential, transfer case, master cylinder, etc.)
Check belts and hoses
Check lighting systems
Check safety systems/equipment (if applicable)
Check coupling devices (for trailers)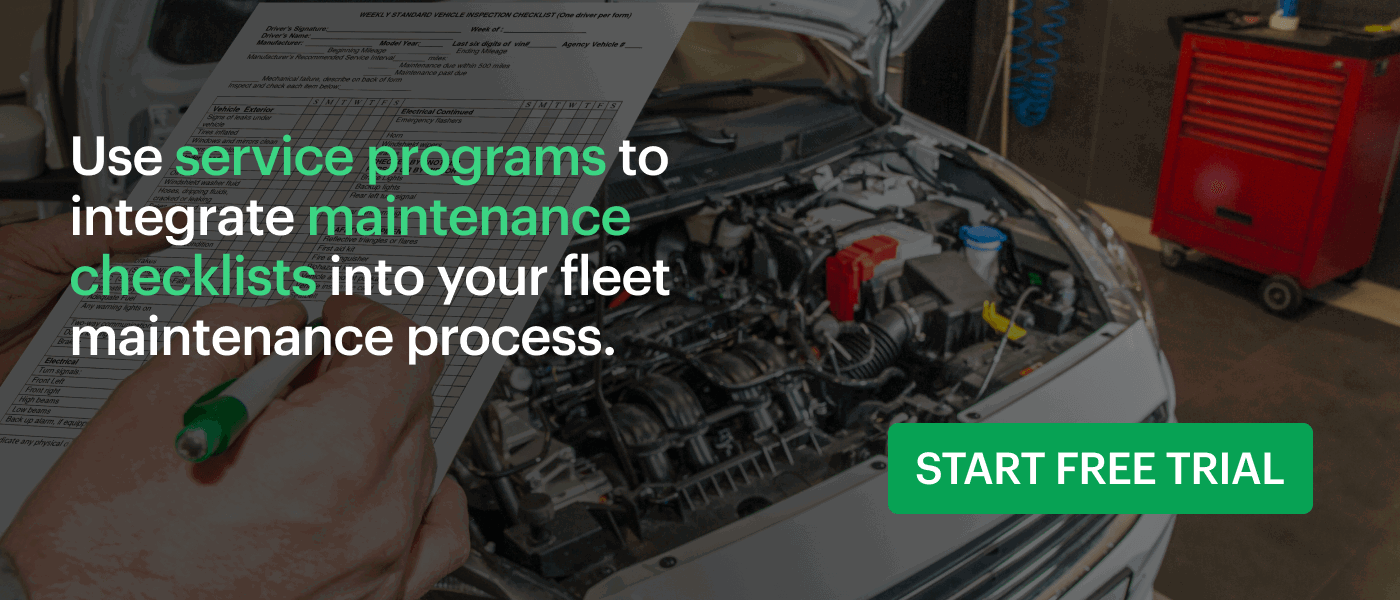 Bring it to Your Fleet
If you're not already using some type of maintenance checklist, it's definitely worth looking into. PM will only get more complex as automotive technology evolves, so checklists are a great way to ensure any techs working on your fleet assets aren't missing a thing.
Consolidate checklists with a fleet management program and streamline communication with in-house techs or third-party vendors through the mobile app. Use service history and inspection data to customize checklists and decrease TCO. Add any PM-applicable upfits so assets across the entire fleet are maintained. Maintenance checklists are a powerful tool in any fleet manager's PM strategy.
---
Find out how Fleetio can help you maximize uptime with maintenance checklists. Start your free trial or request a demo of Fleetio today!
Sources
1 Average Roadside Repair Costs Up 30% Year Over Year - Maintenance - Trucking Info
2 Average cost of mechanical truck repairs climbs | Bulk Transporter