In the aviation industry, effective aircraft maintenance management is crucial for staying compliant and ensuring uptime. Streamlining maintenance and operations tasks through fleet management software gives your team a comprehensive look at the health of your assets both on the ground and in the sky.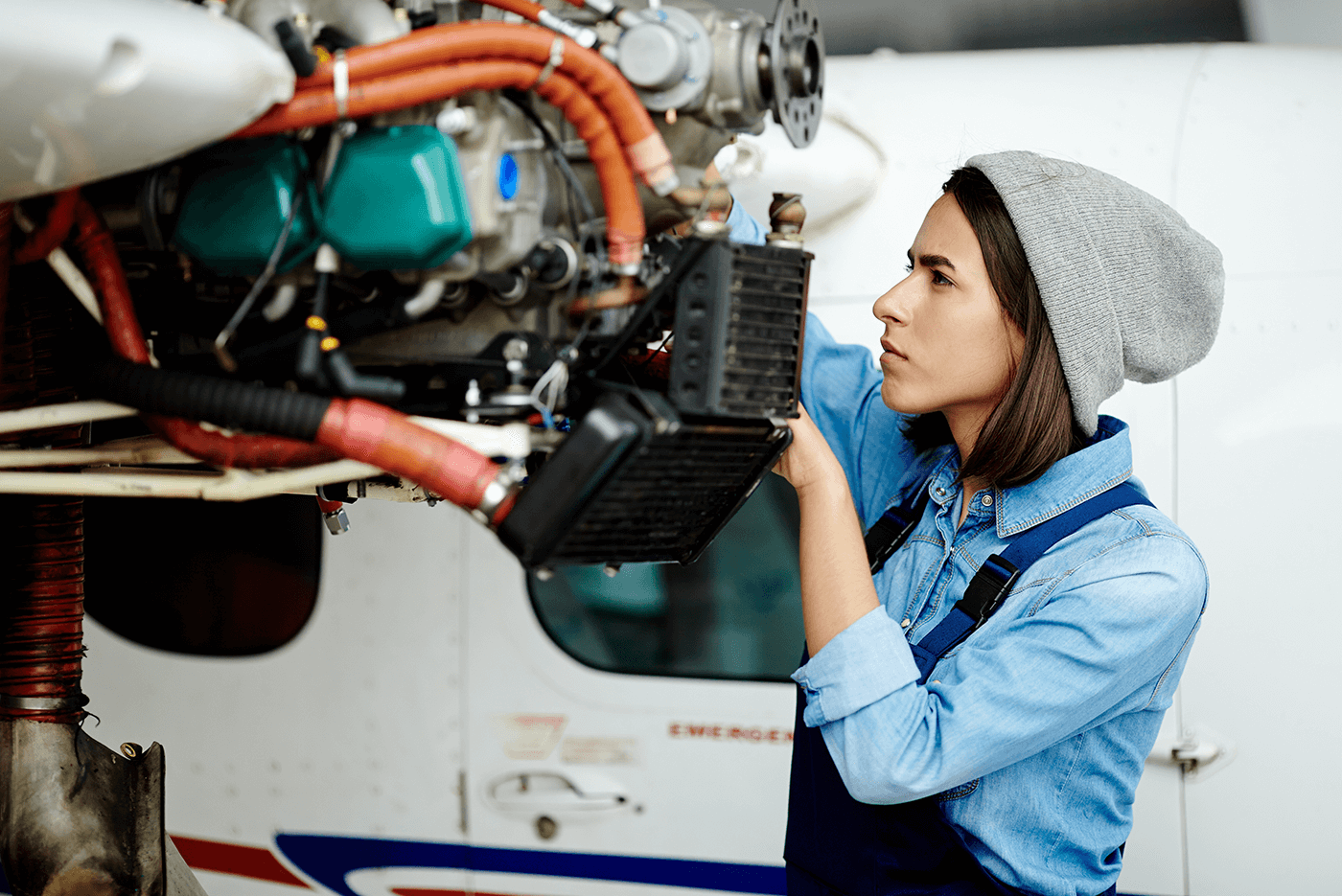 An effective aircraft maintenance management process requires collaboration across the entire team. Troubleshooting issues can be difficult when you're using paper-based logs and reports. With aircraft maintenance management software, you and your crew can track, maintain and analyze a complete system of record for your fleet from anywhere.
Track and Schedule Aircraft Maintenance in a Centralized Location
When it comes to preventive maintenance (PM), the aviation industry needs to be at the top of its game. In addition to routine servicing, a commercial aircraft must be serviced after a certain number of flight hours in order to remain compliant with Federal Aviation Administration (FAA) and International Civil Aviation Organization (ICAO) standards.
Though maintenance processes are regulated, many aircraft fleets aren't running as efficiently as they could be. Communication bottlenecks are caused when information can't be delivered quickly, which can result in aircraft downtime.
Leveraging aircraft maintenance management software allows your crew to seamlessly communicate so you can be proactive in solving maintenance issues.
Creating routine service schedules for your aircraft keeps your fleet organized and airworthy. With a PM scheduling tool, you can stay on top of regular servicing by setting reminders and due soon thresholds to help you maximize uptime.
When your aircraft does require maintenance, you don't want paperwork and spreadsheets slowing you down.
Generating work orders through your aircraft maintenance software allows your crew to get to work immediately. With detailed line items, you can efficiently track service work from start to finish and ensure your assets and equipment are primed for use.
Aside from scheduling and performing aircraft maintenance, it's important to be able to track data and run reports. Utilizing data and reports ensures you're efficiently allocating your resources.
Aircraft maintenance software allows you to generate customizable reports, track maintenance, view operational costs and gain insight into the overall health of your assets.
Coordinate Your Team Workflow
Time is critical in the aviation industry. One breakdown in communication can cause an aircraft to be grounded for hours, potentially costing your company revenue and reputation with customers.
In order to prevent communication breakdowns, your crew must be able to effectively collaborate on all aircraft maintenance tasks.
Clear communication across a common platform ensures fleet managers have access to the most up-to-date data to manage aircraft maintenance, assign work orders and track operation cost.
With collaborative aircraft maintenance management software, fleet managers and owners can create custom roles and permission levels to control who can view, edit and upload information. An unlimited amount of users can upload inspection results and maintenance progress.
Allowing access to real-time service data and fleet insights empowers your crew to be proactive in the aircraft maintenance management process. Not only does this streamline your workflow, but having your team on the same page can cut aircraft operation cost and improve overall performance.
Through custom reports, fleet managers can easily analyze and track costs and forecast asset servicing. You also have the ability to export all relevant data to generate custom reports or presentations.
Being able to leverage vast amounts of data allows your management team to make informed decisions about aircraft operation cost management, track spending by asset and get an overall summary of your operating costs.
Maintain Airworthiness and Compliance by Optimizing Inspections
Safety and compliance are two chief concerns in the aviation industry. For an aircraft to remain airworthy, it must comply with the applicable FAA and ICAO regulations.
A great way to ensure you maintain compliance is to refer to the FAA regulations and ICAO standards themselves. With an aircraft management software such as Fleetio, users can upload PDFs of the regulations into the app and assign them to specific assets.
Most of these regulations focus on regular inspections and preventive aircraft maintenance. In order for your assets to remain airworthy and compliant, inspections and preventive maintenance must be performed in a timely manner.
Paper inspections can slow down the aircraft maintenance process. Aside from being time-consuming to fill out, getting the results to the right team members isn't instantaneous.
Aircraft maintenance management software allows your crew to perform pre- and post-flight inspections quickly via mobile app. Any discrepancy or issue is instantly logged, and real-time notifications enable your aircraft maintenance team to quickly address and resolve issues.
Not only do mobile inspection forms save your crew valuable time, but inspection results are kept in a centralized location, giving your team insight into aircraft maintenance trends and the overall health of your assets.
---
Soar above the rest! Request a demo or start your free trial of Fleetio to streamline your aircraft maintenance management process.