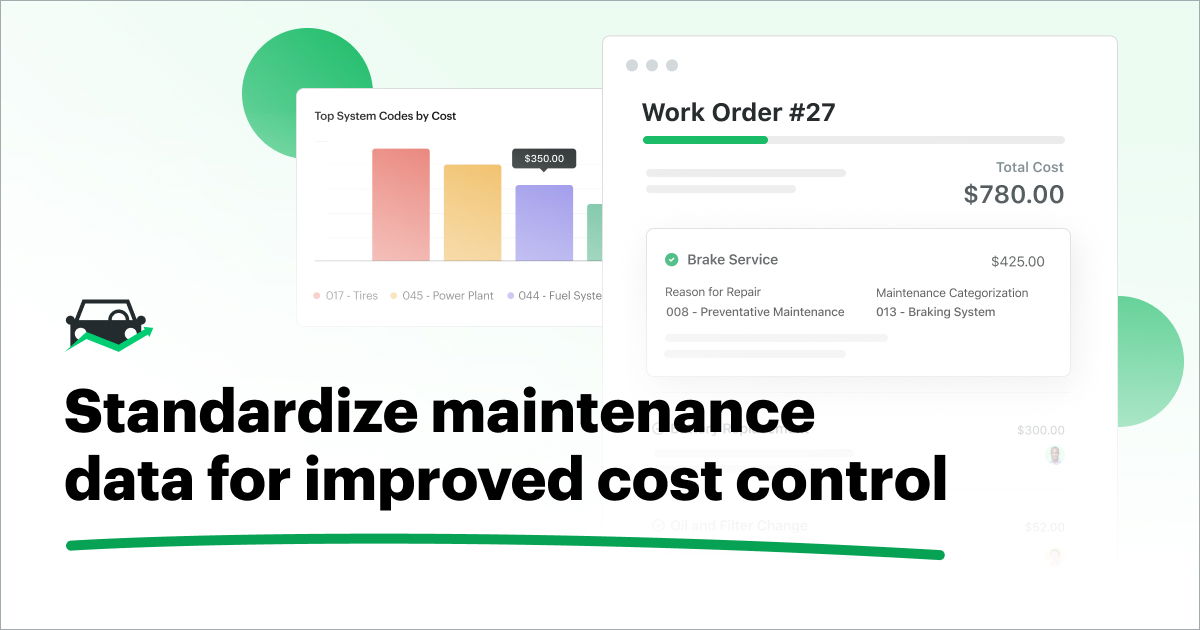 Standardizing Maintenance Data
Fleet maintenance categorization provides consistent, standardized service data — and the more consistent your fleet data is, the more accurate the reporting and actionable the data becomes. With enough historical service data to create patterns, you can begin to chart future trends. When these trends present evident actions to take for improvement, that data is considered actionable. Actionable data should be accessible, measurable and easy to analyze. Standardizing maintenance allows for easy data interpretation so fleets can address issues quickly to improve cost control.
Fleetio has implemented a maintenance categorization feature based on Vehicle Maintenance Reporting Standards (VMRS) to help fleets standardize service data and dive deeper into key maintenance metrics for powerful insights. VMRS has been around since the 1970s and is an established coding convention for maintenance categorization that acts as a universal line of communication (or language) between fleet managers, technicians, OEMs and those responsible for purchasing and/or maintaining equipment — making the data more accessible.
But standardizing maintenance data collection and reporting doesn't just help managers better communicate with external departments, it also allows for building out consistent service histories across fleet assets. Building a thorough history with clean service data allows fleets to better identify problem areas and their causes, including:
Cost inflation
Extended downtime
Recurring mechanical issues
Inefficient preventive maintenance (PM)
Fleetio's maintenance categorization feature is scalable to meet the needs of your fleet, so you get exactly the data you need without having to wade through extraneous information. But what exactly does maintenance categorization in Fleetio look like, and how can it benefit you?
Maintenance Categorization in Fleetio
Fleetio stores and categorizes all your maintenance data, ensuring your reporting is accurate. Whether you're servicing assets in house, through a third-party provider or using a mix of both, maintenance is categorized the same way to give you real-time, all-inclusive reporting and insights. This allows fleets to build detailed asset service histories that are easy to analyze and compare against similar assets for performance, productivity and cost evaluation. More importantly, it provides actionable data.
Maintenance categorization in Fleetio consists of reason for repair, repair priority class, and system/assembly/component codes, which correspond with VMRS codes 14, 16 and 31-33. These codes allow users to deep-dive into service-related data. Let's take a look at exactly how these categorization codes break down and what benefits they provide:
Reason for Repair: Reason for repair at the Work Order/Service Entry level helps fleet owners and managers more accurately understand their service spend by identifying the reason a repair was requested, such as a breakdown or routine inspection. There are approximately 40 codes in this category that can help fleets surface and keep tabs on service request trends, allowing for cost reduction through expedient issue resolution.
Repair Priority Class: Repair priority class helps fleets more accurately understand their maintenance spend by classifying service as Scheduled (planned work with minimal service interruptions), Non-Scheduled (unplanned service where maintenance operations are disrupted) or an Emergency (unplanned service where fleet-wide operations are disrupted).
System: The system code identifies the system involved in a repair (e.g. the brake system or air conditioning, heating and venting system). Collecting consistent data around systems serviced can help you determine recurring issues so you can address the cause, including poor driver behavior, improper PM compliance or inadequate parts/asset durability.
Assembly: The assembly code pinpoints what within the system needs service. For instance, when you categorize a service task as belonging to the brake system, you can then further specify with the assembly code what that task addressed, such as front brakes and drums or rear brakes and drums, allowing for more precise insights.
Component: The component code is a universal identifier of parts, solutions, additives, lubes, oils, and other miscellaneous (but often critical) components, such as diesel particulate filters. Fleets can use this code to further delve into the source causing the need for service and address it at the most basic (or specific) level.
These codes can be used individually or together — depending on the specificity of reporting desired — providing a lot of flexibility when it comes to initial categorization implementation. It uncovers insights for the overall system that was impacted and offers a lot more granularity so fleets can uncover what exactly happened and why. With this data readily available, fleets can get a better sense of service spend and how to reduce it, where ROI improvements can be made and how to increase overall fleet productivity.
---
Find out how Fleetio can help you stay on top of your fleet maintenance needs. Start your free trial or request a demo of Fleetio today!