Large fleets often face challenges when it comes to simplified data collection and analysis, which is understandable given the vast nature of the operation. Being inundated with too much data can often cause more problems than it solves; instead of gaining actionable insights, you could find yourself staring at meaningless scribbles. The biggest challenges when it comes to gaining actionable insights from data are:
Lacking necessary data analysis skills
Delayed access to data
Inability to integrate fleet solutions with existing systems or legacy infrastructure
Check out our Understanding Fleet Data series
Overcoming Data Challenges
The journey to mastering fleet data management begins with addressing the aforementioned challenges head-on. Here's how:
1. Tackle Data Literacy
Equip your team with the essential skill of data analysis. Investing in training and workshops can empower fleet employees to interpret data effectively, driving insightful decision-making.
2. Demand Real-time Insights
The key to agile decision-making lies in timely access to data. Implement solutions that offer real-time data updates and a native fleet management app to ensure you're able to address issues quickly.
3. Embrace Integrations
Seek solutions that seamlessly integrate with your existing systems. This ensures a smoother flow of data, data consolidation and reduced bottlenecks, enhancing overall efficiency.
4. Centralize Your Data
A central platform collects, consolidates and aggregates data from various sources, including telematics devices, fuel cards, finance/accounting software, etc. By connecting siloed data, you can see the full picture of your fleet, including its health and operational costs.
5. Illuminate Insights with Visualization Tools
Data without context is next to — if not completely — meaningless. Data visualization tools transform raw data into meaningful information that pinpoints patterns, trends and discrepancies that might otherwise go unnoticed.
Take the headache out of data analysis
Reports in Fleetio feature easy-to-read data visualizations and flexible filtering to ensure you've got all the information you need to make data-driven decisions.
Learn more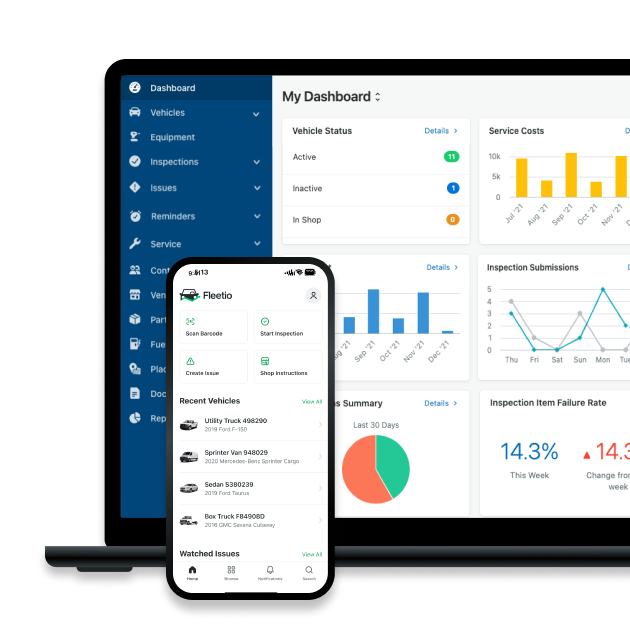 6. Utilize Custom Dashboards
Dashboards are kind of like your fleet's storytellers, presenting data narratives in a language everyone can understand. By customizing dashboards to display specific metrics or key performance indicators (KPIs), you ensure that the insights garnered align with your fleet's unique goals.
Harnessing Data in FMS
Fleet management systems, like FMS, can help fleet managers unlock critical fleet insights by doing all the work on the back end. FMS allows fleets to integrate other fleet and business solutions they may use onto a single platform. All collected data is consolidated and aggregated automatically, and you can use the customizable fleet management dashboard to keep priority metrics top of mind — and top of screen. You can also hide any metrics you don't need to check daily, helping reduce data overload. Plus, the custom dashboard displays data as visuals (charts, graphs and the like) to help users more easily surface patterns, trends and discrepancies so fleets can gain maximum insights into their operations.
FMS also makes creating fleet reports and sharing data easy. Reports are configurable and can be filtered by vehicle, group, location or other criteria specific to your operation. Managers can set specific reports to be emailed to specific stakeholders at custom intervals to ensure everyone has the information they need, when they need it.
While the challenges of data analysis may be daunting, they're not insurmountable. With the right tools and strategies, fleets can turn data into a powerful ally, propelling them toward operational excellence.
---
Find the right fit in Fleetio
Looking for a better way to manage your fleet's data? Schedule a demo to get a personalized, in-depth look at how Fleetio can be a valuable resource for your operation.
Schedule walkthrough