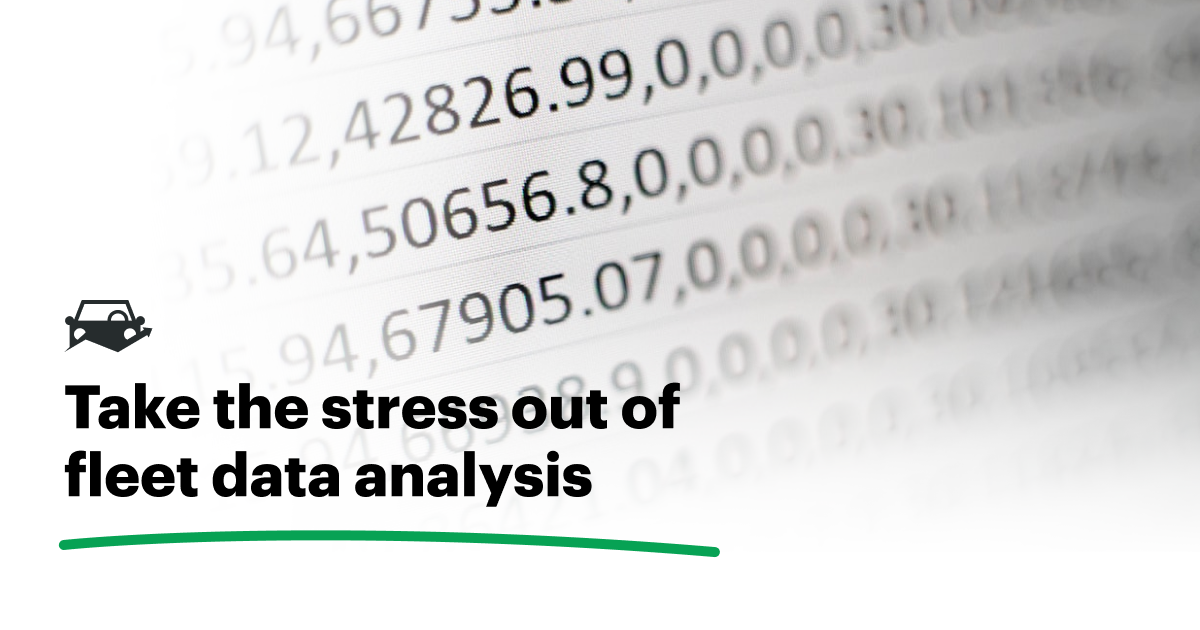 Big data is often emphasized for providing deep visibility into business operations, such as your enterprise fleet, empowering you to make informed business decisions. However, big data can be overwhelming and difficult to manage. Vehicles are constantly generating data points, so as an enterprise you have to manage thousands of data points daily from your fleet's hundreds or thousands of vehicles.
What is Big Data?
It is likely that you have heard the term big data by now, as it has become a buzzword in recent years. But in case you have not, it refers to the gathering of massive amounts of information from a wide variety of sources for in-depth analysis. These data sources can include (but aren't limited to) telematics, fuel cards, fleet management technology such as fleet management software (FMS), inventory systems, warehouse management systems and financial/accounting systems. If you outsource all or a portion of your fleet's maintenance, that can add yet another data source.
Big data is critical to enterprise fleets for a number of reasons: it helps you understand total cost of ownership for each assets and the fleet as a whole, it provides insights that can improve asset lifecycles and reduce downtime and unnecessary service spend, it helps you understand asset utilization across the entire fleet, it helps you identify route issues for optimization and it helps control excess spend associated with issues like driver behavior, fuel theft/misuse and inventory mismanagement.
When managing a large fleet, this massive influx of data from every asset — and not just vehicles, but small to heavy equipment and tools — can be downright headache inducing. So, how do you control the chaos and gain value rather than frustration from your data points?
In this post:
Compile Data into One Central System
One of big data's major challenges is that you may be gathering data from multiple sources and locations simultaneously. As a result, it can be a pain simply trying to find a certain data category and avoid losing data. When it is time to actually analyze it all, your head is already spinning from the logistical nightmare.
You can avoid this confusion and frustration by keeping all your data points in one central location — ideally a cloud-based software (not a massive Excel file or, heaven forbid, loose paper forms and documents). As a result, your enterprise fleet information will be easy to locate and access. You also won't have to explain to upper management how you lost data or cannot remember where certain data points are located.
A centralized system affords the added benefit of consolidating and aggregating collected fleet data and allowing you to customize your fleet management dashboard so you can expand or limit the view to only what you need to see. So, for instance, if the top five things you need to look at daily — or even hourly — are vehicle location, overdue inspections, critical faults, open issues and active work orders, you'd simply pull those to the top of your dashboard for at-a-glance metrics. From there, you can quickly open the metric you want more info on with a simple click of the mouse.
"Bringing in a tool that brings all the data into one centralized location to make informed decisions and help guide our business was critical," explains Chloe G. at Cherrylake.
Automate Data Collection
For major fleets like your own, it can be incredibly difficult to manually collect all your asset data points and, if you're doing it manually, you're likely not capturing all the data points possible. You can save a lot of time and effort by simply automating the data collection process. Solutions like FMS automatically update fleet data within the system, and can integrate with other fleet and business solutions to capture odometer readings, fuel purchases, parts inventory and outsourced maintenance and repair data. These systems have extensive data storage capabilities and can organize all fleet asset information and collected data.
When using FMS, you — or your IT department — can pair fleet and other business systems through a public application programming interface (API) to ensure business continuity. Fleetio's REST API, for example, provides more than 130 endpoints (and growing!) and allows programmatic access to Fleetio resources (e.g. vehicles, meter entries and fuel entries) so developers can build integrations with third-party and/or internal systems.
FMS also automatically decodes VINs so you can quickly bulk import vehicles into the system, whether you're starting from the beginning or adding a new vehicle to the fleet, saving you hours of data input. Alongside VIN decoding is automatic NHTSA recall alerts, meaning you'll know about fleet-related recalls in real time, and can act accordingly.
You're extremely busy, so use your time valuably by working with data rather than inputting it.
Automate Analysis
Automation doesn't just stop at data collection. Enterprise fleets can use FMS to automate fleet data analysis and gain access to real-time configurable fleet reporting to save even more time. You can access your at-a-glance custom dashboard of fleet information and charts, empowering you to catch problems before they affect the fleet.
FMS also generates a robust variety of reports that you can send to stakeholders, administrators and anyone else who needs to see them. You can set the appropriate reports to be sent to the appropriate parties at custom intervals so no one wastes time hunting down the data they need to make big decisions.
"I find [Fleetio] saves me about 1.5 hours per day in the evening when I sit down to catch up on all my files," says Mark of Mark Dominey Trucking. "If you use it as intended, it will be a huge benefit!"
Reports that FMS can automatically create and update for you include:
Average operating cost per mile
Cost per meter
Service costs compared to fuel costs
Monthly service costs and fuel costs
Vehicle meter readings
Total cost trend
Average vehicle fuel economies and cost per gallon
You can gain powerful, real-time insight into fleet operations, and FMS does the work for you!
Avoid big data burnout. Digest data in spoonfuls
Big data can be overwhelming, especially when data points are piling up and you can't find time to analyze them for weeks or months. It can be a domino effect where as you wait to analyze your fleet data it becomes increasingly difficult and dated, so you continue to push it off. Instead of enduring this endless cycle, commit to frequently digesting fleet data in small amounts and control user permissions so no one is seeing data they don't need to.
By devoting a few minutes a day or week to review fleet data — instead of every few months — fleet managers can avoid data overload while gaining in-depth knowledge of how the fleet is operating. When you frequently review fleet data, you can avoid major surprises and address any present issues before losing significant time and money. The ROI of fleet management software practically speaks for itself.
Recommended blog posts for you:
---
Enterprise fleets: learn how to manage your thousands of vehicle data points generated daily. Schedule a personalized walkthrough today!