The dashboard is the first thing you see when logging into fleet management software and other fleet solutions, but it can be overwhelming if too much data is presented in a disorganized way. Taking advantage of customizability features allows you to choose what info is most important, and how to lay it out so that you can find everything you need with a quick scan of the screen.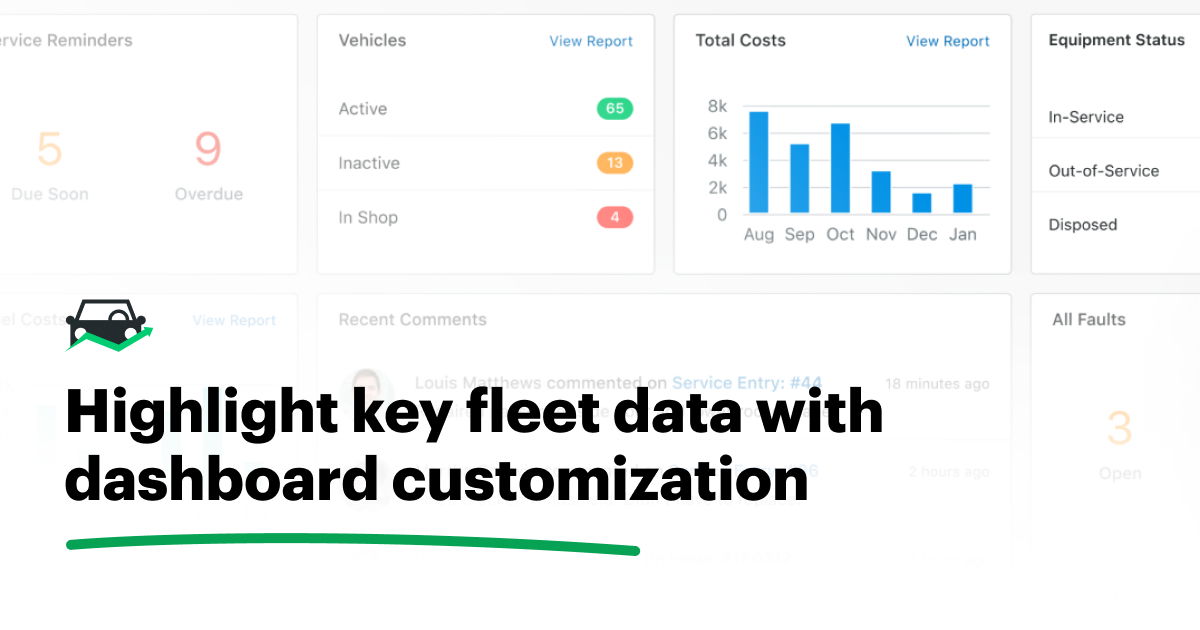 Save Time with Custom Dashboards
Time management plays a significant role in fleet management, but it can be difficult to use time effectively and productively. The role of a fleet manager often revolves around a lot of moving pieces and the better time is managed, the more effort can be put into priority tasks, such as optimizing workflows and improving fleet asset health. Fleets using fleet management software (FMS) and other management solutions can take advantage of the software's customizable dashboard to organize fleet-related data from highest to lowest priority, and can limit what's on the dashboard to reduce chances of data overload.
The fleet management dashboard is the first screen that appears when logging into FMS and gives a high-level overview of key information, including (but far from limited to):
Inspection compliance
Vehicle assignments
Vehicle locations
Service reminders
Work order status
Inventory purchase orders
A fleet management system dashboard can be as bare or in-depth as you need. When first starting out with a new software, it can often be the case that the dashboard seems overloaded with data and overwhelming to look at — and sometimes it has data that you don't necessarily need to see on a daily basis. A good way to to get over the initial shock of dashboard overload is to hide everything, which can typically be done through a menu bar. This gives you a clean slate to work with, and from here you can start adding in the data you want to see based on your prioritization list. This also helps you get used to how the data is displayed within the software so you can easily skim the page and find what you need.
Your fleet dashboard gives you insights into specific tasks that need action, such as approving work order requests or renewing vehicle insurance, so you can better and more quickly manage those tasks rather than wasting time hunting down documents, pulling files or making endless phone calls.
Surface Key Data Quickly with Dashboard Customization in Fleetio
Custom dashboards are great for tracking fleet compliance rates, such as on-time service and inspection compliance, and when integrated with solutions like fleet telematics, you can pull in daily odometer readings. Because Fleetio consolidates all integration data in one place, you can maximize the benefits of your dashboard to easily catch issues and boost compliance across fleet operations at a glance.
Fleetio's customizable dashboard also allows you to sort maintenance data according to priority so you can easily see actionable tasks like active work orders, work orders needing approval and even inventory purchase order status. This helps you more easily stay on top of maintenance and parts acquisitions while increasing service workflow efficiency. Likewise, if inspection data is of high-importance for you, you can prioritize your dashboard to show not only compliance rates, but also inspection item failure rate, overdue inspections and inspection submissions.
To make your dashboard even easier to organize, Fleetio breaks down data by category, such as Vehicles, Equipment, Inspections, Issues, Service, Maintenance Categorization (that is, a breakdown of scheduled, non-scheduled and emergency services performed), Cost, Parts & Inventory, as well as Contacts and Comments. If there's something you want to track, but don't see the option within the widgets dropdown list on your dashboard, you can add a custom widget to ensure that data is right where you need it.
See How Customers are Using Fleetio's Dashboard
While the dashboard displays data at a high level, you can easily click on a data point of interest to pull up more in-depth information, such as vehicle assignments for overdue inspections. All the information available from your dashboard can also be accessed as fleet management reports that you can share with other employees, management and stakeholders. Keeping your dashboard organized and sorted by priority makes the time you spend in front of the computer more productive and manageable so you can tackle the more important day-to-day activities.
---
Ready to get your data organized and put time back in your day? Start your free trial or schedule a personalized demo today!