Let's break down the basics of what fleet management is, and what fleet technology isn't.
What does a fleet manager do?
Fleet managers are responsible for all things fleet, though that can look different from company to company. In short, fleet managers plan, coordinate and execute strategies around vehicle and equipment acquisition, purchasing, selling, maintenance, repair, utilization, and assignments, as well as manage the personnel that carry out those individual duties.
Fleet manager job description
Job descriptions for fleet managers can be varied, depending on the size of the fleet, industry, and other factors, but generally, fleet managers will be responsible for things like:
Driver assignment
Routing and route optimization
Leading a proactive fleet maintenance program
Managing drivers and technicians
Asset tracking
Reporting and data analysis
Budgeting and forecasting
The qualities of a good fleet manager
There are good and bad examples of work in any profession, and in fleet management, the best fleet managers are:
Detail-focused
Accountable and data-driven
Capable of multitasking
Strong communicators
Efficient in time management
Strong decision makers
Flexible and long-term oriented
Managing a fleet of vehicles can be personally challenging, as there are constant variables to consider with both the machines and the people you work with as a fleet manager. There are definitely fleet management best practices that you can follow to guide you to success, but making sure that your temperament is geared toward the role is just as important as any methods you use to track your fleet performance.
Fleet pros share proven actions to better your fleet
The Fleet Manager's Manual is a compilation of articles and resources to help fleet managers take on their daily challenges.
Get Your Free Copy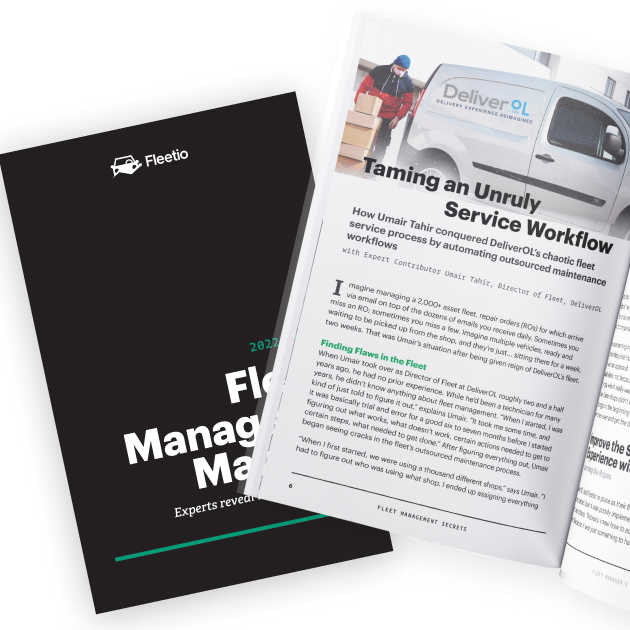 How does technology factor into fleet management?
It can be easy to be intimidated by technology and automation. Many of the primary job duties we listed above – driver assignments, route optimization, reporting – can now be done fairly simply in fleet management software, so you might be wondering where fleet managers even fit in the equation anymore.
Technology is a vital tool in driving efficiency in fleet, but it is just that – a tool. And tools generally require operators. Part of being a fleet manager these days is being the subject matter expert on the softwares you use to get the job done, and that can be just as much of an acquired skill set as changing oil or operating heavy duty machinery.
Software is constantly moving and improving, so making sure you keep up can be a full-time job in and of itself. Once you get your bearings, though, you'll find that the time savings day to day and the clarity you get from having all of your fleet management metrics in one place is worth the skills you develop in maintaining a fleet management platform.
There's also a human touch that is so necessary in working with people that no algorithm can compete with. When dealing with drivers, for example, data can tell you that their performance is suffering based on telematics or inspection results, but it can't necessarily tell you why. You get to maintain a connection with your direct reports that lets you see past the numbers and make decisions that helps everybody advance.
How to build a modern fleet management skill set
1. Know your fundamentals
Having a fancy program that can calculate total cost of ownership and cost per mile for you doesn't negate your need to understand those concepts. You should still be able to look at fleet management reports with a sense of expertise to discern the story the numbers might be telling you.
Seek our resources that can help you break down the basics of fleet management – like our Masters of Fleet series, or our library of white papers and videos – so that you can develop a strong foundation of fleet management knowledge that technology can then supplement, not replace.
2. Understand data and automation
It can be tempting to allow your softwares to do all your heavy lifting without having to understand what it's doing. But failing to know your data can mean messy output from whatever software you put it into.
Know where your data comes from and how it's being created – things like inspection reports, telematics data and GPSs, work orders, fuel logs – so that you can verify its quality and accuracy. You'll also want to audit the processes you use to get that data to make sure it's being collected in the most effective way possible. For example, if your inspections are too bulky and take too long for your drivers to complete, you may be getting hasty data from your inspections to save time.
Additionally, the more you delve into automation, the more it can serve to streamline your workload. Lean on it in your fleet management software as much as you can to save significant time and effort in your day-to-day job.
Trusted by thousands of fleet managers
Fleetio is the fleet management system built specifically for fleet managers, giving you a complete view of your entire fleet.
See how it works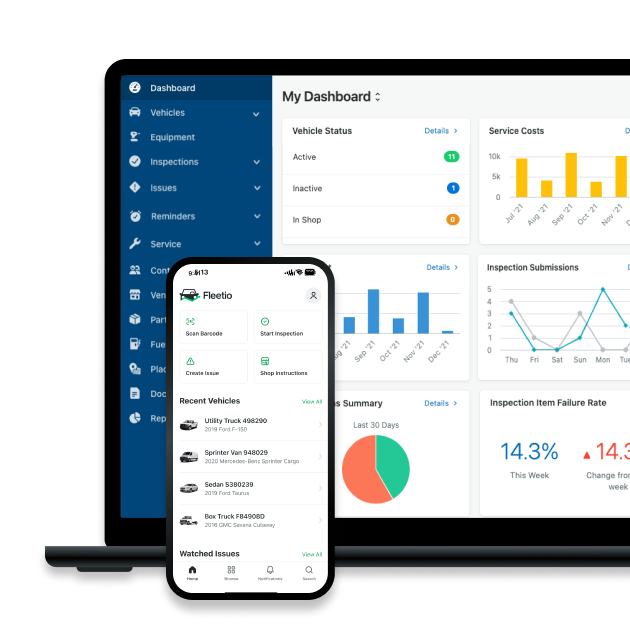 3. Stay up to date on technology and trends
If you have a fleet management software in place, it's reasonable to expect that it will not be the only iteration of software you will experience, and certainly not the only one you'll need. Many companies utilize multiple pieces of software to encompass all of their operations, so staying abreast of what's out there is vital to making the right decisions about implementation.
Even outside of the technology itself, it's important to stay relevant by paying attention to other trends in fleet management, like electrification and predictive analytics, so you can bring the best to your fleet. Follow fleet publications, sign up for fleet industry newsletters, and go to conferences so you can keep up with everything that's happening in the field.
---
Want a platform that will bring the best of fleet technology to your operation? Fleetio can help. Get your free trial or book a guided demo today!