"Automation" is a blanket term that can mean a lot of different things from industry to industry, and its application in the fleet space is growing rapidly. So should fleet professionals be concerned about fleet management automation taking their place in the workforce?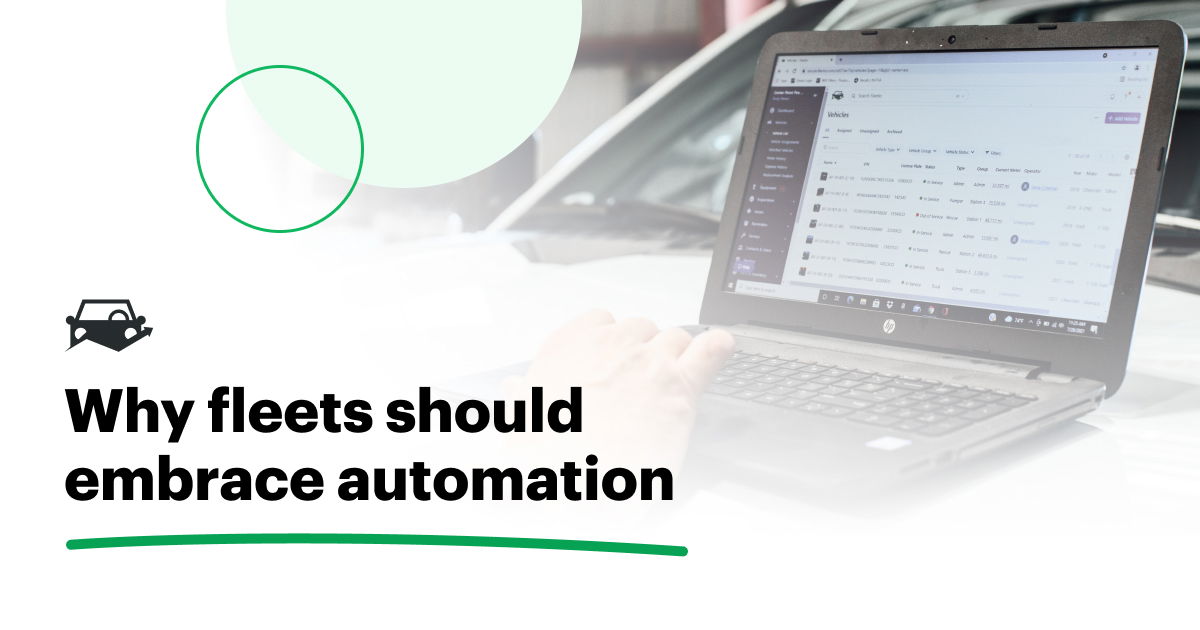 What automation looks like in the fleet industry
About a century ago, automation meant factory workers getting laid off as fancy new robots were brought in to complete tasks faster and cheaper than human capital could dare to compete with. So when a fleet management solution claims that it offers advanced automation as part of its feature package, it's understandable to wince at the potential of being outmoded by a piece of software.
In reality, fleet management software (FMS) is primarily designed to augment the day-to-day of fleet management, not necessarily replace fleet managers as they currently exist – at the same time, software can also help fill in a lot of gaps for organizations that might not have an existing fleet manager. Depending on the solution someone goes with, an FMS can be whatever an operation needs it to be, without any risk of overshadowing the humans that keep the fleet going.
3 reasons you shouldn't fear automation
1. Reduce repetition and free up time
Automation's primary purpose, even in the old days, was to take highly repetitive, low effort tasks out of human hands and allow them to focus on the things that actually matter to the operation. The same is true with fleet software; imagine how much time could be saved with a system that allows you to reduce the time that your drivers spend doing inspections, or that you spend generating and hunting down work orders.
Fleet software enables a more streamlined day-to-day process, with digitized inspections that can automatically trigger work orders based on failed inspection items, as well as automatically sending notifications when a vehicle is due for preventive maintenance and adjusting its total cost of ownership as mileage and labor costs are added. Fleet managers don't have to spend every day replicating the same forms and processes, which means way less tracking and calculating, and way more focusing on the finer details of fleet management that software can't address.
2. Increase data accuracy and track data more consistently
In addition to eliminating the need for repetitive tasks, fleet management software can automate a lot of the manual processes that paper-based data entry requires, which can often introduce human error into the reporting process. Software allows data integrations that can let you automatically sync info from your inspections, telematics devices and other sources straight into your dashboard, with no paper transfer needed – some of those fields can even update on a regular interval, so you can ensure that whatever data you're dealing with is the most recent and most accurate.
If your fleet has generally struggled with logging data and keeping track of metrics over time, automation can be a quick solution that takes the onus off of individuals in the fleet to maintain cumbersome paper logs and spreadsheets. If data is being automatically added to your fleet management software via an automation, it's far less likely to get lost in the mix of daily fleet activities.
3. See results faster and pursue other goals
When you're trying to balance all of the responsibilities that come with managing a fleet, there's only so many hours in a work week to push toward more long-term professional goals, whether it's reducing spending in the fleet, scaling a pool of assets over time, or finding new ways to provide training opportunities for drivers and technicians. Those things can't happen when all of your time is dedicated to just maintaining a data log.
Trusting automation to manage those highly repetitive tasks of data entry and calculation can not only handle the small stuff for you, it can also help you see the fruits of your labors a lot quicker. If you're trying to make a change in how much your fleet is spending on reactive repairs, having a running total of money spent that quarter calculated from your work orders saves you time and effort in validating that what you're doing is working.
---
If you're ready to embrace automation, Fleetio can help you get started. Get your free trial or book a guided demo today!