While fleets of all sizes can benefit from automation, small fleets have the most to gain in terms of increased productivity, efficiency and improved time management. Automation additionally allows fleets running smaller crews to more effectively handle large workloads by streamlining workflows and cutting through the clutter of manual processes.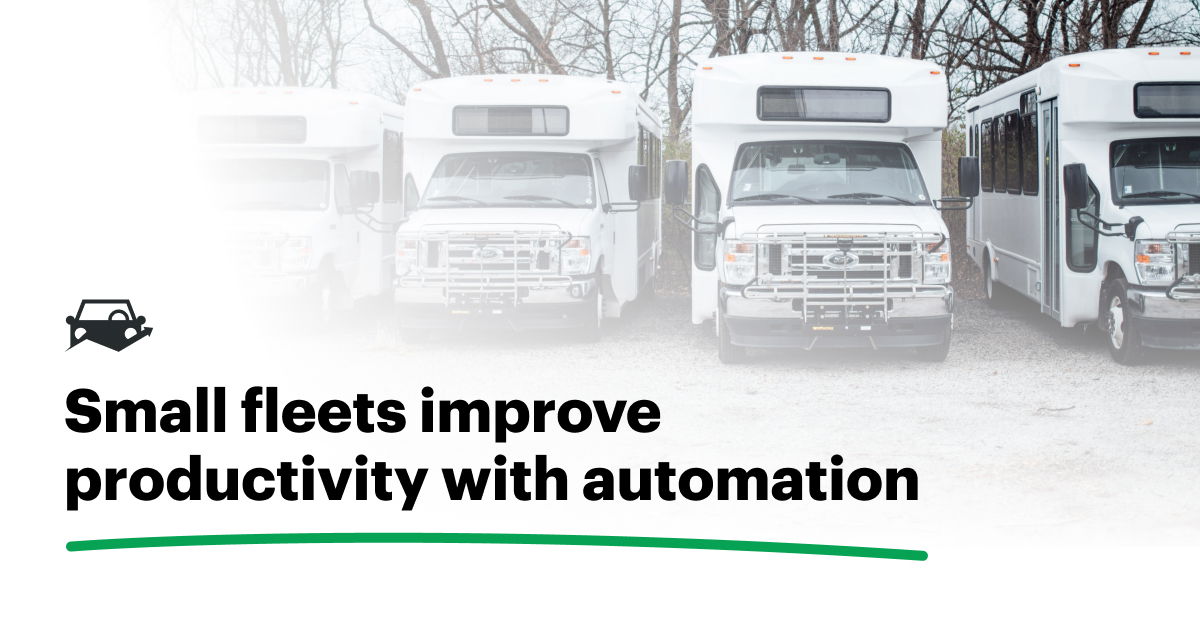 Functionality of Automation
Small fleets and those fleets that operate with limited staff are often dealing with too much work and too little time in the day. Relying on manual data-entry and paper-based systems can eat up a lot of time and tank productivity when it comes to data retrieval and maintenance-related tasks, including ordering parts. Fleet managers are already experiencing the benefits of fleet management software (FMS) automation. "Before [FMS], our processes were antiquated, hard to read and not as user-friendly, I would say," explains John Keeter, Fleet Manager at City of Cambridge. "My bosses could never see the data in real time and couldn't see what was going on with the fleet, and everybody would have to stop what they were doing and come to a meeting to see everything and get the data they needed on the fly. Now, they pull up a report or see it in the system, they can tell what trucks are done [with maintenance] just by looking at [that]."
The idea of using an automated fleet management system like FMS can seem intimidating, but when you understand the basics of how it works, you'll quickly recognize how it can improve your operation. Once your current fleet information is uploaded, FMS automatically begins tracking and recording new data from various sources, including: digital asset inspections and work orders, as well as fuel card, telematics and GPS integrations. Integrated fleet management offers better connectivity between fleet and other solutions for greater insights. Whether you decide to integrate other solutions or not, FMS will still automate workflows in the background based on data automatically collected from failed inspection items, odometer readings and customized preventive maintenance (PM) schedules.
Key Benefits of Automation
Heavy workloads and long hours can be symptoms of small fleets and small crews. How much of that time is spent filling out work orders, tracking down service invoices or vehicle inspections, reconciling fuel receipts, trying to figure out who just brought this truck in for service and why? And how much of the workload could be reduced through more efficient service workflows and improved PM? Regardless if you farm out service or perform it in house, automation can help improve the process. "[FMS] makes your life a whole lot easier and more streamlined because you don't have to worry about 500 different emails about which vehicle is where," explains Umair Tahir, Director of Fleet, DeliverOL. "You can manage everything from one screen, which saves a lot of time — gives you time for everything else you have to do so you don't fall behind. I'm a one-man team, and [outsourced maintenance automation] has saved me hours a day. Hours. It definitely helps smaller teams to really excel in what needs to be done. It's made my life a lot easier."
Let's take a look at a few key benefits of automation for small fleets:
Time management: Automation gives you more time back in your day by streamlining daily processes. Digital inspections allow drivers and operators to submit vehicle information in real time, while failed items initiate an issue in the system that immediately alerts you of work that needs to be done. You can create a digital work order and schedule service directly from the issue. All the associated data, including labor and parts cost, is automatically logged into your system for reliable service histories. And if you have in-house parts inventory, your inventory count will be updated automatically as parts are added to work orders. Using FMS, SmartWatt was able to reduce time spent on vehicle maintenance by half and decrease its maintenance costs by 48 percent.
Productivity: Automation helps improve productivity in several areas of fleet. Not only do digital inspections allow for real-time issue submission, but drivers can access inspections via the FMS's mobile app anytime, anywhere, even offline. Images and comments can be submitted with failed inspection items to further speed up service by letting you know what parts are needed. Using digital work orders, technicians can clock in and off jobs directly, as well as leave comments about work performed. Digital work orders automatically pull in any upcoming service information for the vehicle in question so that you can add those services to the current job for reduced downtime. Zerorez Atlanta saw its time spent on inspections reduced by 65 percent, as well as a $3,500 reduction in hourly maintenance costs and an improvement in route fulfillment to 99 percent.
Uptime: Uptime can be improved through proactive maintenance. Automation helps foster proactive maintenance habits by allowing you to set PM schedules — either by individual vehicle or in bulk — and customize those schedules based on OEM recommendations, mileage, vehicle age or any other criteria specific to your assets. You can set scheduled service reminders to be sent to drivers and technicians so your vehicles never miss service. AAA Oregon/Idaho saw a decrease in its inspection failure rate to less than 0.25 percent, giving its fleet a near-optimal operating performance metric.
Efficiency: While time management, productivity and uptime certainly play significant roles in improving fleet efficiency, so does communication. FMS allows your team to tag specific users into tasks and ensure the right person is notified immediately after an issue is identified. This minimizes miscommunications and communication bottlenecks, both of which can be frustrating and inefficient. If you choose to integrate FMS with other fleet solutions, such as telematics, FMS will automatically pull in additional data around things like driver behavior, GPS tracking, fuel consumption and DTC faults. FMS aggregates this data automatically so you can easily see which vehicles are underperforming, whether routes need to be optimized, if any vehicles have recurring mechanical issues and if there has been any fuel misuse/theft.
Total cost of ownership (TCO): Calculating the TCO for your fleet assets can be a time consuming chore if you're doing it manually. TCO accounts for all costs related to each vehicle, including capital/loan/lease payments, fuel, insurance, registration, depreciation, maintenance, taxes and more. FMS automatically calculates the TCO for each of your vehicles so you can identify and correct areas of overspend, determine optimal replacement windows and maximize asset ROI.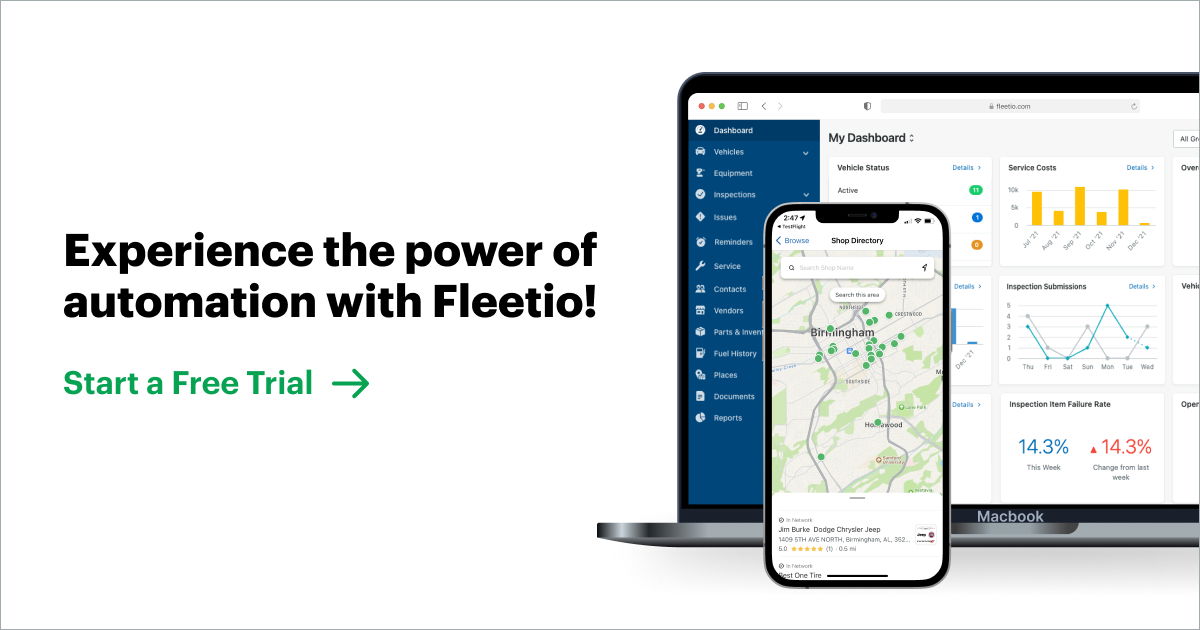 Improve Efficiency with FMS
FMS allows fleets of all sizes to gain in-depth insights into the health and performance of their fleet. Through automated data collection and consolidation, FMS makes it easy to access important fleet reports around TCO, vehicle downtime, service histories and more. Automated workflows improve productivity in the shop, on the road and even in the office. Plus, easy-to-read data updated in real time on a customizable dashboard means you can quickly find important information without wasting precious time.
---
Interested in learning how Fleetio can improve your fleet's efficiency through automation? Start your free trial or schedule a personalized demo today!