Becoming an owner-operator provides drivers with higher earning opportunities and more flexibility in scheduling and hauling. This comprehensive guide to becoming an owner-operator covers key criteria to consider, as well as steps you can take, to find success to establish a successful owner-operator business.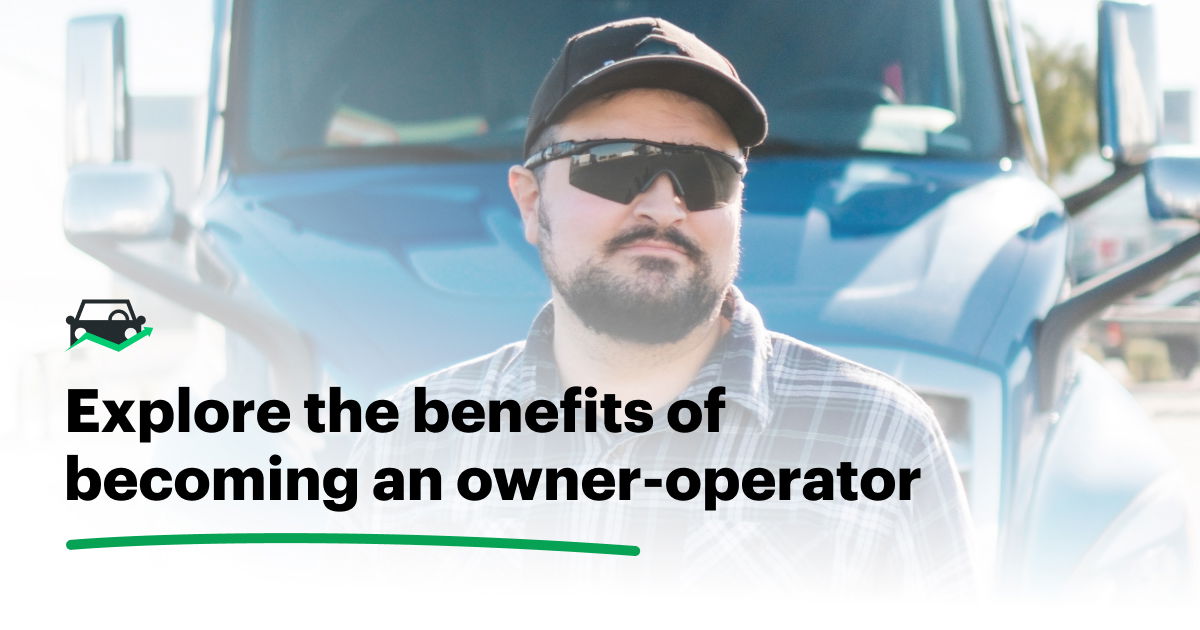 What is an Owner-operator?
The trucking industry has recently been experiencing a dramatic increase in driver shortages due to an aging workforce and lack of interest from younger generations to take up the call of the road. The idea of long hours spent behind the wheel, away from home, in a sedentary environment can be a hard sell for some, but becoming an owner-operator (OO) has some enticing benefits, including "independence/setting own hours, schedule flexibility, and choice of routes/length of haul," according to Land Line. "More than 80% [of OOs] report satisfaction with those aspects of their jobs in addition to the pace of work."
While becoming an OO definitely has its perks, especially for those wanting to remain more independent and maximize schedule flexibility, there's also the business side to consider. OOs with their own authority own and manage all their own equipment and are responsible for the administrative and financial aspects of running the business, including asset maintenance, fuel, lining up jobs and negotiating contract rates. OOs can also opt to lease with a carrier if they don't want to tackle the business side of things. While this option provides less flexibility, control and compensation, it does take the administrative burden off.
Owner-operators vs. Fleet Truck Drivers
OOs have more autonomy than fleet truck drivers, who are company employees beholden to their employers guidelines and schedules. There are two types of OOs, those being with or without authority. An OO with authority is a self-employed business owner responsible for the purchasing and maintenance of their truck, as well as contract negotiations, taxes, insurance, booking loads to haul, reconciling expenses and managing profits.
OOs looking to minimize the administrative duties associated with running their own OO business can decide to lease with a carrier. While this option comes with profit reduction, it also provides expense reduction. By leasing with a carrier, OOs can take advantage of fuel and maintenance discounts. OOs who chose to work under a carrier's authority should be prepared for less autonomy when it comes to scheduling, routing, what's being hauled and adhering to the carrier's rules and guidelines. That said, OOs working under a carrier's authority don't have to worry about the logistics of finding loads to haul or negotiating contracts.
Unlike OOs, fleet truck drivers are employed by companies that provide them with equipment and handle truck fleet maintenance management. Scheduling and load management are handled by the company, and fleet drivers basically just have to show up and roll. Similar to OOs without authority, fleet truck drivers are beholden to any company guidelines and safety policies.
Owner-operator vs. Fleet Ownership
OOs are not fleet owners by default; however, OOs have the flexibility to add assets and employees to grow their business, thus establishing an OO as a fleet owner. Fleet owners, whether a company or OO, have the added responsibility of total fleet management in addition to administrative business functions. This includes ensuring all trucks are properly maintained and safe to operate.
6 Steps to Owner-operator Trucking Success
Anytime you decide to start your own business, there are many factors that need to be considered. If you're thinking of making the switch from fleet driver to OO — or even just exploring self-employment opportunities — we've put together a few steps to help you make a successful transition.
Decide Which Option Makes the Most Sense for You
Before diving into the OO life, it's important to understand the amount of effort that goes into it. From starting a business and procuring a truck to building relationships with the carriers and managing daily tasks and finances, becoming an OO is a lot of work. Establishing just how much of the business side you want to undertake is a great first step in deciding whether OO with authority is the right choice for you, or whether you think leasing under a carrier is more ideal. Additionally, evaluating the available capital you have to purchase all the necessities is crucial to OO success, so determining how much you can put down and what financing will look like can help get you started on the right foot. If you end up deciding to go the OO with authority route, don't forget you must apply for a motor carrier number.
Make a Business Plan
When procuring capital to start your OO business, chances are you'll need to have a business plan ready — although even if it's not required, it's a very good thing to have. A business plan helps investors understand your business and who you serve, how and why you're qualified to run the specific type of business and your profit projections. According to owner-operator trucking software company TruckingOffice, a solid OO business plan includes an executive summary, company overview, marketing plan, goals and milestones, staff list and financial plan.
Get the Appropriate Driving and Business Licensing
OOs must have a valid commercial driver's license (CDL) firstly, but also need to invest in business licensing. To start your OO business, you'll need to know what business structure is most appropriate for you, including sole proprietorship, partnership, limited liability company (LLC) or corporation. Each business structure has its own pros and cons and criteria for application, so be sure to research thoroughly to better decide what's right for you.
Apply for a USDOT Number
Only after you've started your OO business can you apply for a U.S. Department of Transportation (USDOT) number. According to the Federal Motor Carrier Safety Administration (FMCSA), businesses "that operate commercial vehicles transporting passengers or hauling cargo in interstate commerce must be registered with the FMCSA and must have a USDOT Number. Also, commercial intrastate hazardous materials carriers who haul types and quantities requiring a safety permit must register for a USDOT Number."
Procure a Truck and the Appropriate Insurance
OOs may choose either to lease or purchase a truck based on which option is the most financially viable and meets long-term goals. Regardless of which you choose, you are responsible for purchasing liability insurance (mandated) and any other insurance you'd like to add for extra protection, such as personal property and cargo insurance.
Invest in Trucking Technology for Compliance and Business Management
While not all types of trucking technology are mandatory, having an FMCSA-approved electronic logging device (ELD) is. In addition to securing your ELD, it's worth looking into trucking management solutions to help manage logistics. Trucking management solutions help streamline scheduling, routing and invoicing to ensure you're getting the amount and type of jobs you prefer while getting paid on time and hassle-free. Trucking management solutions provide OOs with features like trucking cost per mile calculators and maintenance management features like customizable pre-trip inspection checklists and service history reporting.
---
Find out how Fleetio can help you grow a successful owner-operator fleet. Start your free trial or request a personalized demo today!