Automated purchase order software can help fleets improve inventory management at every level, from optimizing stock counts and auto-ordering at set thresholds to tracking usage and valuation.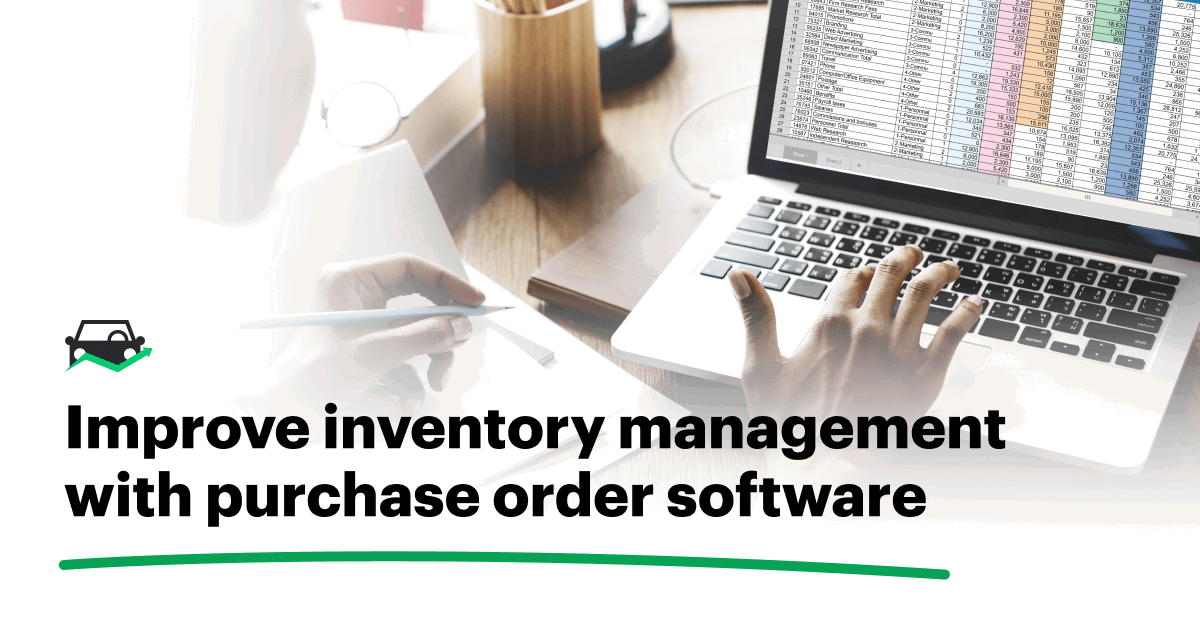 What is Purchase Order Software?
Purchase order software standardizes parts procurement and allows fleets to set automatic purchasing based on custom reorder thresholds to ensure proper stock quantities are on hand. This helps ensure that your in-house inventory is consistently well stocked so fleet assets aren't waiting around in the shop for parts to arrive before service can be completed. This type of unnecessary downtime can put a strain on productivity and be a cause of frustration for employees and customers alike.
Purchasing parts and managing inventories, including optimizing inventory stock, staying apprised of when to reorder, and tracking vendors and price changes for discounts and billing purposes, can often be a full time job in itself. For fleets tracking inventories manually, a robust parts inventory spreadsheet can be a very useful tool; however, it lacks certain functions found in purchase order software with a parts inventory system. So how do purchase orders work differently in software?
What information should be included in a Purchase Order?
Purchase orders are typically made either when resupplying, adding new parts to the inventory or ordering specialty/non-stock parts for specific services. Following inventory best practices, purchase orders generally include:
Purchase order (PO) number
Vendor
Part name, number and type
Order quantity
Unit cost
Other costs, such as tax, discount percent/dollar amount and shipping cost if applicable
Total order cost
Benefits of Purchase Order Software
Streamlined parts entry
When using PO software, ordering, documenting and tracking orders becomes easier and more streamlined by saving relevant data in the system and allowing you to choose vendors and parts from a drop down menu once you've initially added a part to the system. This eliminates the need to enter a majority of the above mentioned PO items (unit cost, part number, etc.) for every single order.
Historical records of purchased parts
Because all PO data is automatically collected and aggregated into reports, you have the added benefit of quickly viewing all orders and seeing what discounts were applied, when the order took place, who placed the order, and what work order the PO is attached to (if applicable), making it much easier to assess inventory needs based on which parts are used most, which are used least and even whether discounts need to be renegotiated based on cost histories compared to inflation rates.
Stockout alerts and reorder thresholds
By monitoring inventory movement, you can get a better idea of what stock quantity makes the most sense for your fleet, and set custom reorder thresholds to keep the right number of parts on the shelf at any given time without having to play helicopter manager for your inventory. After all, who doesn't want more time back in their day?
Total inventory management
PO software can be used for more than parts inventory, as well. Tracking trade supplies and even personal protective equipment (PPE) in PO software offers all the same benefits of tracking parts.
Digital Purchase Orders in Fleet Management Software
Parts inventories are but one piece in the grand puzzle that is fleet. Managing inventories and POs in fleet management software (FMS) helps complete the puzzle, improving PO visibility and giving you a better understanding of the overall role of inventory management within fleet operations.

Features like inventory valuation help fleets gain precision inventory accounting based on the cost of a part at the time it was purchased, helping navigate fluctuating prices and providing more accurate service cost data. And because all that data is collected and aggregated on the back end automatically, there's not much analysis work on your end — only insights. Plus, when you add parts to digital work orders in FMS, your inventory is automatically updated, with the unit cost reflecting the valuation based on your organization's accounting goals. Not only does this ensure your physical inventory is correct, it also provides an accurate account of your assets' total cost of ownership.
For fleets wanting to track and manage trade supplies and materials like chemicals, detergents, fiber optics cables, etc., using POs within FMS provides the added benefit of usage tracking. This allows you to get a better understanding of when and how your supplies are being used, including number/quantity used per job (or per time period), to surface discrepancies in use and product quality and hone in on unnecessary waste.
Understanding the usage, cost and valuation of both parts and supplies inventories can help you budget better, as well as determine how to overcome problems associated with inflation, like switching product brands and/or assessing how much you can raise prices for your company's service before losing business.
Inventory management may only be a portion of what goes into fleet, but by using POs in FMS, you can better track, analyze and act on data collected fleet-wide to improve overall operational efficiency.
---
Improve parts and supplies inventory management in Fleetio. Start your free trial or schedule a personalized walkthrough today!