Advanced Plan
Purchase Orders
Streamline the process of ordering and purchasing fleet supplies.
Save time and hassle with digital POs
Reduce purchasing overhead
The cost of writing a paper purchase order and paying the bill varies between $15 and $25 per transaction. Electronic POs save time and money by streamlining the purchasing process and reducing clerical expenses and errors.
Control purchases and reduce wasteful spending
Keep spending in check with approval 'workflows' for purchasing. Give certain users permission to authorize purchase orders and they'll receive email notifications when POs are ready for approval. Once approved, the PO creator receives a notification and can place the order.
Quickly reorder parts when you need them
Purchase Orders are tightly coupled with Fleetio's Inventory module letting you easily order more parts based on customized reorder points and quantities. You can even generate POs directly from inventory alert emails.
Learn more about Inventory
Centralize purchasing history
Negotiate better with quick access to pricing history
Purchase price reductions are one of the easiest ways to save money in fleet operations. Fleetio automatically tracks each order price by vendor giving you instant visibility into pricing trends and history. Negotiate more effectively with suppliers and save money by being well informed.
Easier collaboration with accounting
Reduce administrative errors and improve procurement efficiency by allowing parts managers and accounting personnel to work together to keep materials in stock and bills paid on time.
Supports multiple facilities and part locations
Purchase Orders were built from the ground up to support multiple warehouses and stockrooms in Fleetio. All information is centralized in one place, but you'll know exactly which locations have purchased which parts. You can even control purchase order permissions by part location.
Track order status and improve fulfillment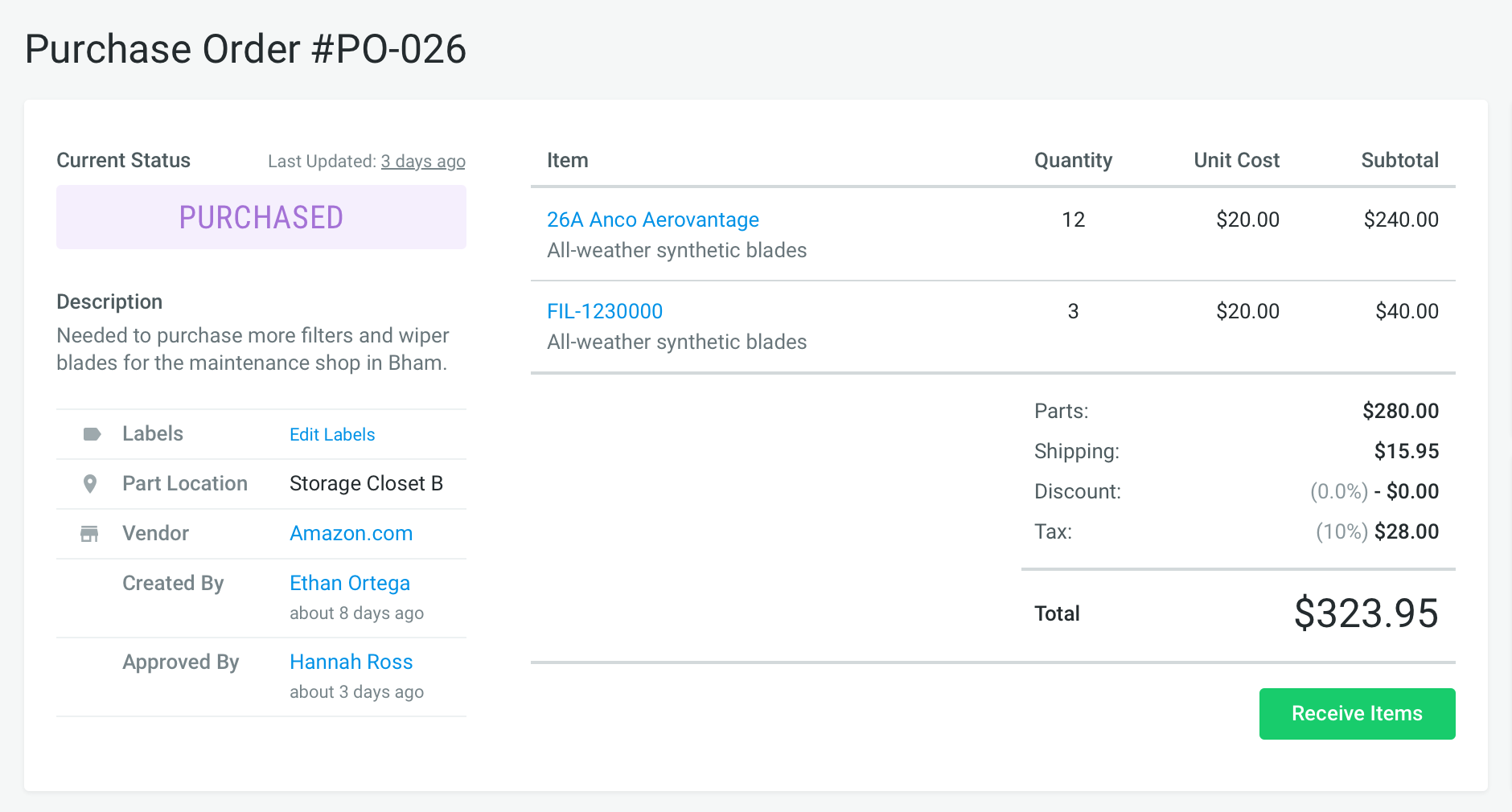 Total visibility into purchasing operations
See POs in all stages in one place - drafts, pending approval, rejected, approved, purchased, received (partial and full) and closed. You can easily tell which parts are on-order when checking inventory and even customize PO statuses to fit your needs.
Quickly receive parts and automatically update inventory
Parts managers and inventory personnel can quickly mark purchased materials as recieved, which seamlessly updates inventory levels.
Hold suppliers accountable
Fleetio automatically validates received order quantities against purchase orders, making it easy to see which POs have not been fully received.