Features
Digital Purchase Orders
Streamline the process of ordering and purchasing fleet supplies and set auto-reorder thresholds to ensure parts needed are always on hand.
Book a Demo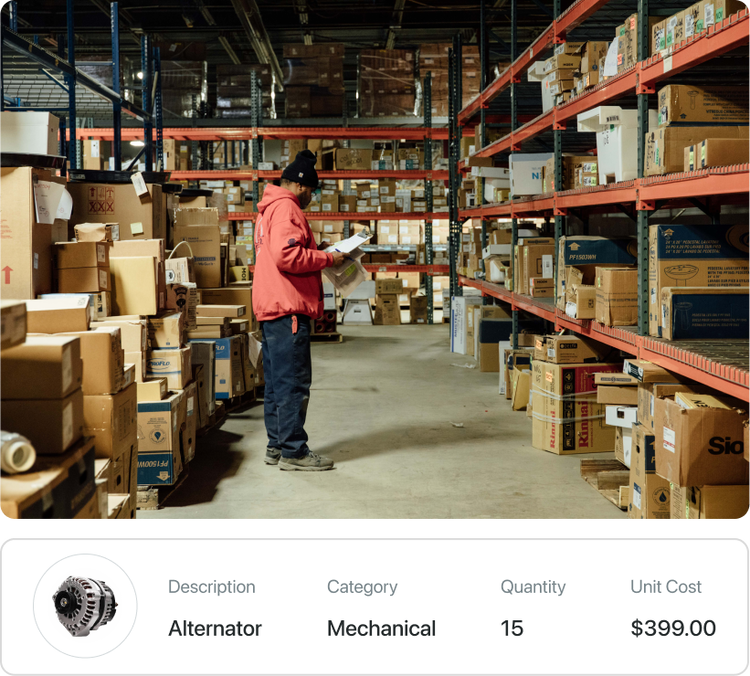 Save time and avoid hassle with digital POs
---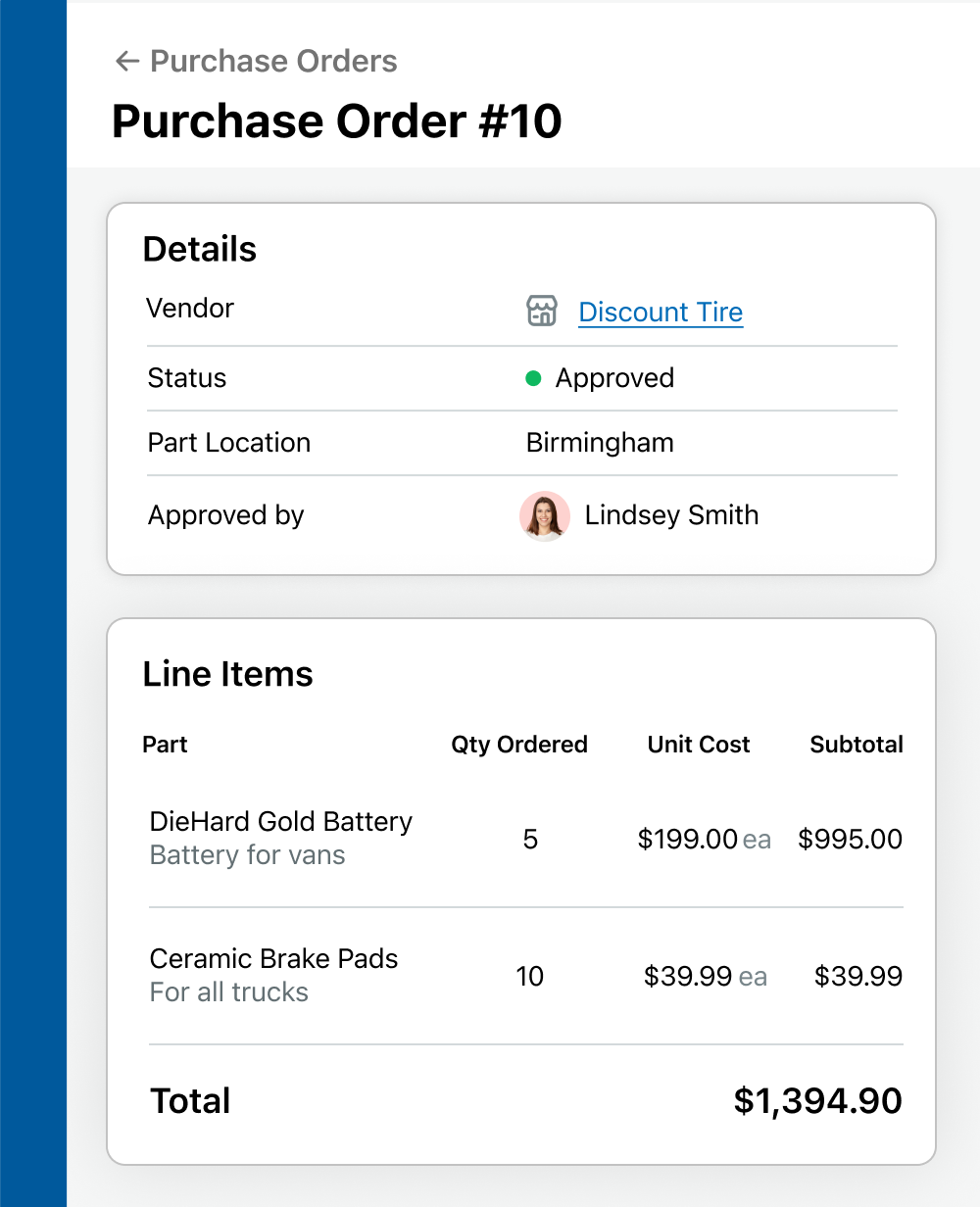 Reduce purchasing overhead
Digital POs save time and money — between $15-25 per manual transaction — by streamlining the purchasing process and reducing clerical expenses and errors.
Create approval workflows
Give certain users permission to authorize purchase orders; they'll receive email notifications when POs are ready for approval, after which they can place the order.
Hold suppliers accountable
Fleetio automatically validates received order quantities against purchase orders, making it easy to see which POs have not been fully received.
Book a Demo
Centralize purchasing history
---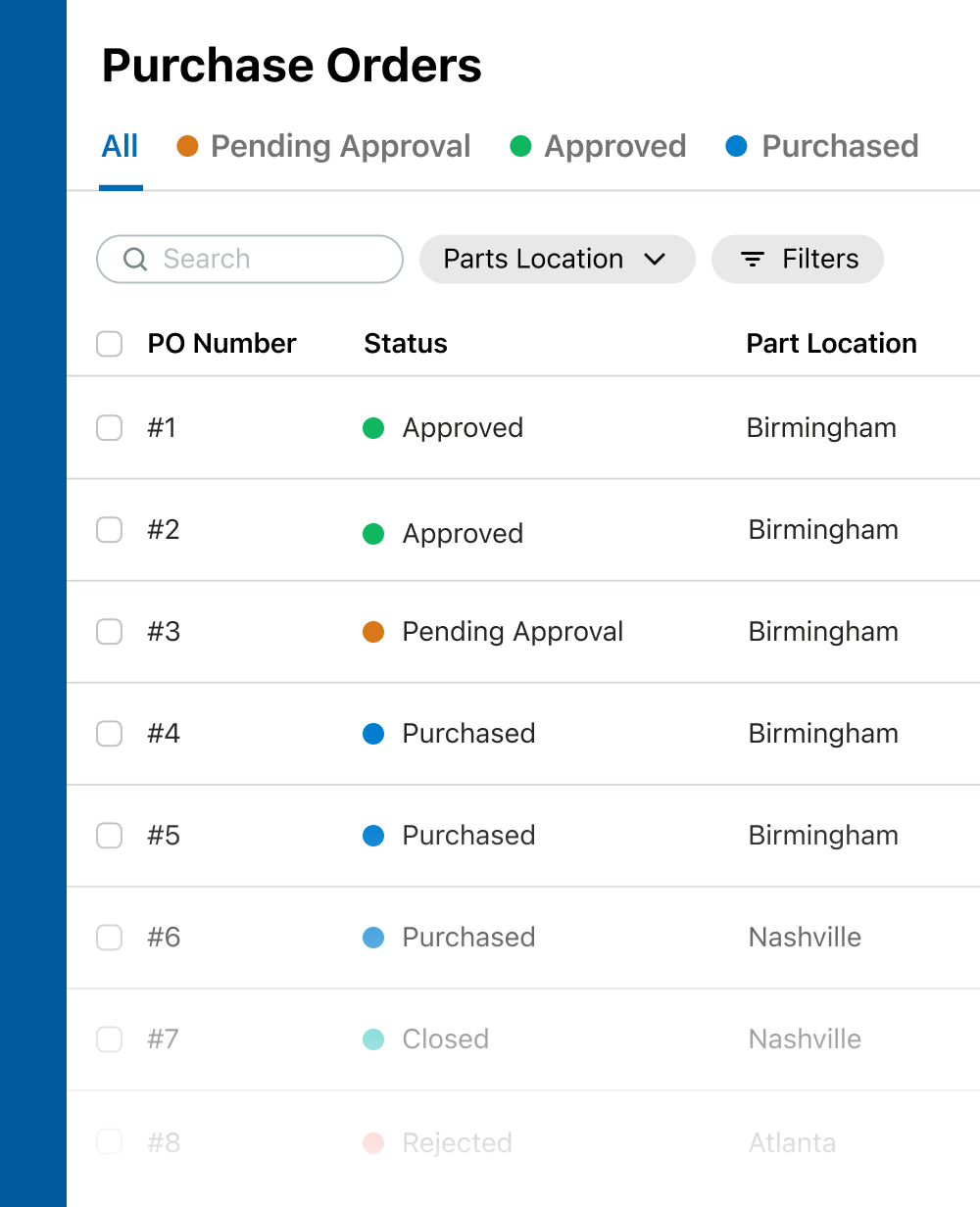 Gain total visibility into purchasing operations
See POs in all stages in one place — on-order, drafts, pending approval, rejected, approved, purchased, received (partial and full) and closed — and even customize PO statuses to fit your fleet's needs..
Collaborate seamlessly with accounting
Reduce billing errors and improve procurement efficiency through seamless interdepartmental collaboration with accounting personnel.
Supports multiple facilities and part locations
Purchase orders in Fleetio support multiple warehouses and stockrooms, so all information is in one centralized place, and you'll know exactly which locations have purchased which parts..
Start a Free Trial
Key features of our purchase order software
Custom Permissions
Auto-order Thresholds
Order Status Visibility
Inventory Auto-updates
Historical Price Data
Historical PO Data
Configurable PO Reports
LIFO/FIFO Accounting
Streamline inventory management
---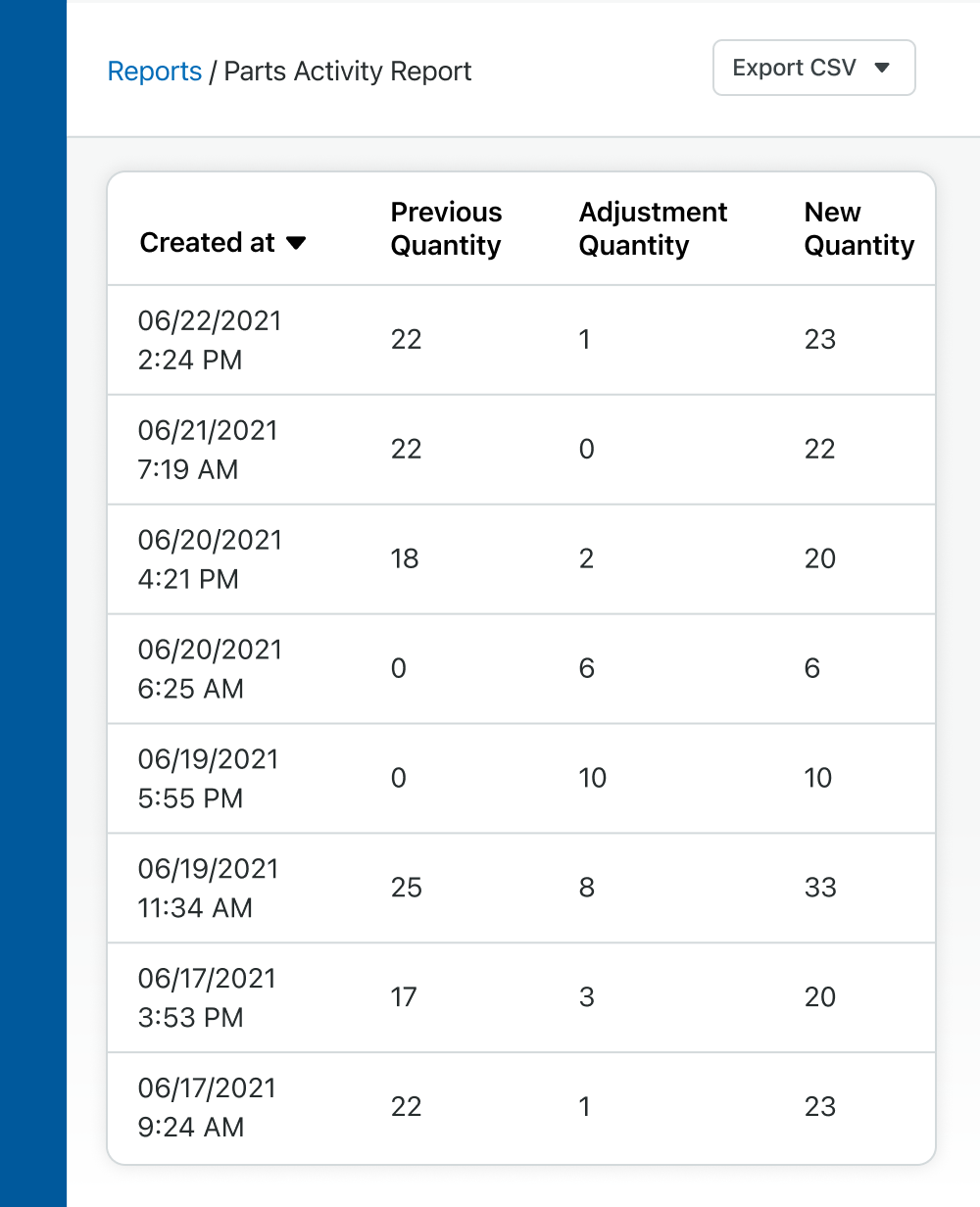 Quickly receive parts and automatically update inventory
Parts managers and inventory personnel can quickly mark purchased materials as received, which automatically updates inventory levels.
Be proactive with orders
Purchase orders are tightly coupled with Fleetio's work order and parts inventory software, so you can easily purchase fleet parts based on custom reorder points — plus, when parts are added to digital work orders, the inventory updates automatically, ensuring high-use items stay in stock.
Negotiate better with quick access to pricing history
Fleetio automatically tracks each order price by vendor, giving you instant visibility into pricing trends and histories to negotiate more effectively with suppliers.
Why our customers love Fleetio
"The negative inventory report has been huge. I have utilized that a lot on our inventory, especially when we have high negative numbers."

"We are constantly trying to find ways to save time and money. Fleetio helps us achieve that with their constant updates."

Ernest A.
Boyle Transportation
"We wouldn't be where we are today without Fleetio's management system."

Scott N.
Concrete Ready Mix, Inc.
"Everything we've needed to maintain those trucks is easy and quick to grab."

Andrew M.
Daniels Sharpsmart
Frequently Asked Questions
Ready to get started?
Join thousands of satisfied customers using Fleetio
Questions? Call us at 1-800-975-5304