According to the NYSBCA, there are nearly half a million school buses transporting over 26 million children to and from school every day. Telematics devices can help school bus fleets make those rides safer and more efficient.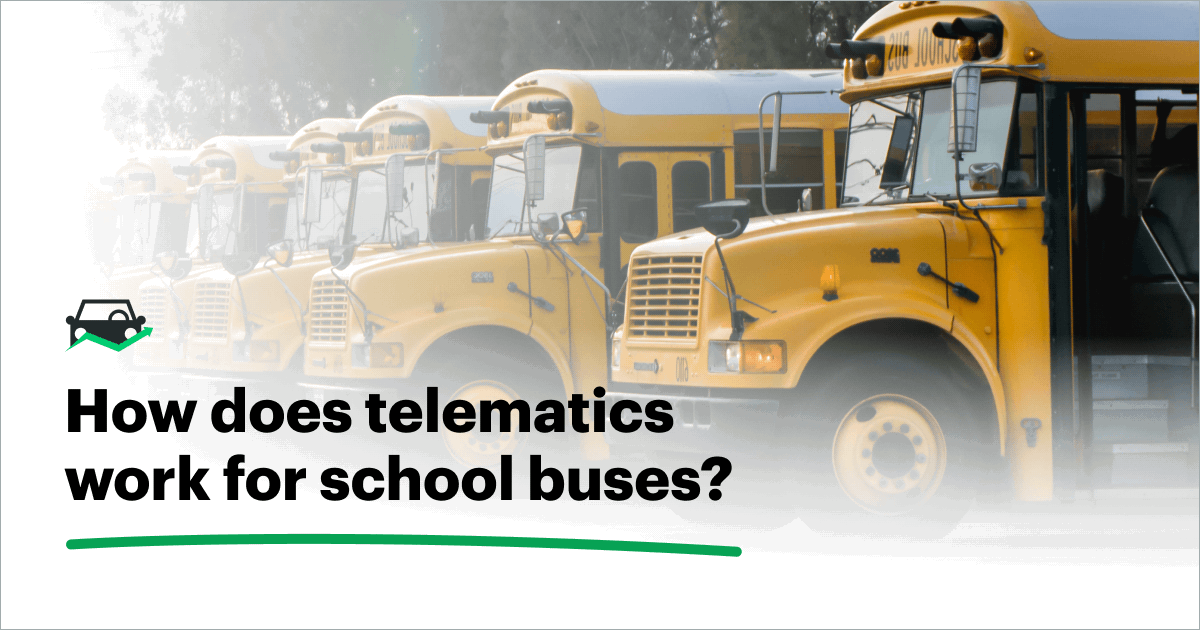 What do telematics devices do?
Consulting firm Gartner refers to "telematics" as wireless telematics devices and "black box" technologies collect and transmit data on vehicle use, maintenance requirements and automotive servicing. These devices are installed in vehicles and can send back pertinent data about a vehicle's operation and condition, like diagnostic trouble codes (DTC), as well as identify location and movement of the vehicle.
How do telematics devices help fleets?
Simply put, telematics can fill in a lot of the gaps of a vehicle's history when it's not on the lot – you can see when it starts up and stops, when it's idling, when and where it goes, how fast it's going, and when something may have gone wrong under the hood. You can even get insight into driver behavior by measuring harsh braking, idle time and fuel efficiency.
Key Benefits of Telematics for School Bus Fleets
1. Safer Vehicles
Arguably, fleet safety is more important than any other aspect of school bus transportation, and one of the first lines of defense in ensuring a safe school bus fleet is making sure that the buses themselves are consistently operable. Telematics devices can relay a ton of valuable information about a vehicle's condition that can indicate potential issues that could impact its health. The GPS services in telematics devices can also help fleet managers map out better pick up and drop off points, balancing safety with efficiency.
2. Safer Drivers
Drivers can be the biggest differentiator in creating a safe environment for students or introducing them to unnecessary danger on their daily rides. As we previously mentioned, telematics offers a glimpse into driver behavior just as much as asset conditions, but you can go even further than just registering vehicle data. Many school bus fleet telematics providers offer more extensive driver tracking features like dual facing dash cameras and audio tracking so you have tangible, recordable data on your drivers' performance.
3. Better Maintenance Processes
School bus maintenance can be a massive challenge if it's not approached with care and proactivity. When you couple telematics with thorough daily bus inspections, it's way less likely that any major mechanical issues will catch you off guard. Because telematics can register DTCs and other internal cues that can precede a breakdown, you can anticipate downtime and initiate repairs before a school bus load of kids is stranded on the side of the road on their way home.
4. Cost Efficiency
Better maintenance processes almost always lead to cost savings, so catching issues ahead of time not only keeps buses safer and shop time more predictable, but it can also save you thousands of dollars in emergency towing, repairs and downtime. More than that, by monitoring idle time, stops and starts, you can work to optimize routes that might be costing you more than you realize.
What should you look for in a school bus telematics provider?
1. Price transparency
School systems tend to have a relatively strict budgeting process, so make sure that you don't get held hostage by extras and add ons that might impact your bottom line. Know up front whether you're paying for hardware and software separately, ask about whether you'll be responsible for your own data plan, and know the contract inside and out.
2. Integration.
Telematics data can be powerful, but not if it's used in isolation of the rest of your fleet data. Make sure it can be easily coupled with an integrated fleet management system, including fleet management software, so you can keep all of your insights and data in one place.
3. Compliance
Running a school bus fleet requires adherence to strict standards of vehicle and driver safety, so make sure that the solution that you're looking at keeps consistent and accessible records of the data you need to remain compliant.
4. Essential features
If there are certain features that you want in a telematics system, like cameras, make sure the provider you choose can provide all of those features so you're not piecemealing a solution together.
5. Customer support
Any telematics failure can put your safety or compliance at risk, so having a telematics partner with grade-A customer support services is vital.
---
Want a bus fleet management system that can bring your telematics data to life alongside the rest of your fleet data? Fleetio can help. Get your free trial or book a guided demo today!