Government fleet managers are faced with the challenge of controlling tight schedules and even tighter budgets. To improve operations and manage expenses, many government fleets are turning to technology and fleet software solutions.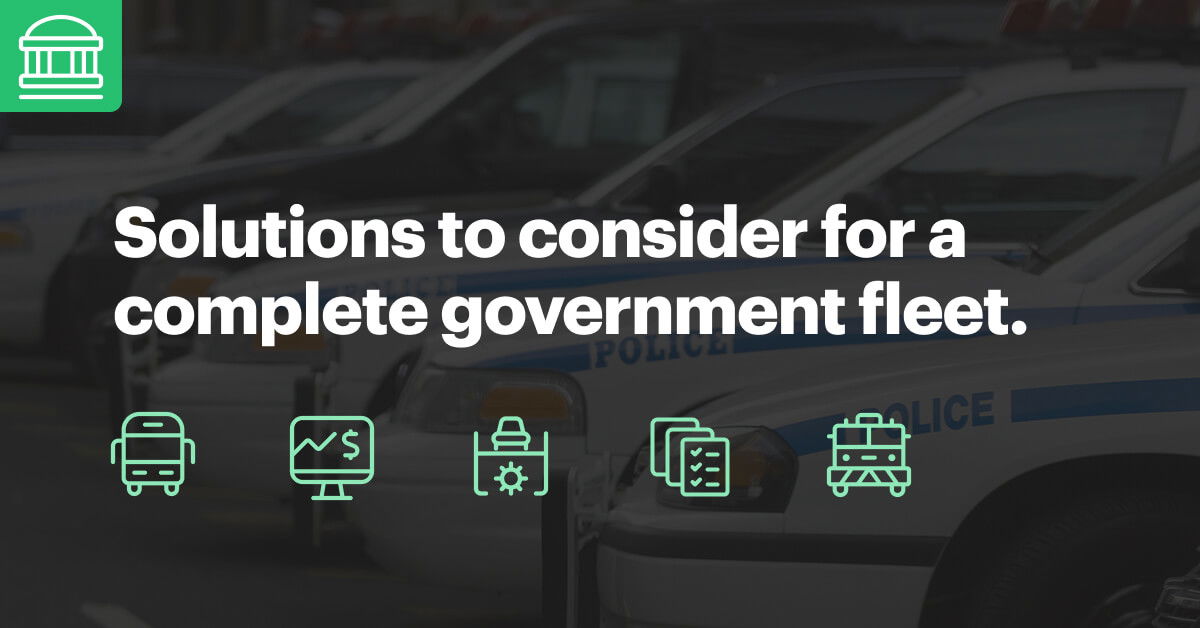 Government Fleet Challenges
It's no secret that government fleet managers are often working with minimal resources. Limited funds and aging assets are two of the largest challenges of city and government fleets.
To manage expenses and extend asset lifespan, government fleet managers must be extremely organized and ensure assets are well-maintained. While this seems straight-forward, managing a fleet through paper processes can be difficult.
Using paper and spreadsheets to manage a fleet is inefficient and usually unorganized. Not only can this lead to unplanned downtime, but it's also hard to identify overarching issues and improve management processes.
Many government fleet managers are leveraging software to manage in-house maintenance, track vehicles and analyze expenses. Not only does software offer a central location for all fleet data, but many processes can be automated to allow fleet managers to focus time on improving operations.
Here are six management tips you can use to improve your government fleet:
1. Utilize Software to Manage Preventive Maintenance
Having a strong maintenance program is critical for preventing downtime, managing expenses and extending asset lifespan. Because most government fleets perform maintenance in-house, it's up to your team to ensure assets are in working condition.
Maintenance is one of the largest ongoing expenses for any fleet, and government fleets must be extremely cautious when it comes to adhering to budgets. The best way to control expenses and keep vehicles on the road is to stick to a preventive maintenance (PM) schedule.
Unfortunately, many government fleets have trouble adhering to a PM schedule due to disorganized processes and miscommunication. Government fleet management software gives managers a sustainable solution for preventive maintenance.
Fleet software allows managers to create service reminders based on odometer readings.
Technology provides a sustainable solution for managing preventive maintenance and reducing downtime. A PM schedule enables you to cycle vehicles in and out of the shop, ensuring assets are well-maintained and that your maintenance team isn't overwhelmed with unplanned service tasks.
2. Streamline Vehicle Inspections
Your maintenance plan is only as strong as your inspection process. Not only do mobile vehicle inspections keep your vehicles safe and compliant; they also are your first line of defense when maintaining assets.
Routine vehicle inspections, like Daily Vehicle Inspection Reports (DVIR), help uncover vehicle issues and ensure repairs are addressed. Paper-based inspection forms have been the norm for most municipal fleets, but these prove inefficient, time-consuming and often inaccurate.
Electronic DVIR (eDVIR) and digital inspections provide a simple way to quickly communicate and address issues across your fleet. Because government fleet management often involves managing a variety of assets, digital inspection forms can be customized to suit each type of assets' needs.
Mobile inspections are quick and thorough, employing the use of clicks and swipes in a mobile app. Drivers can upload photos and make comments to better convey vehicle issues.
Inspections can be conducted virtually anywhere, and fleet managers are instantly notified of any failures in order to get the inspection process underway. Instead of waiting for a stack of paper DVIRs to get back to your desk, you can take a proactive approach to managing inspections and maintenance.
![government-tip](https://marketing-cdn.fleetio.com/images/blog/government-tip.png)
3. Leverage Telematics Data
A government fleet is constantly spread out across the map. As a fleet manager, it's important to always know where your assets are and monitor their usage.
Monitoring your assets via telematics devices provides complete fleet visibility, helping you better understand driver behavior and asset utilization. Telematics devices can also provide an abundance of fleet data you can leverage to improve fleet operations.
Pairing your telematics device with fleet management software enables you to automatically pull odometer updates into a central location. Instead of waiting for updates from drivers, you can automatically sync updates with one click, helping you better manage service reminders.
Telematics devices also send diagnostic trouble codes (DTC) and engine fault alerts to fleet management software, ensuring you are immediately aware of larger issues. All DTCs are logged into a report, allowing you to see maintenance trends across your fleet.
4. Improve Asset Utilization and Vehicle Replacement
Government fleet vehicles are some of the most expensive vehicles in the fleet industry at large due to their highly specialized characteristics. Due to tight budgets, they are also replaced less frequently.
Getting the most out of your assets is essential to your fleet's bottom line, and the best way to maximize your return on investment (ROI) is to monitor asset utilization.
Fleet software automatically tracks meters and mileage enabling you to optimize asset utilization. Monitoring your assets helps determine whether you have underutilized vehicles that can be sold for a profit or if you need to budget for additional vehicles in the coming years.
Paying attention to vehicle usage also helps determine a much more intimidating task: vehicle replacement.
Due to strict budgets, government fleet vehicles aren't replaced enough. While this is understandable, vehicles that remain in operation longer than what is necessary or safe can cause major issues in the long run.
As asset performance declines on older vehicles, repair costs rise. Fleet technology provides the proper data in easy to read reports to help you determine the best course of action when it comes to vehicle replacement.
It's also important to always look toward the future. Current utilization trends and costs can give you a better idea of how your fleet will function in the future as electric and autonomous vehicles become mainstream.
Look at your current budget and think about the impact electric vehicles can have on your bottom line in regard to asset replacement and maintenance to be sure you're ready for change in the years to come.
5. Calculate True Total Cost of Ownership
As we've stressed, managing costs is one of the most crucial aspects of any government fleet. Knowing your fleet's true total cost of ownership (TCO) gives you a better understanding of your ROI and enables you to make data-driven decisions regarding your assets.
While calculating your fleet's TCO seems daunting, fleet management software eliminates the guesswork and number-crunching. TCO is automatically calculated from all inputted fleet data to provide both high-level and granular views of your fleet's operating costs.
By leveraging your fleet's TCO, you can break down costs by service, fuel and other aspects of your fleet. This way, you can see where your money is going and better allocate funds in the future.
[![government-blog-cta](https://marketing-cdn.fleetio.com/images/blog/government-cta.gif)](/pricing)
6. Report the Metrics that Matter
Government fleet managers have a massive amount of data to sift through. A great benefit to fleet management software is its ability to eliminate manual data entry and automatically generate custom reports on almost any fleet metric you need to track.
Leveraging fleet reports provides valuable insight into operating costs, asset utilization and maintenance metrics. Having a central location for all fleet data gives you a comprehensive look at past and current data to analyze operations.
When working in the public sector, all major budget decisions must be approved by the accounting department and leadership. To streamline this process, fleet reports are easily downloadable to send to all decision makers.
Having a comprehensive view of your fleet's data ensures you are operating at peak performance and making the best choices for your budget.
---
Fleetio takes the headache out of government fleet management! Start your free trial or request a demo today!