The complexities of fleet management are taken to a whole new level when dealing with international fleets. But with software designed to accommodate regional differences, fleet managers can effectively keep tabs on fleets of all sizes and geographic ranges.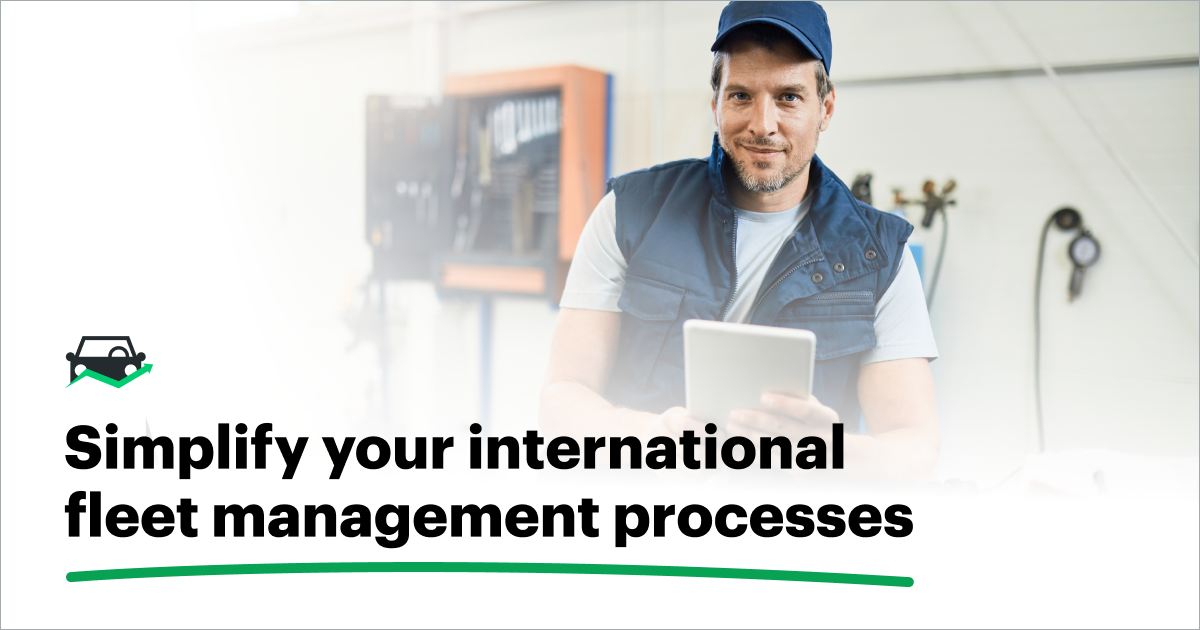 While the general goals of every fleet manager are likely very similar regardless of what country they reside in, the finer details of fleet management can vary appreciably between locales. Differences in regulations, currencies and available vehicles mean virtually no two nations are exactly alike in terms of how they monitor the needs, costs and performance of their assets. This dynamic is especially relevant to organizations with international fleets.
Because of this, it's understandable that fleet managers might have concerns about adopting a fleet management system developed in another part of the world. Fortunately, the best fleet management solutions are more than capable of supporting users from all around the globe.
In this blog post, we'll be exploring what organizations should keep an eye out for when evaluating if a software solution is capable of managing an international fleet.
Remote fleet management
Prior to the pandemic, the idea of working remotely was likely never even a consideration for most fleet managers. But as the last few years have proven, thanks to the advent of mobile and cloud-based software, remote fleet management can be just as effective as working on-site.
One of the major benefits of fleet management software is the all-encompassing visibility it provides, enabling asset tracking to be equally effective with domestic and overseas equipment. Additionally, the ability to add comments, photos and documents regarding issues, maintenance tasks and more ensures teams can still effectively communicate and collaborate despite any geographic divides.
While organizations may still ultimately elect to have their fleet managers focus specifically on assets in their own territory, international remote fleet management is completely feasible with capable solutions.
Accommodating different audiences
Great software doesn't rigidly force its users to come up with workarounds. Instead, great software adapts to the needs and expectations of everyone who interacts with it.
For instance, Fleetio supports both imperial and metric units of measurement (e.g. miles and kilometers), 12- and 24-hour time formats, different date formats, and nearly all major currencies. Additionally, Fleetio users can add custom fields in any language to track information specific to their business.
These settings can be configured across an organization or to individual users and assets to accommodate all scenarios. Among many other things, this flexibility ensures international fleets can track their fuel consumption without cumbersome conversions.
Integrations without borders
These days, many of the biggest names in telematics and fuel cards operate internationally. For organizations with international fleets, choosing a fleet management system that integrates with the likes of Samsara and Wex for example can spare them the hassle of having to find equivalents in different regions.
It's for that reason why Fleetio boasts a wide array of integrations. And for custom integrations, Fleetio offers an open API, providing users with endless integration opportunities, ensuring the platform can seamlessly exchange data with any regional-specific solutions an organization elects to use.
This boundless connectivity means international fleets can get up and running with Fleetio faster and simplifies the process of establishing future integrations.
International customer support
Even with the most user-friendly software, the ability to get help from a knowledgeable human being is invaluable. For that reason, organizations with international fleets should make sure that any software vendor they partner with provides support to overseas customers.
The Fleetio customer experience team provides support to customers across more than 80 countries, spanning every hospitable continent. Helping our customers get the most from our software drives them to provide the highest quality support possible.
---
Looking for a fleet management solution capable of handling your international fleet? Discover how Fleetio can assist your organization by starting a free trial or requesting a demo.