Though they may feel like a standard part of any vehicle purchase, warranties can present an incredible opportunity for cost savings and preventive maintenance guidance.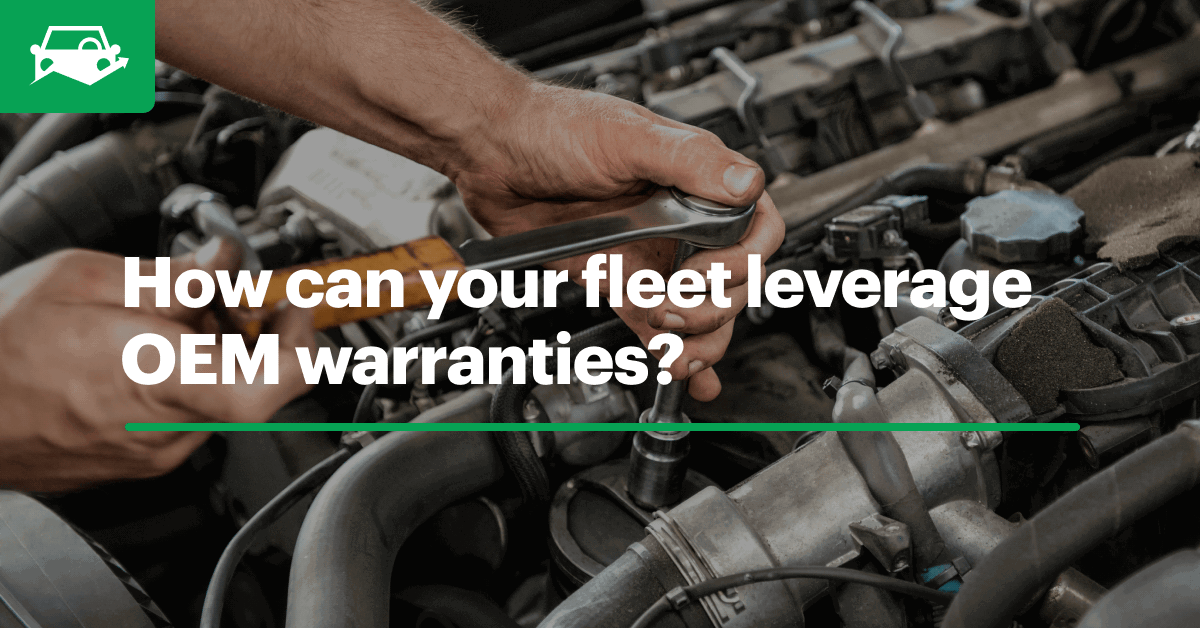 What Does a Typical Warranty Look Like?
In basic terms, a warranty is a commitment from the manufacturer of the vehicles in your fleet that they will make necessary repairs and replacements to your assets up to a certain time limit or mileage – under certain terms and conditions. Each warranty is supplemented with the original equipment manufacturer's (OEM) recommendations for the maintenance and upkeep of your vehicle, which is key to not only finding potential warranty claims, but extending the lifetime of your mobile assets.
Knowing what is contained within each warranty and how to enforce them can allow you to save a significant amount of money on unforeseen repairs and manufacturer defects. Here's a few examples of what you can expect for some of the warranties found in fleet vehicles: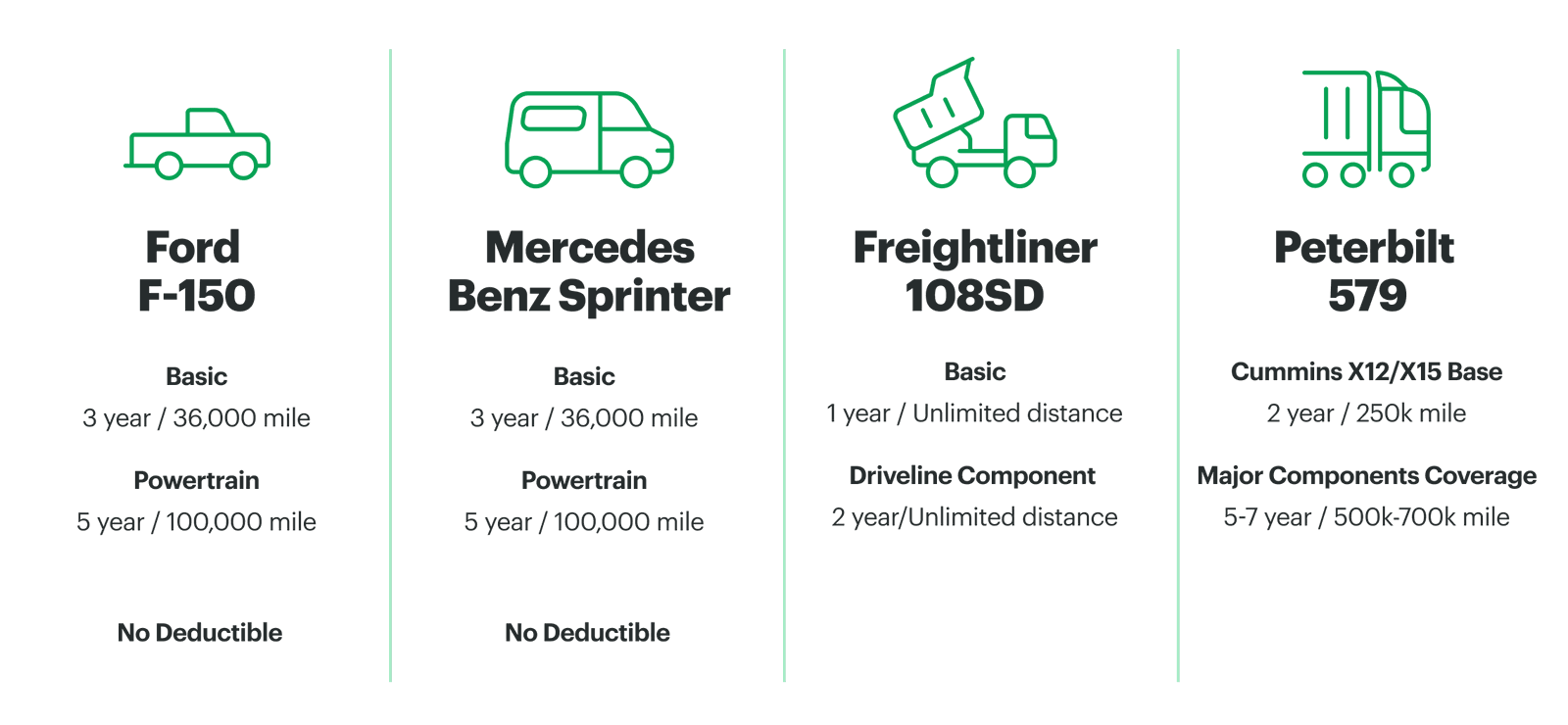 While most base warranties cover the big things, like engines, transmissions and other high-priced parts, there are also small parts warranties available to help you save on smaller defects that can build up over time.
If you don't know your current warranty details, you can search for them in car history reports online using the vehicle's vehicle identification number (VIN) or by contacting the dealership you purchased the vehicle from.
What About Extended Warranties?
If you're looking for additional coverage outside of your standard warranty, there are a few routes available to purchase extended warranties that will give your fleet a little extra protection padding. You can opt for an extended warranty through your dealership at the time of purchase or aftermarket through third-party insurers.
Whether or not to purchase extended warranties is a decision that is really dependent on the fleet. A couple of situations that would warrant a need for an extended warranty include:
1. Smaller Fleets
Larger fleets have the luxury of spreading use and cost across a larger pool of assets, but when you're managing a leaner fleet, keeping your vehicles up and running with the least assumed financial risk possible is vital to staying efficient.
2. Extending Vehicle Lifecycles
Standard warranties generally span about three years. If there is any chance that you want to avoid replacement for longer than that time, it's better safe than sorry with an extended warranty.
3. New and Unproven Technologies
For fleets that are leveraging innovation, like a hybrid or all-electric vehicle, it's always good to have additional coverage for unknown or irregular repair costs that you can't always estimate.
Why Are Warranties Important?
Warranty recovery can be an important cost-saving measure for fleets looking to maximize uptime and extend the life cycle of each asset. When something goes wrong with a vehicle that is considered warrantable, the repair or replacement becomes the manufacturer's expense, keeping more money in your operation to take care of costs that aren't covered by a warranty.
Warranties can also serve to bolster your preventive maintenance efforts. OEM guidelines are structured to meter out maintenance in a way that best sustains the vehicle, so using those guidelines to inform your maintenance timelines means you give each vehicle exactly what it needs to keep running before it becomes an issue.
Following the OEM maintenance schedule creates an easily tracked and predictable cadence for repairs and routine maintenance that can increase your assets' overall uptime.
In addition to cost savings and maintenance recommendations, warranties add another layer of protection to your fleet that preventive maintenance alone can't address. While inspections and maintenance schedules are helpful on a day-to-day basis, manufacturer defects and malfunctions happen outside of anyone's timeline. Warranties work to cover the situations that even good fleet management can't prevent.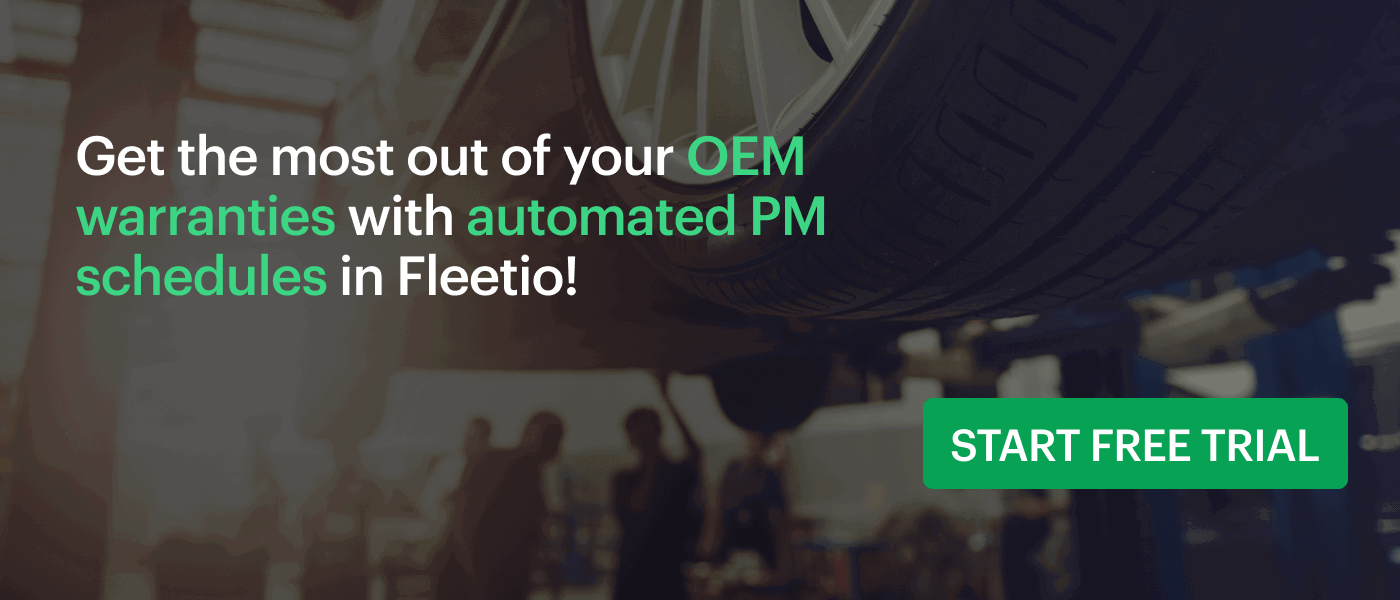 How to Better Leverage OEM Maintenance Schedules
The key to capitalizing on the protection of a warranty is following the manufacturer's guidelines and recommendations to the letter. That means the details of your vehicles' service – like mileage at the time of service or what location the maintenance is performed at – make a huge difference in the manufacturer's decision to honor the warranty.
Keeping track of all the requirements for each of the vehicles in your fleet can become a difficult task, especially for fleets that use multiple makes and models of vehicles or vehicle types. That's where a robust fleet management software can become a vital tool in maintenance scheduling.
With a fleet management system, fleet managers can see each vehicle and vehicle types' specific warranty requirements and automate PM schedules based on OEM recommendations. Technicians can be directly notified when service on a particular vehicle is due soon, and maintenance can be scheduled around the availability of the vehicle to avoid excessive downtime.
The right fleet management software can even let you know about recalls based on your vehicles' VIN before they become public knowledge, meaning you get into the shop and back out on the road faster.
---
Want a system that will help you keep track of OEM warranty maintenance? Start your free trial or request a demo today!