Looking back at some highlights of the past year and a few sneak peaks of what's coming in 2020.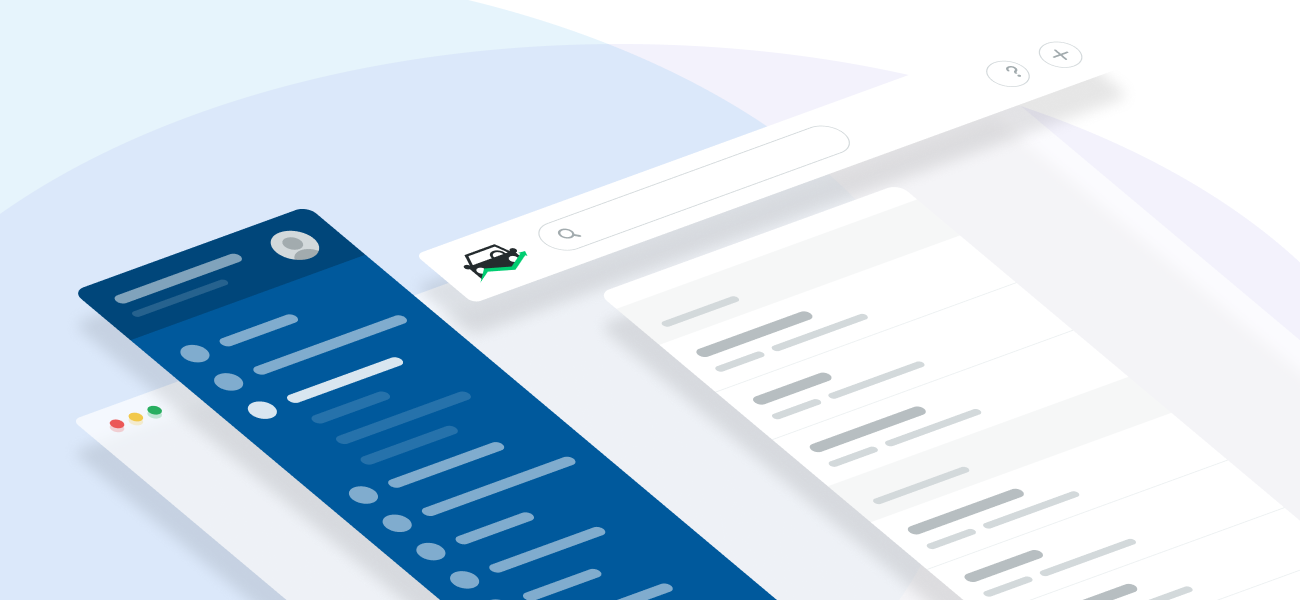 Over the past year, we've been working hard to continue to develop a product that makes our customers' lives easier and enables them to better track, analyze and improve their fleet operations over the entire lifecycle of their assets. We couldn't have done this without an incredible team (we're hiring) and the continued support and thoughtful feedback from our customers (thank you!). We can't begin to express how much we appreciate having you as part of the Fleetio Family.

Fleet management doesn't exist in a vacuum, which is why Fleetio is built to address the entire lifecycle of our customers' fleets. Let's take a look at how our customers used Fleetio this year to be more productive and gain insight into their fleets: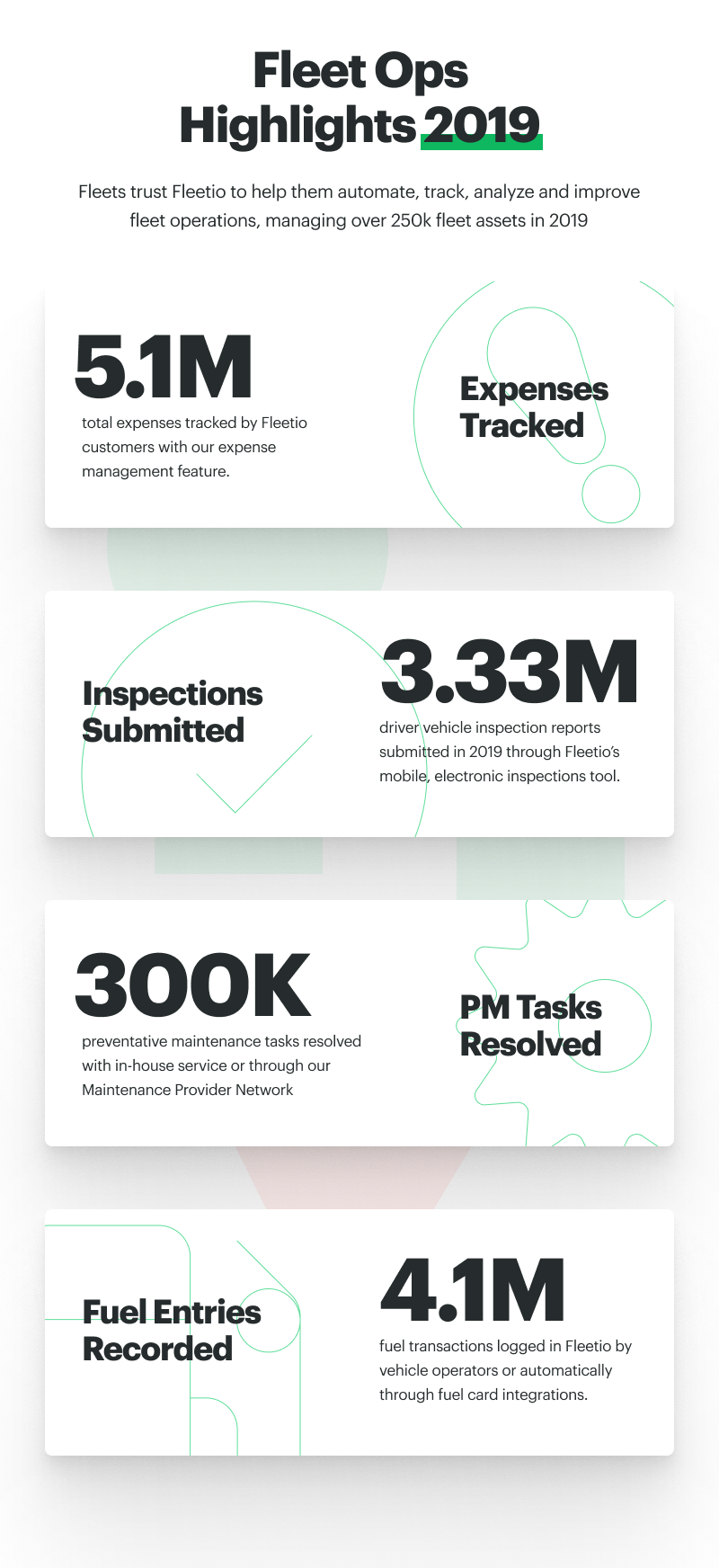 2019 Release Highlights
In 2019, we released and improved features that created more value for our customers than ever before. We also developed more content, such as thought leadership articles and white papers, to help our customers continue to become better fleet managers. Here were some highlights that created a ton of value in 2019. Visit our Help Center to access the documentation and start implementing any of these features.
Q1
• Added over 2,000 Firestone locations to our Maintenance Provider Network
• Released three new reports: Fault Summary, Utilization Summary and Technician Summary Reports
• Introduced Universal Search and redesigned the navigation experience to make it easier to find individual records in Fleetio
• Unveiled Expense Management so all costs related to your fleet can be tracked in Fleetio

Q2
• Built integration with Verizon Connect Fleet (Telogis) telematics devices
• Improved telematics integrations so DTC Fault Alerts can be synced on an hourly basis
• Introduced the ability to easily view what services each technician has completed in a given time frame
• Posted article on how to leverage data to improve fleet management
• Released white paper on the essence of fleet management

Q3
• Enhanced security offerings with improved password requirement options
• Updated Fleetio Inspections with additional response types to help users identify and address issues as efficiently as possible
• Enabled customers to easily and securely share Fleetio reports with external stakeholders
• Added the ability to pull DTC and engine faults from Telogis and Zubie integrations
• Introduced the ability to automatically track compliance with preventive maintenance schedules
• Released white paper on total cost of ownership
• Visited customer Proqual Landscaping and learned how we saved them over 33% in maintenance costs

Q4
• Continued investing in security offerings with customizable account lockout settings (e.g. after too many failed password requests)
• Added over 1,300 Meineke Car Care Centers and 1,100 Valvoline Instant Oil Change Shops to our Maintenance Provider Network
• Enabled customers to easily breakdown total expenses by type with a new report
• Began to automatically populate OEM preventive maintenance schedules into Fleetio
• Expanded Samsara integration to serve customers in Europe
• Introduced the ability to customize dashboards
• Improved the ability to see which vehicles are assigned to an operator and which are not
• Unveiled the ability to duplicate Work Orders, drastically decreasing the time required to enter repeated work

Where we're heading
We're excited to announce some projects we've been working on to make Fleetio even better. Look out for these improvements early in the new year.
SAML User Provisioning
We're continuing to invest in security in 2020. Your fleet information is incredibly sensitive and this will further ensure only the right people have access to the information they need. Deactivate a user in your third-party authentication tool and they will automatically be locked out of your Fleetio account.
Improved Inspection Scheduling
Ensure inspections are submitted at the right time with inspection submission windows. Set parameters for how early an inspection can be submitted and when it will be considered overdue - increasing your scheduling flexibility.
Service Programs
Standardize Service Reminders throughout your fleet and add reminders to new vehicles much more efficiently. Service programs will be a central place for your preventive maintenance schedules, allowing you to change schedules in one place and update all relevant assets automatically.
---
Fleetio can help you achieve your 2020 fleet goals. Get in touch at sales@fleetio.com to chat with us.