We've added a several new features to make the Service Schedule Report more useful for prioritizing preventive maintenance (PM) tasks, and we've made managing multiple Fuel Entries for a single day more user friendly.
New report columns help when prioritizing PM tasks
The Service Schedule Report is a great place to see an overview of all scheduled PM work across your fleet. But if you have several PM tasks that are overdue or due soon, how do you prioritize those tasks? The new variance columns can help immensely.

The "Meter Variance" column shows the difference between the scheduled mileage (or kilometers or hours) and the current odometer/hour meter of a vehicle. The "Time Variance" column displays the relative time between the current date and the PM task's due date.
The variance columns are sortable by clicking the column header, so you can see which ones are the "most overdue." If the current odometer is greater than the scheduled service mileage, then a negative number will be shown. If the service is overdue, the variance number will be in red.

You can also hover any of the variance numbers with your mouse to see the current mileage of the vehicle.
Adjusting the time on Fuel Entries
We also added the ability to adjust the time when adding/editing a Fuel Entry in Fleetio. You'll now see an "Adjust time" link directly below the date input on the Fuel Entry form, which will toggle the time input.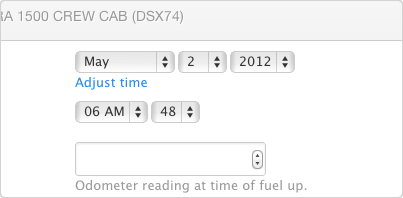 The time will automatically default to the current time in your selected timezone when adding a new Fuel Entry. The inputs will appear in 24-hour or 12-hour format based on your Account settings.
This is especially helpful when you have multiple fuel-ups in one day and need to make sure the correct order is maintained so fuel efficiency is calculated correctly.
We ❤ customer suggestions
Both of these updates came as the result of customer feedback. We're always listening to our customers and trying to get a better understanding of their needs, so Fleetio can have a positive impact on the their fleet management operations.