With all the talk about driver shortages, the theory of a mass exodus of CDL drivers has been prevalent. While the shortage is undoubtedly an issue, it's important to understand the factors playing into it to better situate your fleet as a desirable employment opportunity.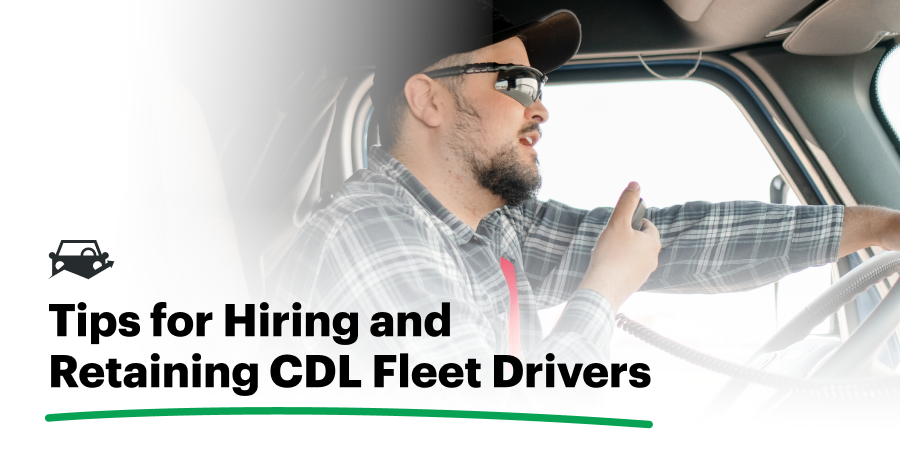 More to the Shortage Than Meets the Eye
We're experiencing a time where potential employees across many industries are in a more powerful position; the continued labor shortage means this lot practically have the pick of the litter when it comes to signing on to employment. Companies have become more competitive in pay and incentives, though maybe none more so than those in fleet-related industries.
"Trucking is an extremely tight labor market, for cyclical and structural reasons. Drivers are in high demand today—a fact exacerbated by COVID. To attract and retain drivers, fleets must increase pay, which is now happening at extraordinary levels," according to the American Trucking Associations (ATA). We're witnessing unprecedented pay increases across the industry, with weekly driver earnings surging at a rate more than 5x their historical average—up more than 25% for long-haul, truckload drivers since the beginning of 2019. Fleets are also offering sizable, five-figure sign-on bonuses and full benefits as they all compete for the same limited pool of drivers."
Due to the increase in competitive wages and sign-on bonus incentives, many drivers are jumping ship from their current employers to reap these benefits offered at other companies. So if your fleet is experiencing a mass exodus of drivers, you may want to look at your pay offerings and incentives. "Many are seizing those opportunities that a booming freight economy present by moving to different companies for higher pay rates, bonuses, new routes or better benefits. No one can blame them, nor can anyone blame motor carriers who are competing vigorously with one another to hire good drivers and keep the ones they have."
Offering competitive compensation in fleet significantly helps companies in hiring and retaining drivers, yet it only addresses part of the truck driver shortage issue. The average age of drivers in the trucking industry in the U.S. is about 48-53, a range evidencing the lack of new generations joining the industry. "Current driver demographics and burgeoning demand for freight could cause the driver shortage to balloon to more than 160,000 over the next decade," according to Supply & Demand Chain Executive. "Given the high average age of drivers, bringing younger people into the industry would help combat the shortage. However, this has proven to be difficult due to federal rules that prohibit drivers under the age of 21 from obtaining an interstate CDL that would allow them to drive trucks across state lines. As a result, many high school graduates who may have considered a career in trucking choose to pursue other opportunities."
Talent Attraction and Retention
Since we've covered how competitive pay and benefits help sway drivers to stay or move on to greener pastures, let's look at other ways fleets can reduce turnover and attract new talent. Fleets can benefit greatly from focusing on attention capture — that is, getting the brand in front of potential employees early.
As Supply & Demand Chain Executive noted, recent high school graduates can be put off the fleet industry due to CDL age limitations, but with younger generations keen on going into the trades versus spending obscene amounts of money for a degree they may or may not use, this is the prime time for attention capture. A good way to encourage new graduates who aren't allowed to just hop in a truck and go is to offer alternative positions and mentorships. This will allow those interested to get a foot in the door and get a jump on learning the industry, helping to build engagement.
A good way to attract new employees and keep current employees engaged is by offering driver certification programs and on-site CDL driver training. This shows that your organization invests in its employees and actively works to put them on a path for success.
Giving drivers more autonomy and transparency into operations that directly affect them, such as maintenance and repair workflows, is another good way to keep drivers around. Using automated trucking software such as cloud-based fleet management software (FMS) helps keep drivers in the loop regarding upcoming preventive maintenance (PM) and improves communication and transparency around when trucks are due in the shop, when trucks are ready for pickup and what work was performed. This alleviates a lot of stress around maintenance and repair services, improving driver satisfaction and making managing truck drivers easier.
FMS Improves Daily Workflows
Many fleets are moving toward workflow automation, from incorporating autonomous vehicle (AV) technologies and warehouse distribution systems to automated FMS. Automation in fleet helps improve daily processes and total fleet management. Whether it's daily vehicle inspections, route optimization, improved arrival and departure estimates or enhanced service workflows, automated technologies like FMS are geared toward making the workday easier, and for drivers who spend a majority of their time on the road, every little bit helps.
The improved communication afforded by FMS ensures drivers can successfully kick up any issues to management in real time for quick issues resolution. Additionally, management can get a complete view of what's going on with the fleet, including total cost of ownership for each asset. Because FMS collects and consolidates data from multiple sources, like telematics, fuel cards and other business solutions, and automatically aggregates that data into configurable, easy-to-read reports, managers can quickly spot key metrics to improve asset lifecycles (usage rates, PM compliance rates, fuel economy trends), reduce unnecessary repair spend and unscheduled downtime and estimate replacement cycles.
These elements further improve driver retention and attract new drivers by ensuring assets are in safe condition and are less likely to break down on the road, making already long hauls much longer and eating into drivers' pay. By deploying the right tactics to improve drivers' working lives, fleets can gain a leg up in driver hiring and retention.
---
Find out how Fleetio helps streamline truck driver management and improves daily processes for a more stress-free workflow. Start your free trial or schedule a personalized demo today!