This year's Commercial Vehicle Safety Alliance (CVSA) Brake Safety Week is August 23-29, 2020. Enforcement officials will be inspecting commercial motor vehicles (CMV) throughout the week to highlight the importance of brake safety.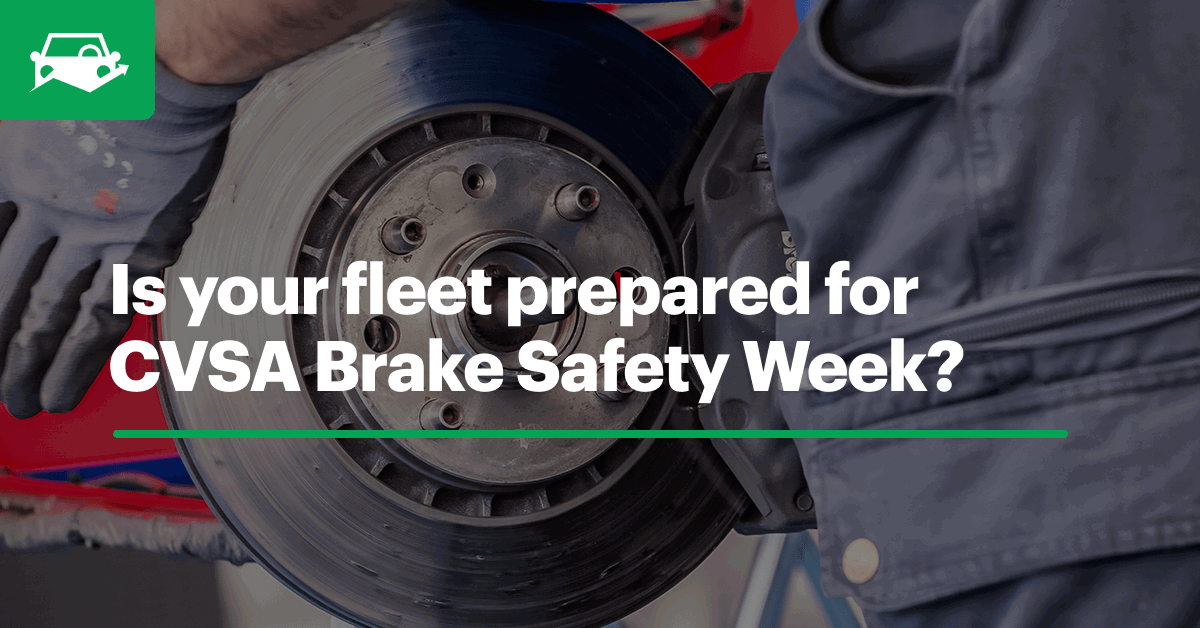 CVSA Brake Safety Week 2020
Mark your calendars! The 2020 CVSA Brake Safety Week is August 23-29, 2020. Each year, the CVSA sponsors Brake Safety Week to monitor fleet compliance and stress the importance of brake safety. During this week-long initiative, enforcement officials will be conducting roadside vehicle inspections and paying special attention to brake systems.
During the 2019 CVSA International Roadcheck, brake system and brake adjustment violations accounted for 45.1 percent of all out-of-service conditions. During last year's Brake Safety Week, 13.5 percent of motor vehicles had critical brake-related violations that placed them out of service.
As a fleet manager, you put a premium on safety and uptime. Having critical brake violations can not only cause you downtime if your vehicle is placed out of service until issues are rectified, but unsafe brake systems can result in serious accidents on the roadways.
To avoid violations, downtime and, most importantly, accidents, your fleet should be conducting daily vehicle inspections and necessary preventive maintenance on each vehicle. This allows you to uncover and repair any underlying issues and be sure your brake systems, as well as other areas of your vehicles, are in safe operating condition.
See how one national trucking company leverages Fleetio to proactively manage maintenance.
Proactively Managing Brake Maintenance
To avoid any violations during Brake Safety Week 2020 and ensure your vehicles are in safe operating condition, it's important to take a proactive approach to fleet maintenance management. Instead of waiting for issues to arise, often resulting in downtime and costly repairs, routinely monitoring vehicle health allows you to identify and repair issues before they compound.
The best methods of proactive maintenance management are vehicle inspections and preventive maintenance scheduling. Keeping up with these two simple tasks help you maximize uptime and keep your fleet safe.
Vehicle Inspections
Without routine vehicle inspections, you can't be sure what's going on under the hood. Issues surrounding brake systems and other areas of the vehicle can sometimes be felt while driving, but to get a clear understanding of vehicle condition, drivers should thoroughly inspect vehicles each day.
The Federal Motor Carrier Safety Administration (FMCSA) mandates that CMV drivers must complete Driver Vehicle Inspection Reports (DVIR). These daily inspections help ensure that you and your drivers are monitoring vehicle health and are documenting and addressing any uncovered issues.
While paper DVIR can be frustrating for some drivers to complete and keep track of, electronic DVIR (eDVIR) allows drivers to complete thorough inspections quickly and maintain an organized record of all DVIRs.
This not only allows your drivers to quickly prove compliance, but completed eDVIR forms are immediately uploaded into fleet management software. Fleet managers are also notified via email of any inspection failures, keeping you informed of vehicle issues and allowing you to start planning repairs immediately.
Ensuring your drivers complete routine vehicle inspections is always important, but be sure to communicate to them the importance of brake health prior to CVSA Brake Safety Week 2020 to save your fleet from any violations.
Preventive Maintenance
Taking a proactive approach to fleet maintenance keeps your fleet running smoothly and helps avoid unexpected breakdowns. Aside from vehicle inspections, keeping up with fleet preventive maintenance tasks ensures your vehicles are regularly serviced and remain in good shape.
Using paper calendars and white boards to manage your preventive maintenance schedule is inefficient, unorganized and often results in vehicles missing routine maintenance. To combat this, consider setting preventive maintenance schedules and service reminders in fleet management software.
By creating service reminders based on odometer or hour intervals, you and your drivers can be notified of upcoming service tasks. Instead of manually tracking when service is due, service reminders ensure you get your vehicles to the shop on time.
When scheduling preventive maintenance, be sure to include tasks for brake repairs. Your mechanics should routinely inspect and replace items like tubing, hosing, rotors, pads, and rotors, as well as check for air or hydraulic fluid leaks.
Taking care of brake systems and other vehicle components during preventive maintenance not only keeps your fleet safe, but it can also save you time in the long run. Serious brake repairs take a significant amount of time and impact uptime by keeping your vehicles in the shop longer.
Fleet management software also stores comprehensive service history on all of your vehicles. With this data, you can analyze past issues and make notes on which areas of a certain vehicle may need special attention. If one of your assets has recurring problems, you can communicate with your mechanic to be sure they monitor certain aspects of the vehicle during preventive maintenance.
[![brake-safety-2020-blog-cta](https://marketing-cdn.fleetio.com/images/blog/brake-safety-2020-cta.png)](/pricing)
Preparing for Brake Safety Week 2020
While brake safety is important year-round to ensure the fleet safety, Brake Safety Week is an excellent time to check the condition of your fleet's brake systems and make any necessary repairs.
Brake failures can be catastrophic, yet many fleets are still operating vehicles with aging brake systems with a lot of wear and tear. To avoid being one of the 41.3 percent of vehicles with brake violations, it's important to take preventive measures regarding fleet maintenance.
When preparing for CVSA Brake Safety Week 2020, consider evaluating your entire fleet management system. Analyze the current strategies you have in place to monitor your fleet, and consider leveraging software to maximize maintenance efficiency and operate a safe, compliant fleet.
---
Ensure safety and compliance during Brake Safety Week and beyond! Start your free trial of Fleetio or request a demo today.